Anyone who was a follower of alternative or post-punk music in the '90s will certainly have Chumbawamba's "Tubthumping" burned into their brains. This rowdy sing-along anthem was the anarchistic band's biggest hit. In fact, it may come to some as a surprise that they made other records.
But that was 25 years ago. What's been going on with founding member Dunstan Bruce since then? That's what Bruce hopes to address with the film I Get Knocked Down, a documentary that made its debut in the 24 Beats Per Second category at this year's SXSW. Co-directed by Bruce and Sophie Robinson, the film follows Bruce, now 59, as he seeks to resume his career with his new band, Interrobang. "It's hard to be an angry old man," he says, referring wryly to his rowdy past.
The film is a mixture of vintage clips in which Chumbawamba make various television appearances along with new footage in which the Bruce of today muses about his life. Here, he is frequently followed around by someone wearing the grinning baby mask from "Tubthumper," serving as a sort of "Ghost of Christmas past," continually mocking him about his irrelevance.
Bruce reminisces about the band's history, along with other members of Chumbawamba. In a familiar story, they were a bunch of lads from Leeds who went out to change the world. They never quite achieved that goal, even though they managed to express their particular points of view on such mainstream fare as The Rosie O'Donnell Show.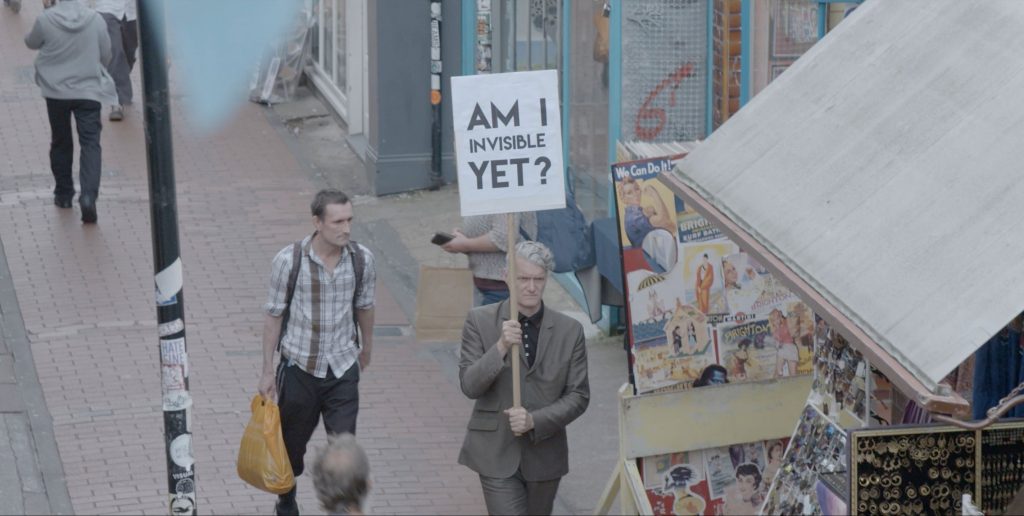 As he reflects, Bruce also smacks himself around a bit. He takes to a megaphone to howl, Network-style: "I'm mad as hell and I'm not going to take it anymore!" He also walks down the street carrying a sign that says, "Am I invisible yet?" His struggle to regain relevance can be poignant, as when he visits Republic Records' Avery Lipman, whose label carried Chumbawamba back in the day. He asks him to listen to a recording of Interrobang. Lipman listens for a bit and dismissively remarks that he'd love to hear them live. And the "Tubthumper" baby snarls, "Your dad would be so proud of you — shouting at some people in a half-empty room!"
Viewer interest for I Get Knocked Down will depend on how familiar one is with the band and its vanished alt-rock generation. For others, it's a rather perplexing combination of documentary and performance art.