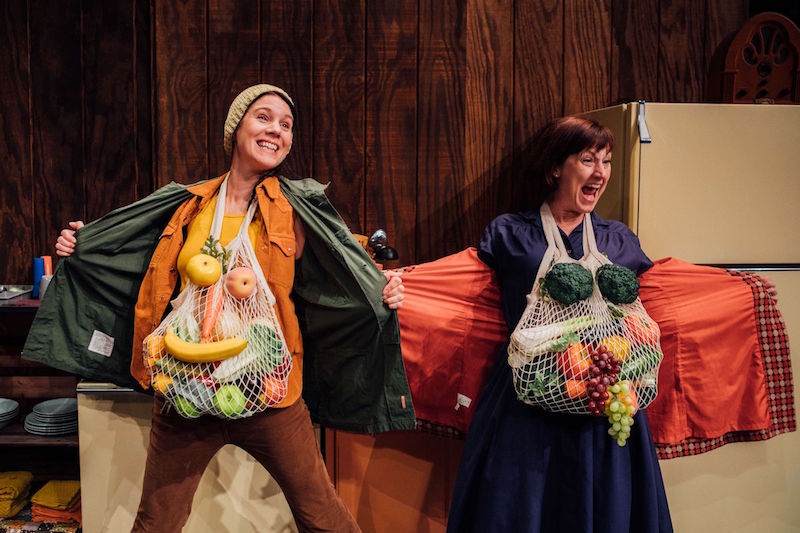 Co-authored by Italian playwrights Dario Fo and Franca Rame in 1974 (current translation by Cam Deaver) Can't Pay? Don't Pay! is a farcical comedy about consumer backlash against high prices.
When a mob of angry women riot at a local supermarket, two friends get caught up in the excitement. We meet Antonia (Kaili Hollister) and Margherita (Lynde Houck) in the former's apartment soon after they have absconded with bags of groceries without paying. Giddy with exhilaration, they panic about hiding the stolen food from the authorities and Antonia's husband Giovanni (Jeremie Loncka). The pair claim that Margherita's bulging belly means she's become spontaneously pregnant, sending the husbands, as well as the authorities, on a madcap chase.
Extremely broad in its humor and tone, and political in its satirical jabs, much of Fo and Franca Rame's dramatic works depend on improvisation as well as a modern application of the ancient Italian style of commedia dell'arte.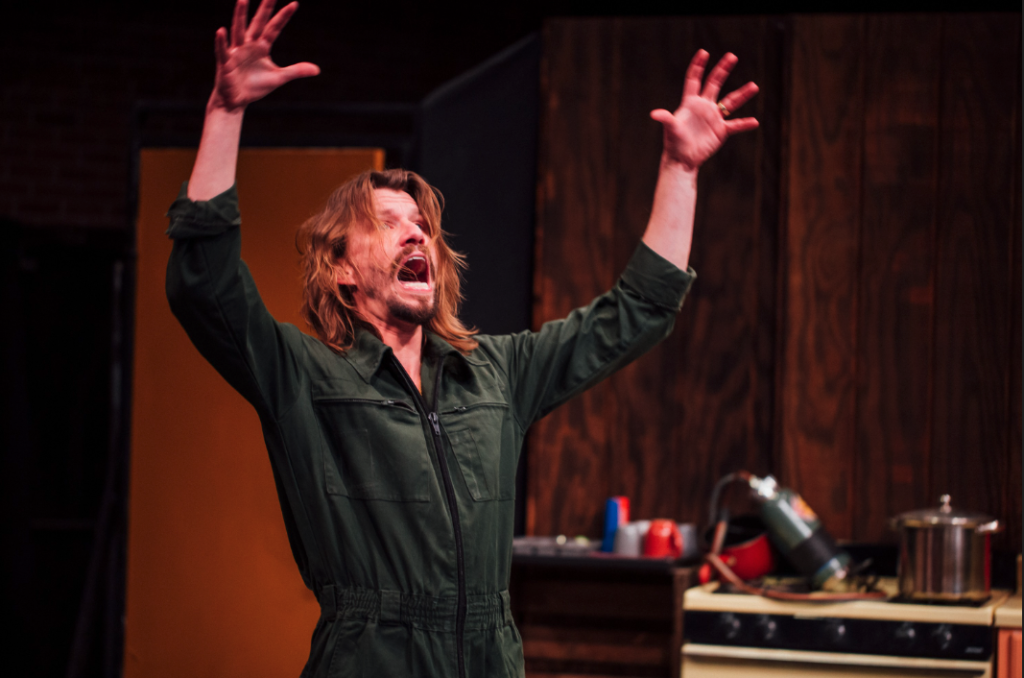 Hence, all the characters play like buffoons with exaggerated reactions. The show makes great use of the space and balconies, with characters even running through the audience at one point.
Directed by Bob Turton, this production at The Actors' Gang is fun but also way too loud (shouty) and chaotic. I was expecting an evening with far tighter pacing and split-second comic timing from a show about six weeks into its run. The way the cast rattled off the preachy lecture at the end also made me suspect they were a bit embarrassed by the heavy political posturing that concludes the zany action.
Still, it remains an important classic play with plenty of laugh-out-loud moments. Season has been extended to June 11, 2022.
From the press release:
Hungry and fed up by rising prices and stagnant wages, humble housewife Antonia joins a revolt of women at the local supermarket. Determined to live with dignity and rejecting an austerity diet of dog food and birdseed, the women's protest escalates, and looting ensues. As police search door to door, Antonia and her friend Margherita frantically try to hide their 'liberated' goods from their husbands and the police.
Fo is one of the touchstone playwrights for Artistic Director, Tim Robbins, who said "The play humorously addresses challenges that people have in every culture as they struggle for dignity in increasingly difficult economic circumstances. Fo saw society through the lens of the common man and was fearless in his commitment to exposing the hypocrisy of corrupt politicians and the businessmen that own them.

Dario Fo is one of my personal inspirations, the reason why I started writing plays and it is such an honor and joy to be able to bring his plays to life in our theater."
The cast includes Kaili Hollister (Antonia), Lynde Houck (Margarita), Jeremie Loncka (Giovanni), Luis Quintana (Luigi), Steven M. Porter (Sargent, Agent, Undertaker, Old Man), and Stephanie G. Galindo (Office, Agent 2, Undertaker Assistant, Nurse). 
The night I saw the show, director Bob Turton did a fantastic job understudying all of Porter's roles.

Can't Pay? Don't Pay!
The Actors' Gang Theater
9070 Venice Blvd., Culver City, CA 90232.
Runs through June 11, 2022.
Performances Thursdays, Fridays, and Saturdays at 8:00 pm
Matinees on Sundays at 2:00 pm.