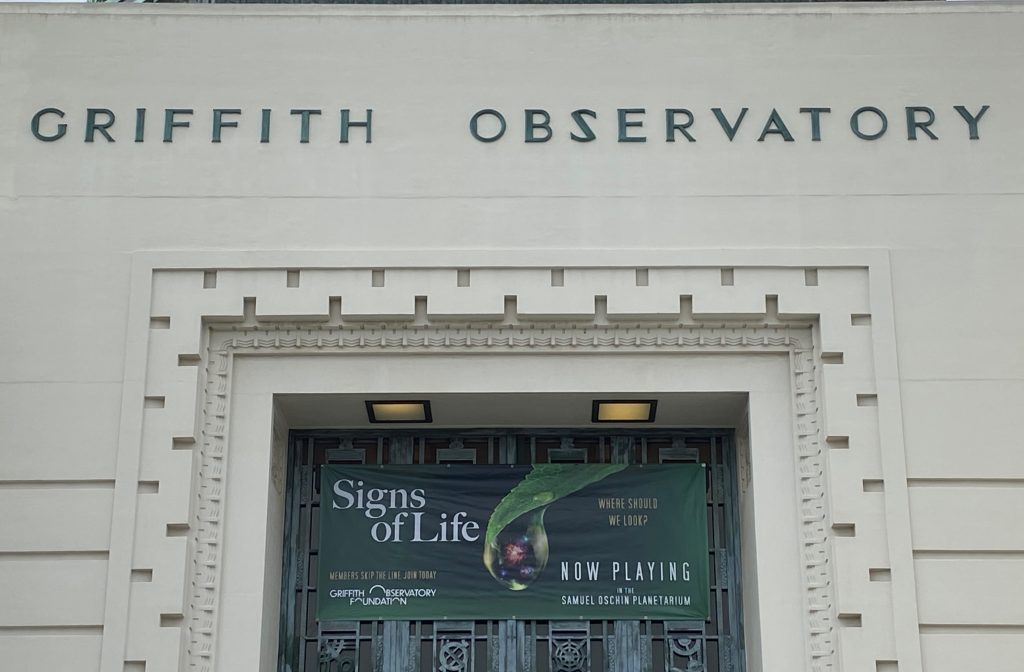 Settle in and recline in one of the comfy seats in the Samuel Oschin Planetarium at the Griffith Observatory to embark upon an imaginative and visually stunning journey. Marvel at the vivid animation that both embraces you and propels you through space and time as we attempt to uncover one of life's most enduring mysteries—the existence of life in the universe.
Signs of Life is a live and highly immersive experience. Presented in 8K, at 60 frames per second, with original musical composition, this new planetarium presentation of approximately 35 minutes duration has already received multiple International awards. Combining the projection with live entertainment, each performance will be narrated by one of the observatory's staff presenters.
As described on the planetarium's website, Signs of Life is an astronomical detective story that prompts visitors to uncover what it took to put life in the universe.
"Earth is the launchpad to Mars, the moons of Jupiter and Saturn, and planets beyond our Milky Way Galaxy in a search for answers to the mysteries that captivate our imagination."
Signs of Life is first new planetarium show of the past decade that was created exclusively for the prestigious venue, the jewel of this iconic world-famous public park.
The gorgeous multimedia production made its premiere today, Friday, May 20, inside the observatory's planetarium, with a special ribbon cutting ceremony to mark its launch.
Photo credit: Griffith Observatory Foundation.
Dr. E. C. Krupp, the Director of the Griffith Observatory, (pictured wielding the oversized scissors, along with Ms. Lynda Oschin), amused the assembled audience at the show's debut today with his hilarious opening remarks and introduction.
Dr. Krupp noted how the show's launch had suffered a two year-delay, held up by the global pandemic, and dryly added, "but we have a universe that's 13.8 billion years old, so a couple of years won't matter."
"This is the only place in the Milky Way galaxy that anyone can see the show," he quipped, highlighting the show's "Hollywood production standards."
Ms. Sylvia Patsaouras, President, Board of Recreation and Parks Commission, praised the Griffith Observatory's "pioneering design," noting the popularity of this much-loved destination since its 1935 opening. She also praised the show as being the culmination of "a collaboration of leaders from science and entertainment community."
General Manager, City of Los Angeles, and Director of the Department of Recreation and Parks Mr. Mike Schull praised the "high level of professionalism" on display today.
Indeed, Signs of Life is the result of years of planning. The sophisticated entertainment was produced by a team of the world's top artists, scientists, and astronomers to create a show that immerses audiences in the environments and conditions that put life in the universe.
"The Observatory Foundation is an amazing partner," enthuses Ms. Ann Marie Bedtke, the Executive Director of the Observatory Foundation. "Over the past 40 years as the exclusive nonprofit partner of Griffith Observatory, we have raised millions of dollars building a community which is not just financial but people-powered, with members, donors and supporters."
"This is a one-of-a-kind community centerpiece with original digital content and live stream broadcasts, with worldwide reach of audience as well as a Fifth-graders school program."
Signs of Life producer Ms. Dawn Fidrick is presently working in Australia. "I crossed the international date line and went back in time to be here today," she joked.
Ms. Fidrick added that Signs of Life is the culmination of ten years of work. The creative team responsible includes artists, illustrators, science and technical partners, scientists and astronomers. "It was an epic undertaking of creative and technical collaboration." The satellite studio in Griffith Park is now an animation studio, having served as the headquarters for the creation, rendering and animation of Signs of Life.
This show is anticipated to be sold out all summer, but membership has its benefits.
Readers are encouraged to become a member of the Griffith Observatory Foundation. Members enjoy exclusive access and advance ticket reservations, parking benefits, and priority seating. Membership is an active way to support the Griffith Observatory and the inspiration and resources it provides to millions of people across this great basin and around the world.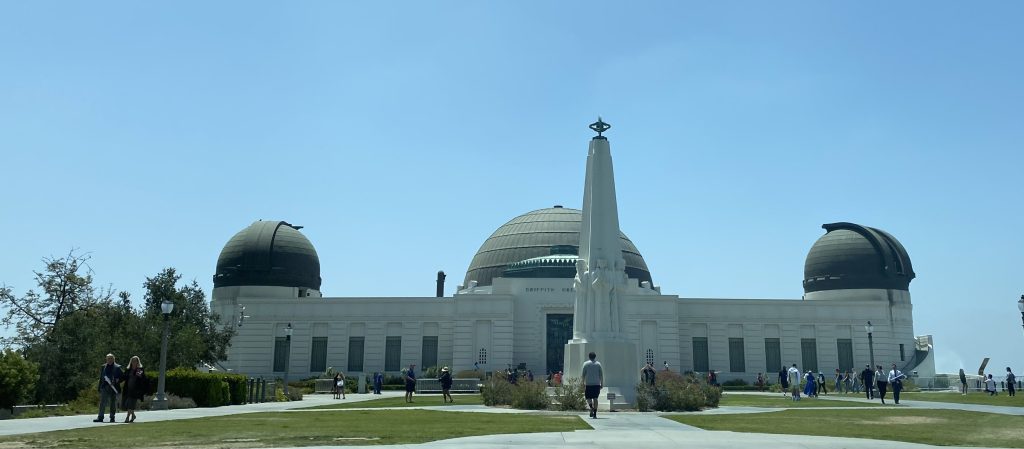 Griffith Observatory
2800 East Observatory Road
Los Angeles, CA 90027
(213) 473-0800
Admission to the Observatory building, the grounds, and the public telescopes is always free. There are fees for parking and ticket costs for the Samuel Oschin Planetarium.
Now showing at in the Samuel Oschin Planetarium
Tickets for the Signs of Life show are available on-site at the Box Office.
Show tickets may be purchased only at the Observatory and only for that day's shows. No online, phone, or advanced purchases are possible. Tickets are available at the main box office inside or at automated ticket machines around the building.
More information on tickets here.
SHOW TIMES:
Weekdays
1:45 p.m., 2:45 p.m., 4:15 p.m., 5:15 p.m., 6:15 p.m., 7:45 p.m., 8:45 p.m.
Weekends
11:45 a.m., 12:45 p.m., 2:15 p.m., 3:15 p.m., 4:15 p.m., 5:15 p.m., 6:45 p.m., 7:45 p.m., 8:45 p.m.
Weekday (Friday) Hours
Open 12:00 noon – 10:00 p.m.
Weekend (Saturday – Sunday) Hours
Open 10:00 a.m. – 10:00 p.m.
Closed Monday – Thursday
Griffith Observatory is open Friday-Sunday. The grounds, terraces, and sidewalks are generally open every day. Visitor capacity control for the building will be used during very busy times; this may result in waits of 10-20 minutes.
Visitors age 12 and older are still required to show proof of COVID-19 vaccination to enter the building and adjacent terrace areas (per City of Los Angeles ordinance). This requirement remains in place because the Observatory is a City of Los Angeles-operated facility.