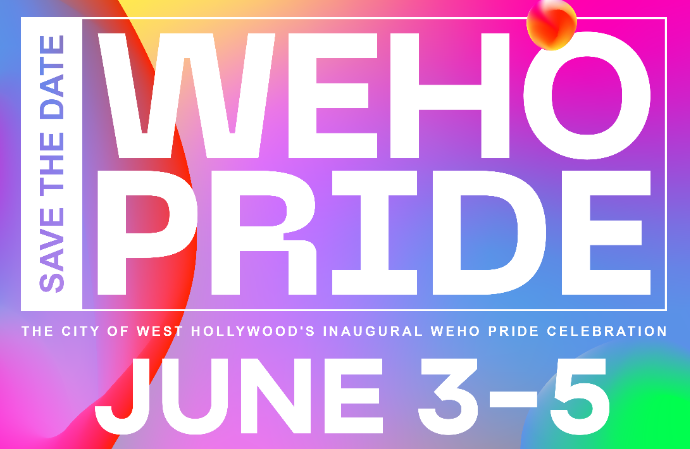 Pop-ups, a hotline, and a podcast from WeHo's Pride Poets.
WeHo Pride.
The City of West Hollywood proudly presents its inaugural WeHo Pride weekend, June 3-5, 2022.
WeHo Pride kicks-off celebrations across the nation during Pride Month in June.
WeHo Pride Weekend celebrations in and around West Hollywood Park will include a free WeHo Pride Street Fair representing a diverse array of LGBTQ+ community groups as part of visibility, expression, and celebration; a 3-day ticketed OUTLOUD Raising Voices Music Festival, the Dyke March and Women's Freedom Festival on June 3, and the inaugural WeHo Pride Parade on June 5.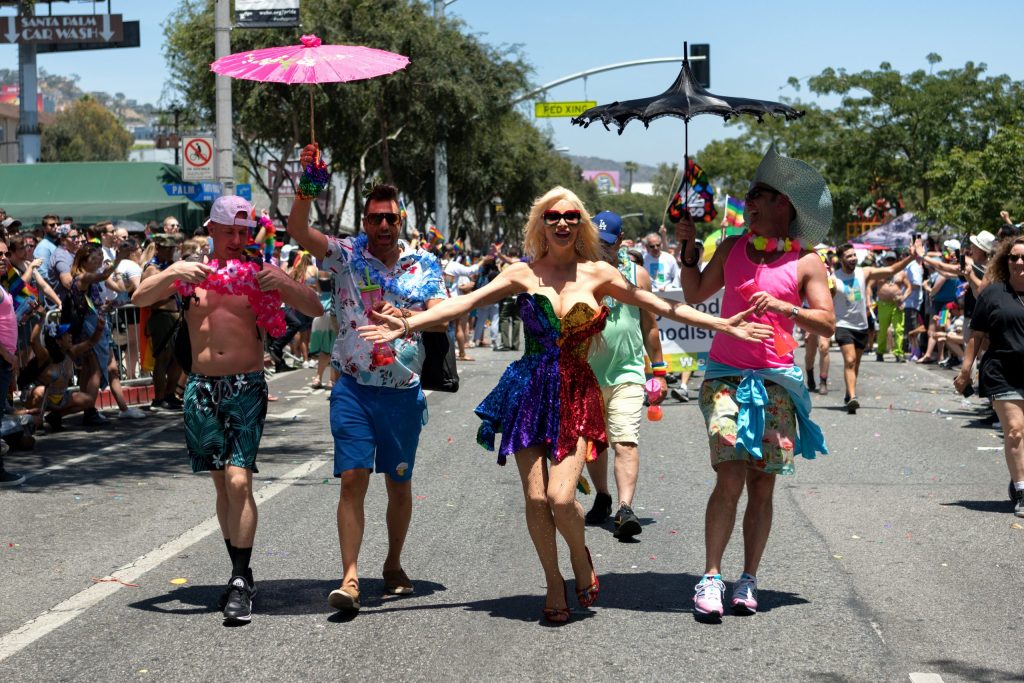 Music Festival.
OUTLOUD Raising Voices Music Festival. Happening on Friday, Jun 03, 2022 through Sunday, Jun 05, 2022. Day passes and weekend passes available — purchase tickets here.
Pride Poets.
In honor of Pride, West Hollywood's own Pride Poets are popping up with typewriter installations, a phone line, and a podcast.
Here's how everyone can get in on the poetry this Pride season:
Saturday-Sunday June 4-5, 12noon-7pm, get a custom poem written by an LGBTQ+ poet on a typewriter on the street at WeHo Pride;
Saturday June 11, call the hotline 202-998-3510 to speak to a live poet and have a custom poem written! 11am-2pm, and after-hours 11pm-2am!
Every Wednesday in June, listen to new episodes of our podcast, This Poem's for You (https://anchor.fm/tpfy), in which West Hollywood City Poet Laureate interviews a past poem recipient, and surprises them with a new poem.
Since 2019, RENT Poet has worked with the City of West Hollywood to recruit, train, and employ dozens of LGBTQ+ poets in pop-ups for Pride month, writing custom poems celebrating love and the LGBTQ+ community for over 1000 individuals.
This year, you can speak to one of 25 LGBTQ+ poets, share your story, and receive a custom, one-of-a-kind poem, written just for you on a manual typewriter, in-person at Pride on June 3-5 and via their poetry hotline on June 11 (call 202-998-3510 between 11am-2pm and after hours 11pm-2am).
This year's theme is Pledge: you're invited to share your allegiances with them!
This June they are also releasing our first podcast, This Poem's for You, following up with poem recipients from Pride's past and writing them update poems. New episodes every Wednesday in June 2022, wherever you get your podcasts. "Remember, whatever you're going through, there's a poem for that — and this poem's for you."
Pride Poets is a project of RENT Poet (*everyone needs a poem*), created by West Hollywood City Poet Laureate Brian Sonia-Wallace. This program is presented with the support of a grant from the City of West Hollywood's Arts Division as part of the City's WeHo Pride LGBTQ Arts Festival (May 22 -June 30).
More info at www.weho.org/pride or @wehoarts.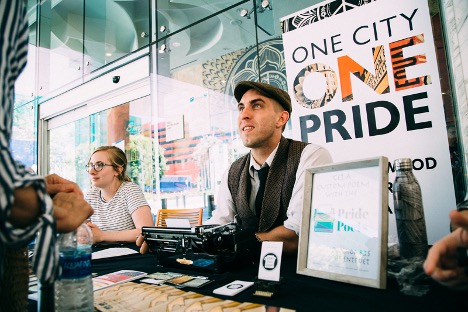 HOW TO GET A POEM:
To get a poem, simple approach a poet (or call in!) and share a topic or story for your poem — it can be for you or for someone else.
The poet will ask a few follow up questions, and type a poem on an index card in 5 minutes based on the information provided to them. They will take a snapshot of their poem, read it out loud to the person who commissioned it, and gift the original copy!
HOW THE HOTLINE WORKS:
The Poetry Hotline will run on June 11 11am-2pm and after-hours 11pm-2am. Poets will interview participants to find the perfect subject for their poem, and poems will be written live on the hotline, then read out loud by the poet and emailed to the recipient if they choose.
The whole process takes 10 minutes and will change your day. You can also listen on the line to our Permeable Poetry Project, pre-recorded poems by living LGBTQ+ poets.
The hotline is made possible thanks to TryTank Experimental Laboratory, a project of the Virginia Theological Seminary and General Theological Seminary. More at www.trytank.org.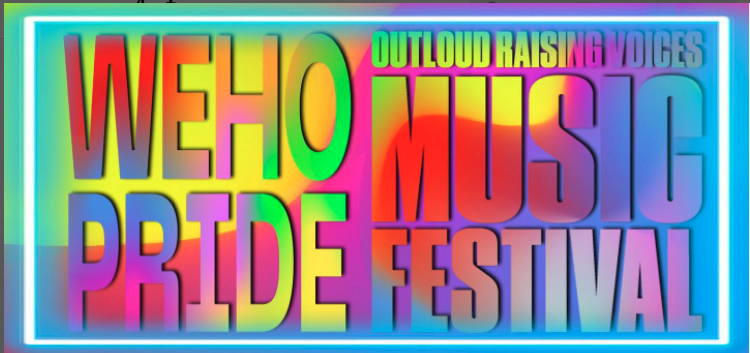 ABOUT THE PODCAST:
This Poem's for You is a show where we learn the story behind a poem, meet the person who inspired it, and surprise them with a new, original poem, written on the spot.
New episodes drop every Wednesday in June. The show interviews a couple who used their poem as wedding vows, a new father, a trans activist who received their poem pre-transition, and more.
The show's tagline is: "No matter where you're at in your life, there's a poem for that, and this poem's for you."
ABOUT PRIDE POETS:
For the last three years, Pride Poets has brought together LGBTQ+ literary community and members of the public. In 2019 we popped up with typewriters around West Hollywood throughout the month of Pride, crafting over 600 new poems for passersby commemorating their personal queer histories. In 2020 we fielded 60 custom poem requests submitted online and ran Pride Mic, which featured 100+ LGBTQ+ writers and notable historian Lillian Faderman (Gay LA). In 2021, our hotline received over 500 calls and created over 200 original pieces of artwork.
THE 2022 POETS:
(In person and via hotline)
Natalie Nicole Dressel, Catherine Gewertz, Victor Yates, Molly Thornton, Jireh Deng, Nate'Eya Kahsai, Jair Bula, Ella Baker, Marcus James, Zocimo Rios, Jeremy Ra, Timothy Nang, Valerie Darling, Melanie Zoe, Syd Shaw, Frankie Tanimal.
(Hotline only)
Carla Rachel Sameth, Jessica Zhou (San Fransisco), Bessie Flores Zaldivar, Jay Baldwin (Seattle), Jennifer Cheng, Kay Kro (Chicago), Martin Rios (Philadelphia), Ivan Zhao (Washington), Kimberly Esslinger.
ABOUT THE ORGANIZERS:
Pride Poets creator Brian Sonia-Wallace is the 4th Poet Laureate of the City of West Hollywood and an Academy of American Poets Laureate Fellow. Brian has written poems for over 10,000 strangers across the country based on their stories since 2012, including in residence for Amtrak Trains, Mall of America, Google, and the National Parks. He is the author of The Poetry of Strangers (Harper Collins 2020) which was lauded as "full of optimism and wide-eyed wonder…he charms us," by The New York Times. He was just named a 2021 Poets Laureate Fellow by the Academy of American Poets. More at briansoniawallace.com

Podcast creator Molly Thornton is a multi-genre writer. A Lambda Literary Fellow, her poetry and essays have appeared in The LA Times, They Said: a Black Lawrence Press anthology, The Seattle Globalist, Lavender Review, and more. Molly coaches clients in creative writing and teaches online and at literary and community centers including Hugo House, Beyond Baroque, and the LA LGBT Center. You can find her at mollythorntonwrites.com