"History is Written by Victors." This pithy quote frequently gets attributed to world leader Winston Churchill, but its origins are not certain. The quote implies that history is not grounded in facts, but rather it's the winners' interpretation of facts and events that endures.
Perhaps a more accurate quote might be, "History can be temporarily warped by those who stand to profit from it in the short term." Or even, "History is not written by the victors, but by those who are skilled at documenting it."
But historical facts are not set in stone. Promoting and maintaining a false image of the past can often be scrutinized. Fortunately, some contemporary historians go to great pains to revise and rewrite historical accounts, aiming to set the record straight.
A new exhibition at the Getty Center's Getty Research Institute (GRI) attempts to do just that. The exhibition is now on view and runs through January 8, 2023, at the Getty Center.
Reinventing the Américas: Construct. Erase. Repeat raises important questions about the mythologies, utopian visions, and stereotypical ideologies that Europeans disseminated following the "discovery" of these continents.
The exhibition offers representations of the Americas found in books and prints from the 15th to 19th centuries. But during the show's planning, a problem cropped up: the works only represented the European point of view. To remedy this, curator Idurre Alonso invited people who trace their lineage to the precolonial Americas to share their thoughts on how Indigenous people were depicted.
"For this exhibition I thought, let's get rid of this voice of the curator who decides everything and gives you the tone of everything," says Alonso. "Let's insert many different voices, so you can see these objects from different perspectives."

Curator Idurre Alonso.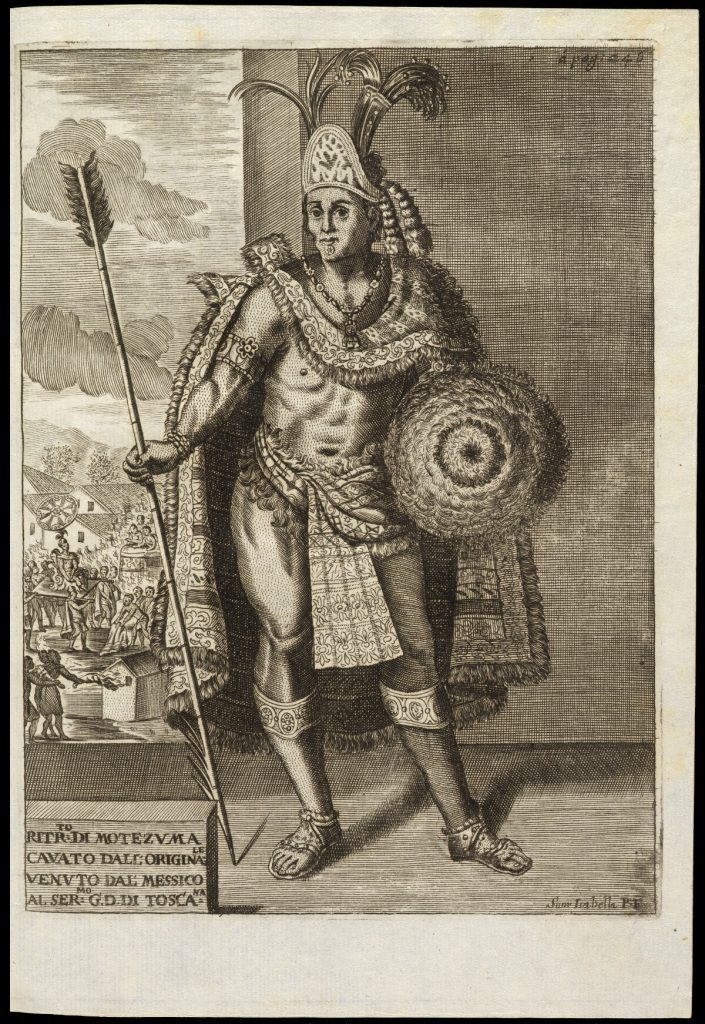 Jorge Gutiérrez contributed this response to a portrait of Montezuma, emperor of the Aztec Empire: "This image represents to me the strength of the Indigenous people who were defending their communities and cultures. It symbolizes the history of resistance. They rose and fought back. From a contemporary point of view, in terms of values and politics, we would align with Montezuma. We are trying to protect our rights, whether we are Black, immigrants, Native people, or queer. We are fighting the ideology of white supremacy."
Some of the Getty's gardeners and grounds staff, as well as local community members, were invited to bring their perspectives and interpretations to Reinventing the Américas.
Alonso decided to invite people who can trace their lineage to the precolonial Americas to share what they thought of the depictions of Indigenous people. Their comments became insightful labels that are currently displayed alongside the works. Alonso also invited Indigenous Brazilian artist Denilson Baniwa to create pieces especially for the exhibition.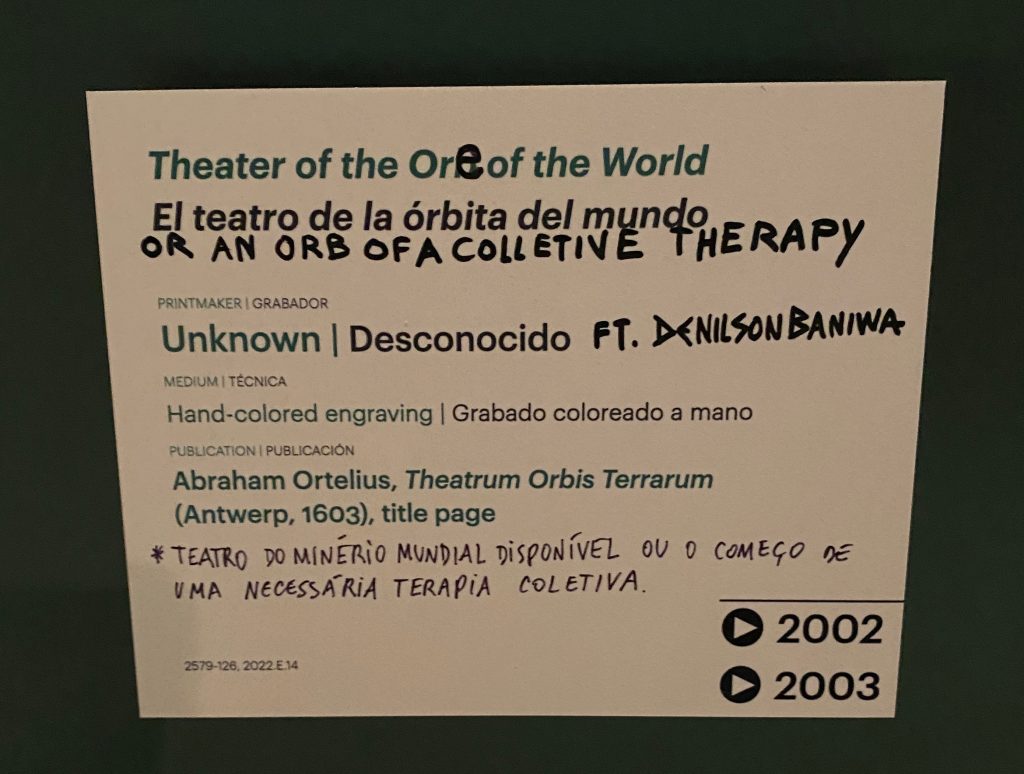 Contributors to the labels include Cuevas and fellow grounds staff Salvador Álvarez, Federico Mora, and Efraín Pérez; artist "Liliflor" Lilia "Liliflor" Ramirez; singer and author Jessa Calderon, who is part of the Chumash and Tongva Nations of Southern California; and Jorge Gutiérrez, founder of the nonprofit Familia: Trans Queer Liberation Movement.
For Alonso, the project was about inclusion—providing a more nuanced view of the art and showing members of the communities represented in the exhibition that they, and their opinions, matter. She's not alone in this thinking: institutions such as the Middlebury College Museum of Art, the Delaware Art Museum, and the Baltimore Museum of Art have invited community members and museum staff without backgrounds in art history to help write wall labels.
While Europeans sometimes gushed about the land as a "paradise," they also described Indigenous people as cannibals, represented them as savages, and portrayed native wildlife as "monsters." Alonso decided to focus an exhibition on books and other materials printed in multiples, as well as letters written by figures like Christopher Columbus, because these were meant to travel (and influence) the world. These items also became the basis for further depictions, sometimes by Europeans who had never set foot on American soil.
Denilson Baniwa's new pieces include video art, a mural, and a "cabinet of curiosities" that further critique European perspectives. He also created artistic interventions on various objects from the GRI collections; for example, adding his own imagery on top of digital versions of several drawings. The exhibition includes examples from pop culture as well, with a Spotify playlist with songs like Madonna's "La Isla Bonita" that perpetuate some of the ideas represented in the show.
"That's why the exhibition is called Reinventing the Américas—because everything is like a reinvention of the reinvention," Alonso says.

Curator Idurre Alonso.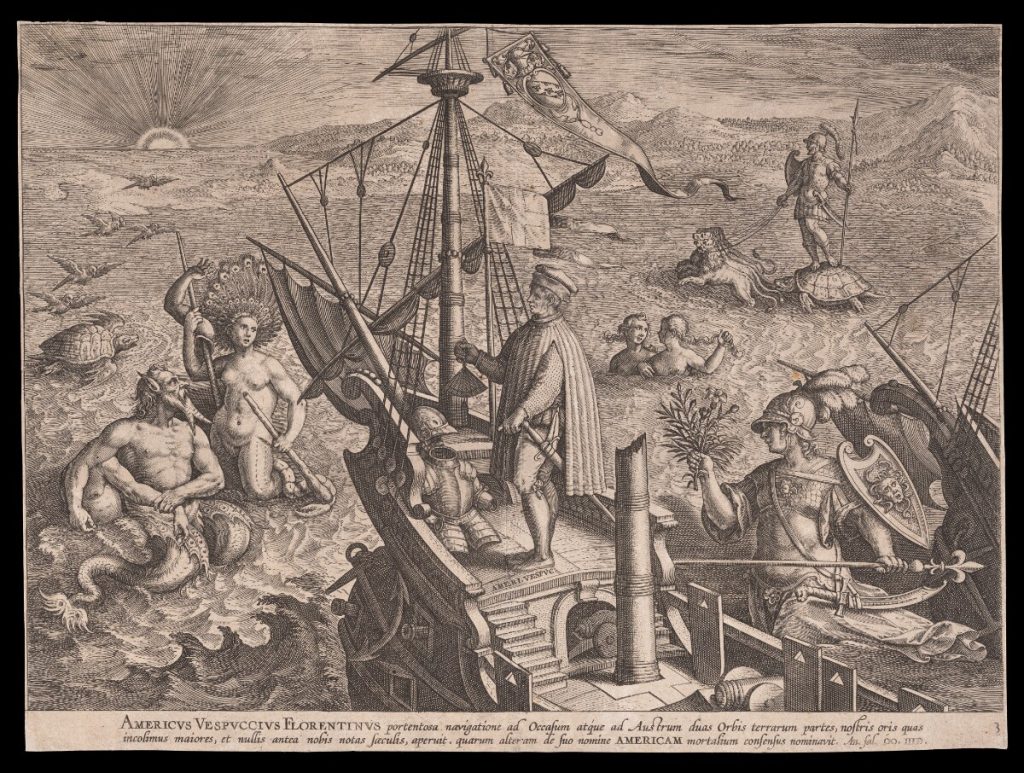 The wall label for this engraving, which depicts explorer Amerigo Vespucci sailing west, surrounded by warriors and sea creatures, was written by Getty grounds staff members Salvador Álvarez, Arturo Cuevas, Federico Mora, and Efraín Pérez: "Most history is not reality, as it consists of both truth and imagination. That is how history is written—with a splash of truth and many lies, which in this case were fabricated to attract Europeans to America."
Reinventing the Américas: Construct. Erase. Repeat.
On view now through January 8, 2023, at the Getty Center.
Make free advance reservations for the Getty Center.
Getty is a leading global arts organization committed to the exhibition, conservation, and understanding of the world's artistic and cultural heritage. Working collaboratively with partners around the globe, the Getty Foundation, Getty Conservation Institute, Getty Museum and Getty Research Institute are all dedicated to the greater understanding of the relationships between the world's many cultures. The Los Angeles-based J. Paul Getty Trust and Getty programs share art, knowledge, and resources online at Getty.edu and welcome the public for free at the Getty Center and the Getty Villa.
The J. Paul Getty Museum collects Greek and Roman antiquities, European paintings, drawings, manuscripts, sculpture and decorative arts to 1900, as well as photographs from around the world to the present day. The Museum's mission is to display and interpret its collections, and present important loan exhibitions and publications for the enjoyment and education of visitors locally and internationally. This is supported by an active program of research, conservation, and public programs that seek to deepen our knowledge of and connection to works of art.

Visiting the Getty Center
The Getty Center is open to a limited number of visitors, in accord with state and local public health guidelines, Tuesday through Sunday, 10 a.m. to 5 p.m. It is closed Mondays, Thanksgiving, December 25 (Christmas Day), and January 1.

Admission to the Getty Center is always free, but in order to allow social distancing, a reservation is currently required for admission. Reservation are available at www.getty.edu/visit or at (310) 440-7300. Parking is $20. The Getty Center is at 1200 Getty Center Drive, Los Angeles, California.

Additional information is available at www.getty.edu. Sign up for e-Getty at www.getty.edu/subscribe to receive free monthly highlights of events at the Getty Center and the Getty Villa via e-mail, or visit www.getty.edu for a complete calendar of public programs.
Banner image – The Celebration of the Lizard (detail), Spirit Animals (detail), 2022, Denilson Baniwa. Digital intervention on Columnam à Praefecto prima navigation locatam venerantur Floridenses (Column in Honor of the First Voyage to Florida) (detail), from Jacques de Morgues Le Moyne (French, ca. 1533–before 1588), Brevis narratio eorum quae in Florida Americæ provincia Gallis acciderunt (Frankfurt, 1591), pl. 8, Getty Research Institute, 87-B24110. Courtesy the artist. Design © 2022 J. Paul Getty Trust.