Micky's hosts month-long literary festival & $500 slam competition
Do you have what it takes to get published? This August and September, WeHo's weekly open mic (The Mic, Tuesdays 6-9pm at Micky's WeHo), is hosting a literary festival and poetry slam, curated by the City Poet Laureate, Brian Sonia-Wallace.
The festival features a different local Los Angeles-based publisher and a selection of their LGBTQ+ authors and poets each week. The public will have a chance to meet published authors and editors, get signed books, and learn about exciting new queer voices as well as the ins and outs of the publishing industry.
The open mic will proceed as usual after the featured readings – anyone can sign up for a 3-minute slot (first come, first serve) to share poetry, stories, music, comedy, and assorted shenanigans and/or hootenanny.
On September 6th, Micky's will host its first ever poetry slam, a competition with a cash prize of $500. Competitors must bring 3 poems of no more than 3 minutes each, competing in 3 rounds with special guest judges. Email rentpoet@gmail.com if interested in competing—limit 8 slots.
The following presses' writers will feature on the following dates:
August 2 The Los Angeles Press
August 9 Flower Song Press
August 23 Moon Tide Press
August 30 World Stage Press
September 6 SLAM NIGHT
September 13 Red Hen Press
In addition to featuring authors from these presses, Micky's will keep a copy of each writer's work to build a library of local LGBTQ+ & ally literature, which will be available at The Mic every Tuesday.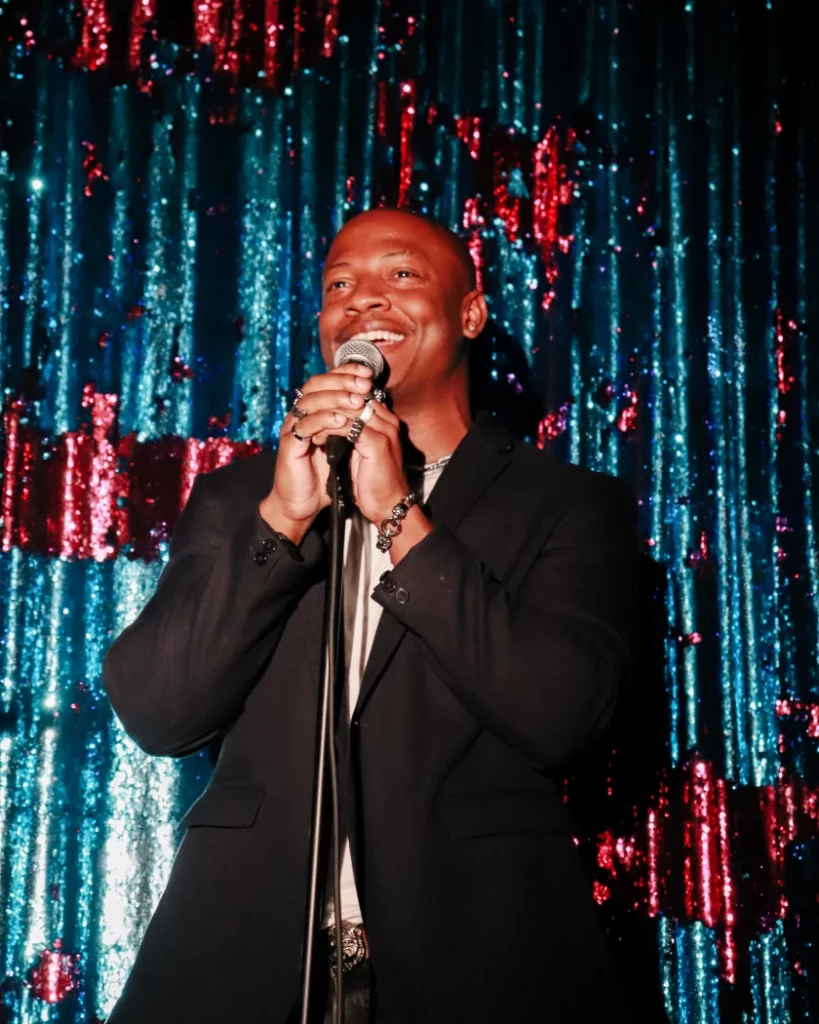 ABOUT THE MIC:
The Mic at Micky's is a space for creatives to gather, collaborate, and share their work every Tuesday night. Located in the heart of one of LA's oldest gay clubs, this space promises connection and community for folks across the LGBTQ+ spectrum (and allies!) before the untz untz starts.
West Hollywood bills itself as "the creative city," and the goal of The Mic is to create a space where local creatives, from poets to musicians to live painters, can express themselves and work on their craft in community.
Hosted by Brian Sonia-Wallace and Nate Lovell, with DJ Paolo and bartender Michael Vega, and produced by Micky's manager Tony Velovski.
ABOUT THE FESTIVAL ORGANIZERS:
West Hollywood City Poet Laureate Brian Sonia-Wallace is an Academy of American Poets Laureate Fellow for LGBTQ+ poetry activism, and the author of The Poetry of Strangers: What I Learned Traveling America with a Typewriter (Harper Collins, 2020). His work has appeared in Poets.org, Rolling Stone, and The Guardian, and he teaches at UCLA Extension Writers' Program. More at briansoniawallace.com and @rentpoet.
For the last 33 years, Micky's WeHo has produced live events from cabaret shows to full-on concerts by LGBTQ community groups. The bar is the proud home of Showgirls with Morgan McMichaels, a Weho staple on Monday nights, as well as host Cake Moss' popular Bring It To Brunch! Dragstravaganza on Saturdays at 1pm. Micky's is always excited at the prospect of working with talented community members who share a passion for live performance and expression. The Mic @ Micky's happens every Tuesday upstairs at Micky's on 8857 Santa Monica Boulevard — doors and sign-ups for the mic at 6, show 7-9pm. Attendees can book their seat by visiting https://www.mickys.com/tc-event-category/the-mic/, and talents wishing to perform should register on https://www.mickys.com/events-and-news/open-mic/