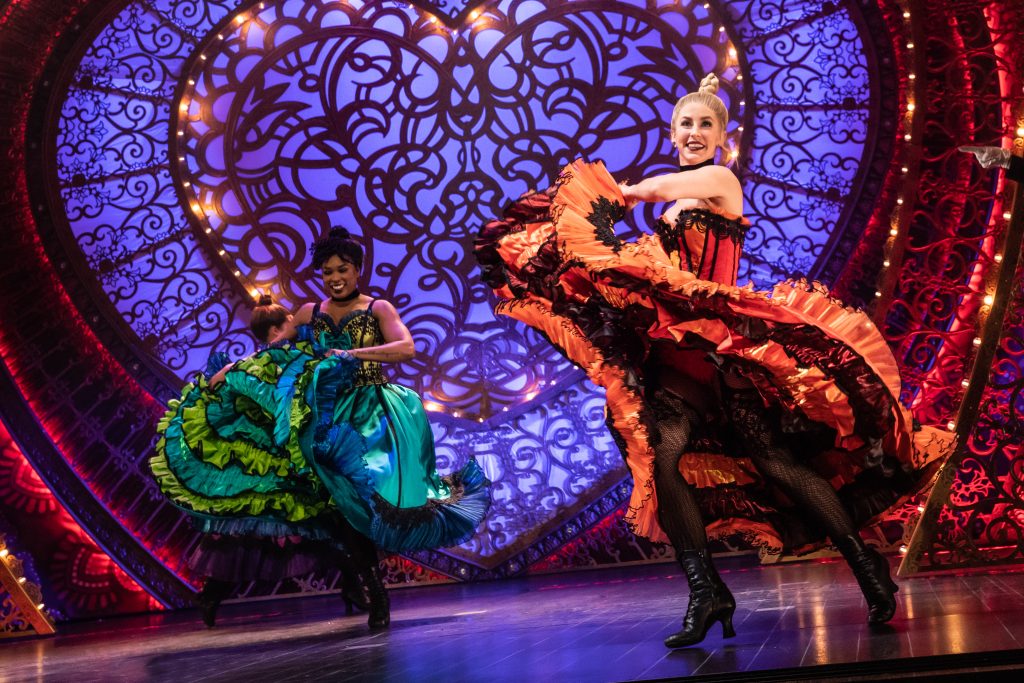 Calling all soul sistas! Dramatic and stylish—Baz Luhrmann, Catherine Martin and Craig Pearce's visually splendid musical movie from 2001 has been faithfully adapted for the stage, and the resulting lavish theatrical production is a feast for the eyes and ears. Not so much a jukebox musical as a medley mash-up of snippets from countless contemporary love songs, Moulin Rouge! The Musical is now playing at the Pantages Theater in Hollywood until September 4, 2022. Thereafter, the production will move to Segerstrom Center for the Arts in Costa Mesa from November 9 to 27, 2022. The show made its premier in Boston 2018, and went on to be staged in the US and London's West End. The Broadway show eventually won the Tony Award for Best Musical in 2020.
The evening kicks off with the high-energy signature tune "Welcome to the Moulin Rouge" and introduces us to key characters Zidler, Nini, Monroth, La Chocolat, Arabia, Baby Doll, and company. This opening number is modeled on the classic disco hit "Lady Marmalade" (with altered lyrics) that was originally performed by (Patti) LaBelle in 1974. The sexy song, with its soaring vocals and suggestive lyrics written by Bob Crewe and Kenny Nolan, soon evolves into a mash-up of other hit tunes including "So Fresh, So Clean (Outkast)," "Rhythm of the Night (Diane Warren)," and "Because We Can (Fatboy Slim)."
Set during a contemporized version of La Belle Epoque at the turn of the 20th century, in the Montmartre Quarter of Paris, the romantic story introduces us to the star of the Moulin Rouge, cabaret actress and courtesan Satine. At the arrangement of her boss Harold Zidler (Austin Durant), the manager of the nightclub where she appears as the headline act, Satine is being wooed by a wealthy Duke. Svengali-like in his machinations, the penurious Zidler pressures Satine to seduce The Duke of Monroth (played with devilish glee by David Harris) as the Moulin Rouge club is verging on bankruptcy.
The musical also introduces us to Christian, a penniless young American poet and wannabe composer (performed by Conor Ryan). Christian arrives at the Moulin Rouge with fellow Bohemians, Henri de Toulouse-Lautrec (André Ward) and Santiago, the Argentinean (Gabe Martínez). Our pure-voiced romantic hero falls in love-at-first-sight with Satine, who initially mistakes him for the wealthy Duke. Can Satine manage a romance with the imperious Duke while keeping her liaisons with Christian from his jealous eyes?
Channeling the marvelous pin-up star Dita Von Teese, Courtney Reed stars as Satine, the ill-fated courtesan and showgirl. The story draws from classical works such as Puccini's gorgeous tragic opera La bohème, which itself was based on Henry Murger's novel Scenes de la vie de Bohème.
Flash, glamor and panache—the staging of this dynamic and vivacious musical is breathtaking in its spectacle. Fabulous costumes and superb choreography capture the spirit and sexiness of the era without feeling crass or lewd. The music is pounding from the very first note, thanks to a hard-working live orchestra of musicians and rockers.
The voices from the cast are strong, especially our two leads Courtney Reed and Conor Ryan. Together, their voices soar with perfect harmonies—it's utterly thrilling to experience this cast performing live.
André Ward as Toulouse-Lautrec is a little on the tall side to play the notoriously diminutive artist, but who cares? Ward delivers a fantastic performance. Teamed with Gabe Martínez as Santiago, the buddies encourage Christian to pursue Satine, and provide a lot of charisma as well as comic relief throughout the evening.
Moulin Rouge! The Musical
                           NOW THROUGH SEPTEMBER 4, 2022
Theatre: HOLLYWOOD PANTAGES THEATRE
6233 Hollywood Blvd | Los Angeles, CA 90028
Performance Schedule:
Tuesday – Friday at 8pm
Saturday at 2pm & 8pm
Sunday at 1pm & 6:30pm
Individual Tickets: Individual tickets start at $39.00
Ticket prices subject to change without notice.
Parental Advisory: Children ages 12 and up.
All patrons must have a ticket, regardless of age.
Runtime: 2 hours and 45 minutes including intermission
Tickets: Online: BroadwayInHollywood.com or
Phone: 1-800-982-2787
In Person: Hollywood Pantages Theatre Box Office
Visit website for current box office hours.
COSTA MESA:
Dates: NOVEMBER 9 to 27, 2022
Theatre: SEGERSTROM CENTER FOR THE ARTS
60 Town Center Drive | Costa Mesa, CA 92626
Performance Schedule: Tuesday – Friday at 7:30pm
Saturday at 2pm & 7:30pm
Sunday at 1pm & 6:30pm
Schedule on Thursday, November 10 – 2:00pm and 7:30pm
Individual Tickets: Individual tickets start at $31
Ticket prices subject to change without notice.
Tickets: Online: www.SCFTA.Org
Phone: 1-714-556-2787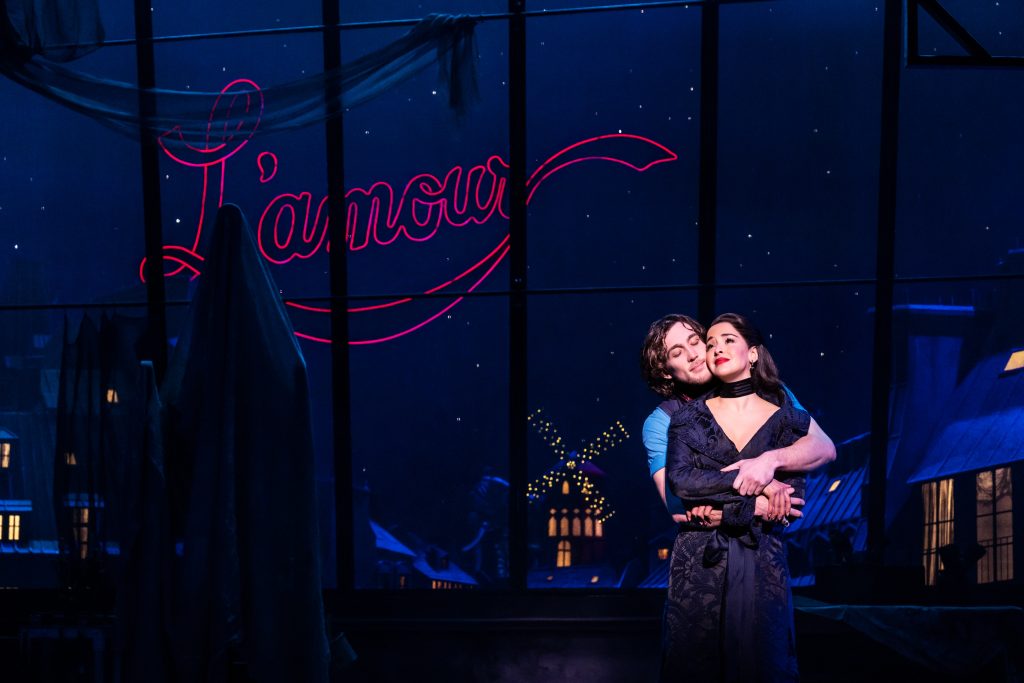 Moulin Rouge! The Musical is produced by Carmen Pavlovic and Gerry Ryan OAM for Global Creatures and Bill Damaschke. General management is by Foresight Theatrical.
Co-producers of the touring production include Aaron Lustbader, Hunter Arnold, Darren Bagert, Erica Lynn Schwartz/Matt Picheny/Stephanie Rosenberg, Adam Blanshay Productions/Nicolas & Charles Talar, Iris Smith, Aleri Entertainment, Sophie Qi/Harmonia Holdings, CJ ENM, Len Blavatnik, Ambassador Theatre Group, Endeavor Content, John Gore Organization, Spencer Ross, Gilad-Rogowsky/InStone Productions, AF Creative Media/International Theatre Fund, Nederlander Presentations/IPN, Cody Renard Richard, Jujamcyn Theaters, Eric Falkenstein/Suzanne Grant, Peter May/Sandy Robertson, Tom & Pam Faludy, Triptyk Studios, Carl Daikeler/Sandi Moran, Desantis-Baugh Productions, Red Mountain Theatre Company/42ND.CLUB, Candy Spelling/Tulchin Bartner, Roy Furman, Andrew & Ruby Ryan, Brent & Sarah Deboer and Michael Ryan.