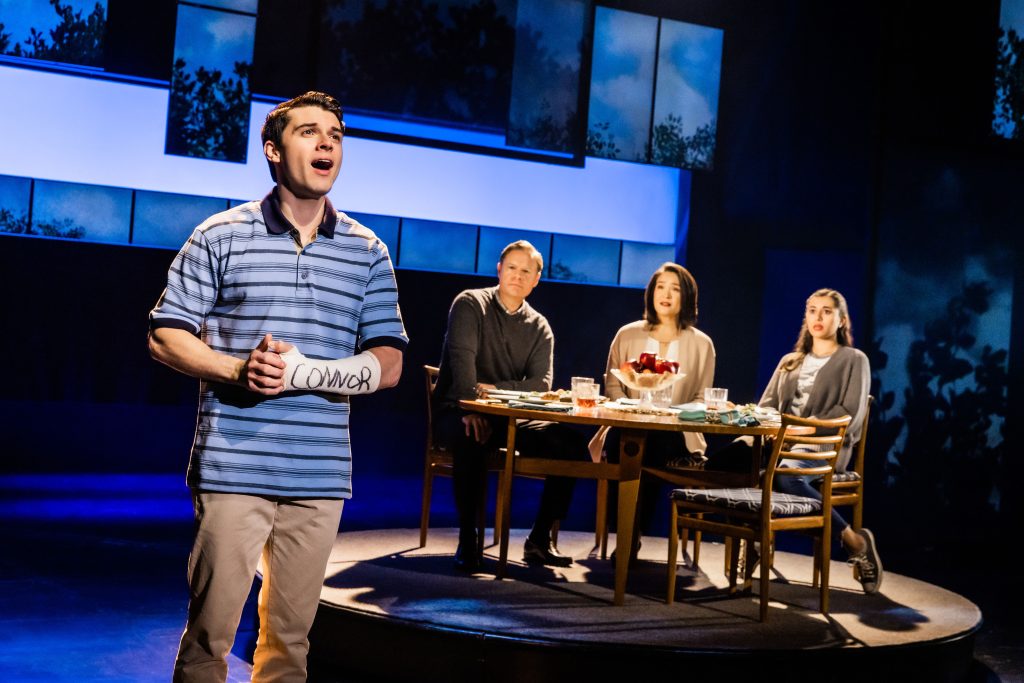 Cringe-factor is extremely high in this modern musical, now playing at the Ahmanson Theatre until July 31, 2022. The production returns to the Ahmanson following its record-breaking sold-out run in 2018.
Evan Hansen (played by Anthony Norman) is a teenager who suffers from crippling social anxiety. His mother Heidi (Coleen Sexton) and his therapist have advised him to write letters to himself that are full of positive affirmations: "Dear Evan Hansen, today's going to be a good day, and here's why." 
When one of Evan's letters turns up in the pocket of an aggressive classmate who has committed suicide, everyone misconstrues it to mean that Evan and the classmate Connor (Nikhil Saboo) were close friends. Several more things compound the misunderstanding, and pretty soon Evan is at the center of a social media-driven campaign, dubbed "The Connor Project," created via crowd-sourcing to help to bring awareness to teen suicide. Disturbingly, Evan elects to manufacture backdated emails to support the notion that he was friends with the tragically departed teen.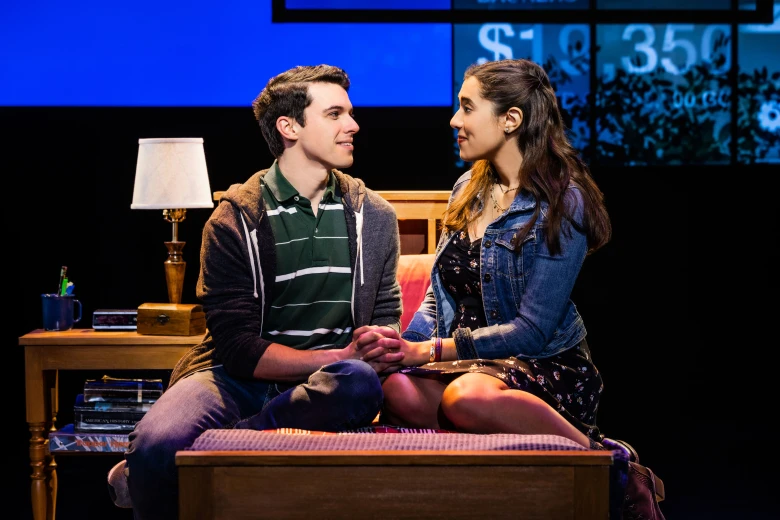 What's great about this musical is its depiction of complex family dynamics. The storyline, while highly contrived, nevertheless does progress in a logical way, with developments and conversations that seem to happen at exactly the right time. The direction by Michael Greif is crisp and detailed, capturing glances and interactions between the characters with a pleasing precision. The staging is gorgeously fluid and seamless in the many swift transferences from scene to scene, location to location. Marvelous scenic design is by David Korins. The final scene is especially gorgeous, thanks to the lighting design by Japhy Weideman and the projection design by Peter Nigrini.
The cast is really accomplished and all give very strong performances. The voices are first-rate, and some of the – predominantly wistful – songs feature some truly heavenly harmonies. Unfortunately, what's not great about this award-winning musical are the forgettable songs, which all sound exactly the same. Then again, the music certainly is mostly peppy and upbeat and the recitative style of dialogue flows very well, making the storyline easy to follow. It just feels like there needs to be more variation to the melodic style of the whole show. Under the musical direction of Garret Healey (who also conducts and plays keyboard) the on-stage/upstage musicians perform a wonderful blend of electric and bass guitar riffs paired with the string ensemble. The show is orchestrated for a band of eight, including the music director.
Some critics have legitimately pointed out that this musical glorifies how social media can exploit suicide and mental illness. The show certainly could do a better job of addressing the consequences of compounded deceit. While I wasn't craving a 'comeuppance' for our cringey 'hero,' the story lacks a satisfactory resolution, despite a gentle grace note during the finale.
Despite my misgivings, there's still plenty to enjoy in this staging of this beloved musical.

From the press release:
The winner of six Tony® Awards, including Best Musical, Dear Evan Hansen, features a book by Tony Award-winner Steven Levenson ("Fosse/Verdon"), a score by Grammy®, Tony® and Academy Award® winners Benj Pasek and Justin Paul ("La La Land," "The Greatest Showman") and direction by four-time Tony Award nominee Michael Greif ("Rent," "Next to Normal").