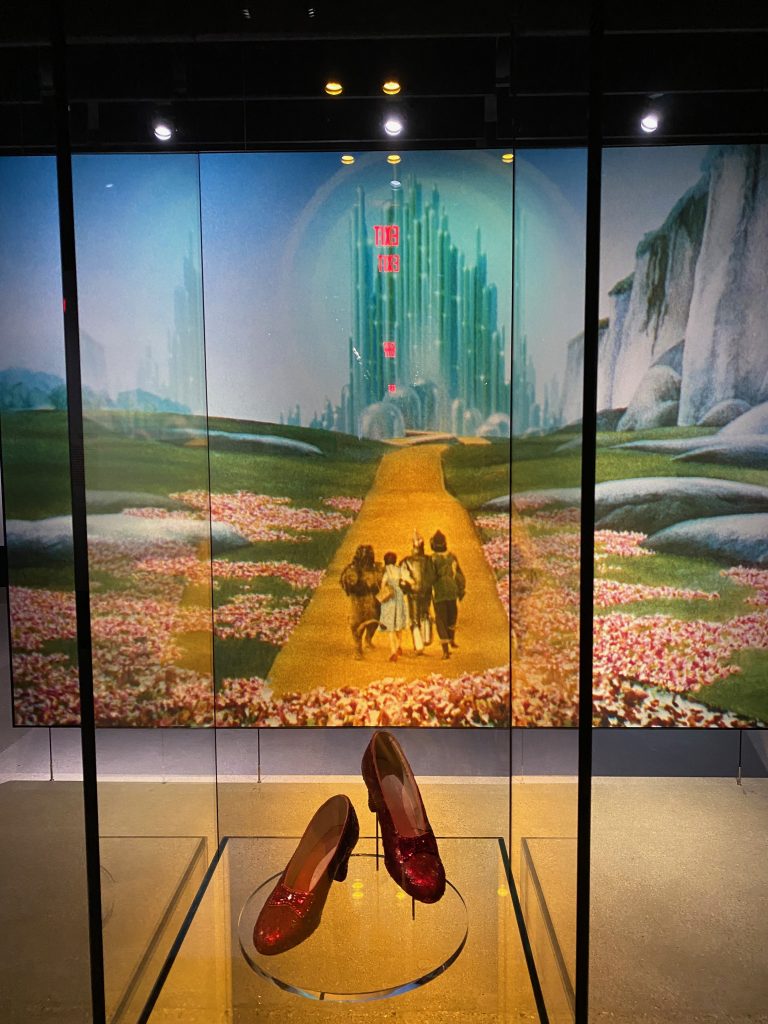 The Art of Moviemaking: The Wizard of Oz and Director's Inspiration: Spike Lee, both part of the Academy Museum of Motion Picture's acclaimed Stories of Cinema exhibition, will close on September 25, 2022. Both galleries have been on view since the museum opened nearly a year ago on September 30, 2021.
Pictured: The iconic ruby red slippers featured in The Wizard of Oz. Photo by Pauline Adamek.
With a pair of original ruby slippers, the iconic blue gingham pinafore worn by Judy Garland, as well as the sepia pinafore worn by Garland's stand-in in the 1939 film. The Art of Moviemaking: The Wizard of Oz takes visitors behind-the-scenes to explore the many disciplines that come together to bring a single film to life—screenwriting, casting, makeup design, costume design, production design, sound design, special effects, acting, directing, producing, and more. 

Original posters, script drafts, drawings, production photography, the Cowardly Lion's mane and the Wicked Witch of the West's hat all come together to showcase a film that changed moviemaking forever.

Director's Inspiration: Spike Lee draws from the Academy Award®-winning director's personal collection of objects, such as a guitar owned by Prince (with whom he collaborated) and the custom purple Gucci suit Lee wore to the 2020 Oscars® to pay tribute to Lakers star player Kobe Bryant (whom he chronicled in the 2009 documentary Kobe Doin' Work).

Informed by Spike Lee's own account of the creative process, the gallery considers his body of work and the inspiration behind some of his most iconic titles such as Do the Right Thing (1989) and Crooklyn (1994) as well as recurring themes and collaborators.

The respective galleries will be transformed for The Art of Moviemaking: The Godfather and Director's Inspiration: Agnès Varda, each opening November 3. 

The Art of Moviemaking: The Godfather, will showcase the collaborative process of the making of this masterpiece through a wide array of original objects, images, and stories. In 1972, director Francis Ford Coppola's interpretation of Mario Puzo's popular novel provided an operatic and poignant reflection on the American Dream that not only radically transformed the moviegoing experience, but also the moviemaking process. Featured costumes, props, scripts, and equipment will highlight the contributions of each cinematic branch, exploring how they innovated amidst the limitations and freedoms of "New Hollywood." 

Object highlights include Don Corleone's desk and chair used in The Godfathertrilogy, Coppola's original "Godfather notebook," and a costume worn by Al Pacino in The Godfather Part II. This exhibition is organized by Assistant Curator Sophia Serrano. Leading up to The Godfather gallery rotation, the Academy Museum Store will be releasing an exclusive limited-edition The Godfather LP in partnership with Amoeba Music. The album will feature music from The City of Prague Philharmonic Orchestra and will include music from the trilogy. Pre-order your copy today at academymuseumstore.org.

Also opening is Director's Inspiration: Agnès Varda, an exploration of one of global cinema's most radical and transformative artists. Belgian-born Varda's work is undeniably personal drawing inspiration from her life, experiences, the people and the world around her. This gallery will highlight her influences and films from her six-decade long career ranging from La Pointe Courte (1955), widely regarded as the first film of the French New Wave, to her autobiographical Varda by Agnès(2019). A photographer prior to becoming a filmmaker, the gallery will explore Varda's time behind the still camera including prints, contact sheets, and photography related production materials.

From her years living in Los Angeles to her familial relationships, the autobiographical elements that permeate all aspects of Varda's filmography will be represented using personal postcards, props, family photographs, and other production materials. Additionally, Varda's career as a fine artist and her longstanding love of art history which influenced many of her films will be explored using production notebooks, posters, and a model for one of her cinema shack installations. This gallery is curated by former Assistant Curator Ana Santiago and completed by Jessica Niebel, Exhibitions Curator with support from Manouchka Kelly Labouba, Research Assistant and the collaboration of Rosalie Varda-Demy, Mathieu Demy and Ciné-Tamaris.

Stories of Cinema is organized by Vice President of Curatorial Affairs Doris Berger, Senior Curator for Collections and Curatorial Affairs Nathalie Morris, Exhibitions Curators Jenny He and Jessica Niebel, Associate Curator Dara Jaffe, and Assistant Curators J. Raúl Guzmán, Dara Jaffe, Ana Santiago, and Sophia Serrano, with support from Curatorial Assistant Esme Douglas and Research Assistant Manouchka Kelly Labouba, the Academy Museum Inclusion Advisory Committee, and the Academy Branch Task Forces.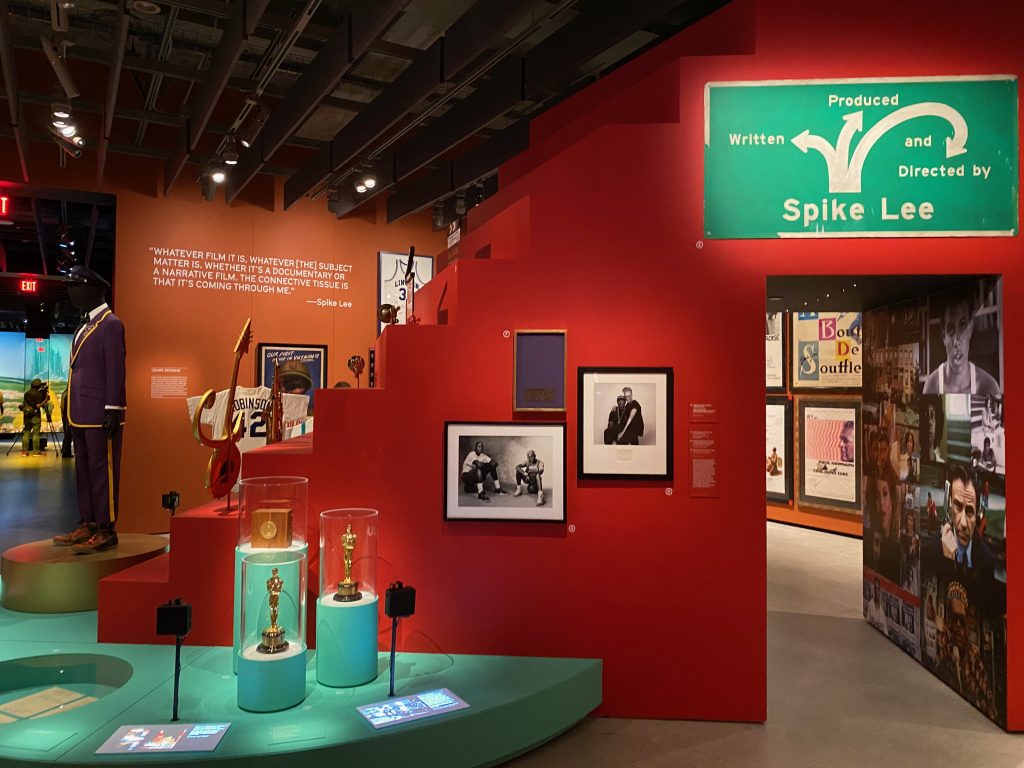 The Art of Moviemaking: The Wizard of Oz and Director's Inspiration: Spike Lee close Sunday, Sep. 25, 2022.

The Art of Moviemaking: The Godfather and Director's Inspiration: Agnes Varda, Open Nov. 3.
OPENING HOURS:
The Academy Museum exhibition galleries are open seven days a week, with hours Sunday through Thursday from 10 a.m. to 6 p.m. and Friday and Saturday from 10 a.m. to 8 p.m.

ADMISSION/ TICKETS:
Tickets to the Academy Museum are available only through advance online reservations via the Academy Museum's website and mobile app. 

General admission tickets for the museum's exhibitions are $25 for adults, $19 for seniors (age 62+), and $15 for students. Admission for visitors ages 17 and younger, and for California residents with an EBT, card is free. 

Film screening tickets are $10 for adults, $7 for seniors (age 62+), and $5 for students and children (age 17-). Matinees are $5 for all.
About the Academy Museum of Motion Pictures:
The Academy Museum is the largest museum in the United States devoted to the arts, sciences, and artists of moviemaking. The museum advances the understanding, celebration, and preservation of cinema through inclusive and accessible exhibitions, screenings, programs, initiatives, and collections. Designed by Pritzker Prize-winning architect Renzo Piano, the museum's campus contains the restored and revitalized historic Saban Building—formerly known as the May Company building (1939)—and a soaring spherical addition. Together, these buildings contain 50,000 square feet of exhibition spaces, two state-of-the-art theaters, the Shirley Temple Education Studio, and beautiful public spaces that are free and open to the public. These include: The Walt Disney Company Piazza and the Sidney Poitier Grand Lobby, which houses the Spielberg Family Gallery, Academy Museum Store, and Fanny's restaurant and café.