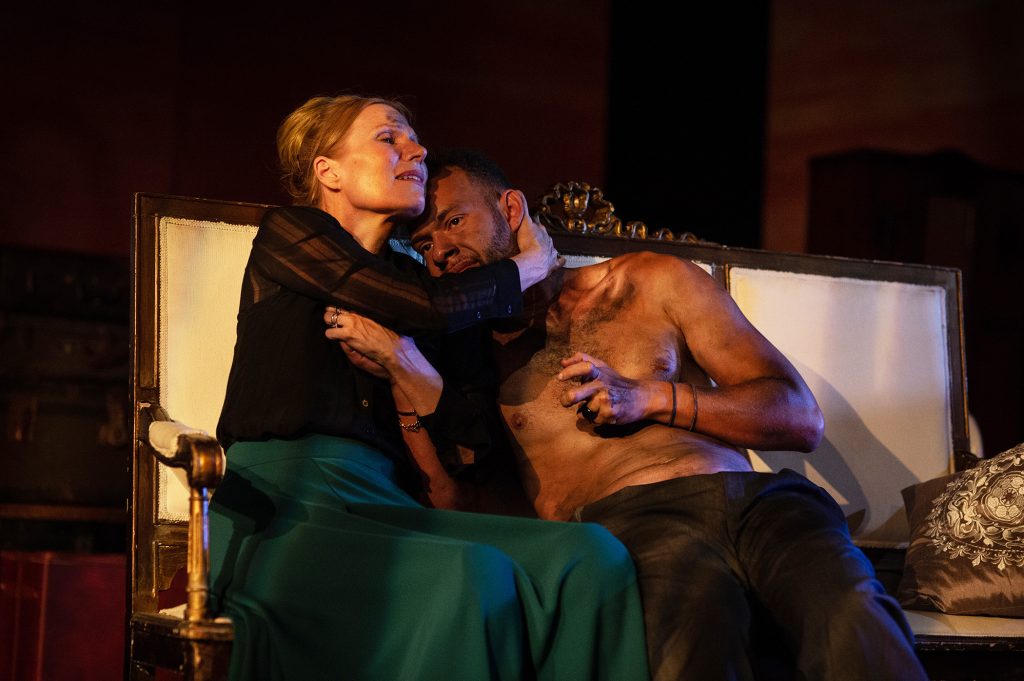 Norwegian playwright Henrik Johan Ibsen's creaky old play Ghosts gets a slight updating and a marvelous staging at The Odyssey. The production, brilliantly cast and directed by Bart DeLorenzo, runs on the weekends through Sunday October 23, 2022.
Pictured above: Pamela J. Gray and Alex Barlas. Photo by Cooper Bates.
This adaptation by acclaimed British director Richard Eyre is making its L.A. premiere and features an updated translation, notably with a few instances of profane language, which I took to be the contemporary equivalent of Ibsen's original text. Nevertheless, the production manages to retain its period sensibilities as well as its present-day relevance with a pleasing sense of balance. Additionally, the play's three acts have been condensed into a 90-minute play with three distinct chapters. Much of the fat has been removed, permitting the crucial plot points and intense scenes to feature.
As with his other plays, Henrik Ibsen wrote Ghosts in Danish, the common written language of Denmark and Norway, at the time. The original title, in both Danish and Norwegian, is Gengangere, which can be literally translated as "again walkers", "ones who return," or "revenants." It has a double meaning of both "ghosts" and "events that repeat themselves," so the English title Ghosts fails to capture this double meaning.

From Wikipedia.
Ibsen wrote his play in 1881 and, curiously, it was first staged in 1882 in Chicago, Illinois, in a production by a Danish company on tour. The story might seem familiar, given that some of its most salient themes and plot points have since been poached and reforged. Because of its scandalous subject matter, which includes religion, venereal disease, incest, and euthanasia, initial stagings of the work immediately generated strong controversy and negative criticism.
Recently widowed Helene Alving (Pamela J. Gray), desperate to conceal her late husband's philandering, is preparing to open an orphanage in his memory with the help of Pastor Manders (Barry Del Sherman). But when her son (Alex Barlas), returns from Paris and turns his eye to the Alving family maid (Viva Hassis Gentes)—daughter of local schemer Jacob Engstrand (J.Stephen Brantley)—Helene is forced to confront the ghosts of the past and the weight of her own secrets.

Plot description from the press release.
What stands out in this superb production is Bart DeLorenzo's incisive direction. The casting—always the first challenge—is perfectly apt, with each actor convincingly inhabiting their role with gusto. Every reaction, gesture and exchange between the players is beautifully choreographed within a play that navigates the subtleties of the unspoken as well as the forthright confrontations.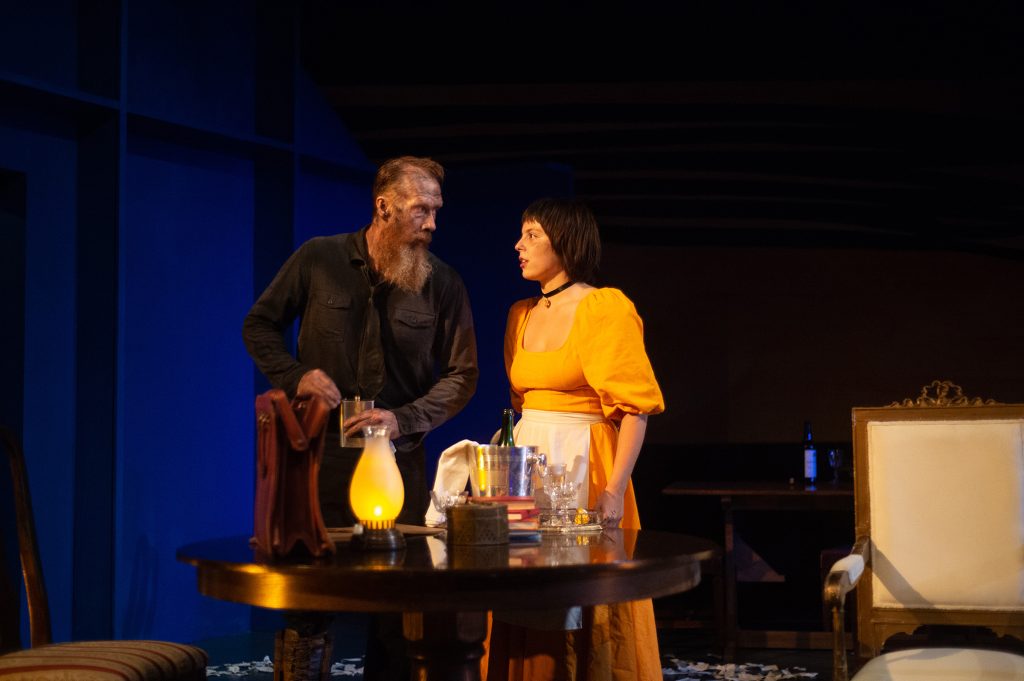 Staging is also note-worthy, with no visible walls; rather, the various rooms of the mansion are marked by tape on the stage floor. Frederica Nascimento's scenic design affords the audience to see behind closed doors, as it were, without the characters realizing they are seen. The only odd choice is a symbolic upside-down boxy sculpture of a house (like an over-sized Monopoly piece) that is suspended upstage and descends slowly during a dramatic moment. Towards the end, the actors who have no remaining scenes quietly sit offstage watching the action, appropriately haunting the play's ambiguous conclusion.
Ghosts cannot escape its period (even dated) sensibilities, yet it still endures as a compelling piece of drama.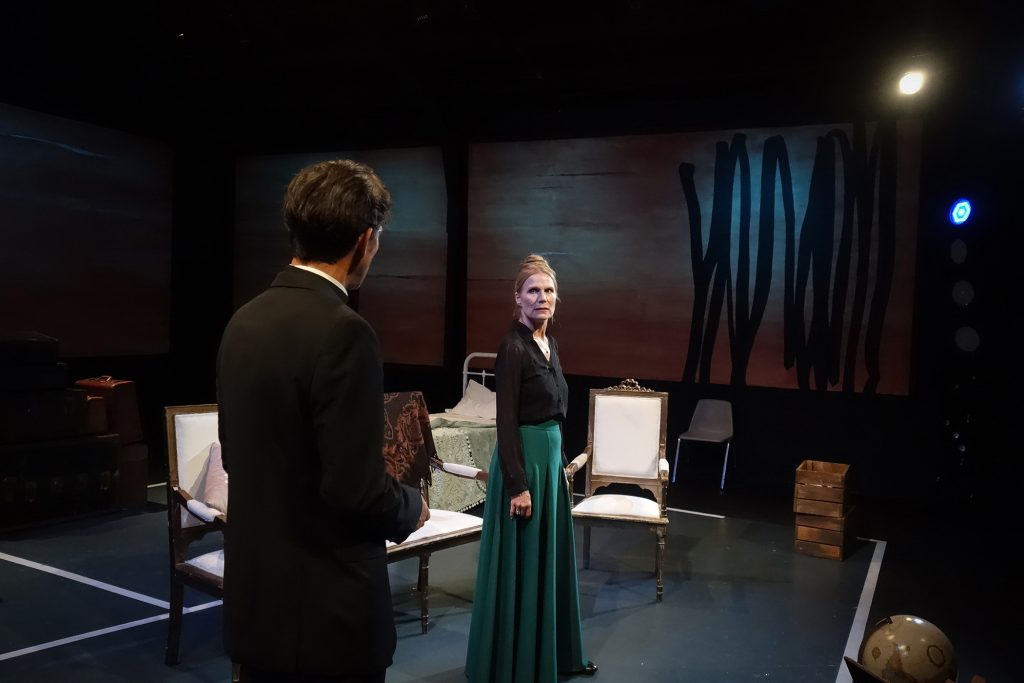 Ghosts
• Written by Henrik Ibsen
• Adapted by Richard Eyre
• Directed by Bart DeLorenzo
• Starring: Alex Barlas, J.Stephen Brantley, Barry Del Sherman, Viva Hassis Gentes, Pamela J. Gray
• Presented by Odyssey Theatre Ensemble, Ron Sossi Artistic Director.
TICKETS:

• Fridays, Saturdays and Sundays: $25–$40.00
• Mondays: Pay-What-You-Will (reservations open online and at the door starting at 5:30 p.m.)
• Artists and educators: $20 on Sunday, Oct. 9 with union (AEA-SAG-AFTRA) or school ID.
OTHER:
Go to odysseytheatre.com/plan-your-visit/covid-protocols to find up-to-date Covid-19 safety protocols.
Box Office:
(310) 477-2055 ext. 2 or www.OdysseyTheatre.com