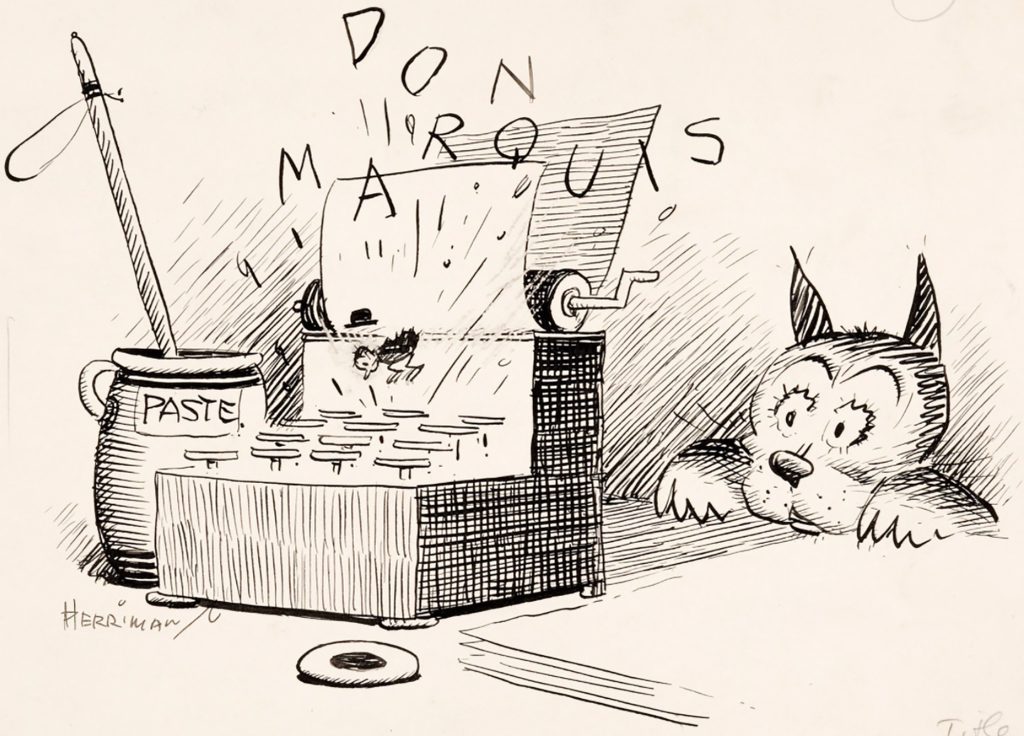 Such a cute play, eliciting some fantastic belly laughs – what a cast, what a script!
A delightful piece of whimsy is now playing at the Whitefire Theatre in Sherman Oaks, on Saturdays until October 15, 2022.
Making its world premiere, The Secret World of Archy & Mehitabel introduces us to an unlikely pair of characters whose profound and poetic observations on life manage to strike a chord. This charming show is perfect for the whole family to enjoy. Little kids will adore the hilarious creature characters while adults will enjoy, well, all of it!
Above image – Archy and Mehitabel, Illustration by George Herriman. Public Domain.
Archy and Mehitabel are the names of two fictional characters created in 1916, by Don Marquis, a columnist for New York Evening Sun. Archy, a cockroach, and Mehitabel, an alley cat, appeared in hundreds of humorous verses and short stories in Marquis' daily column, "The Sun Dial."

From the press release.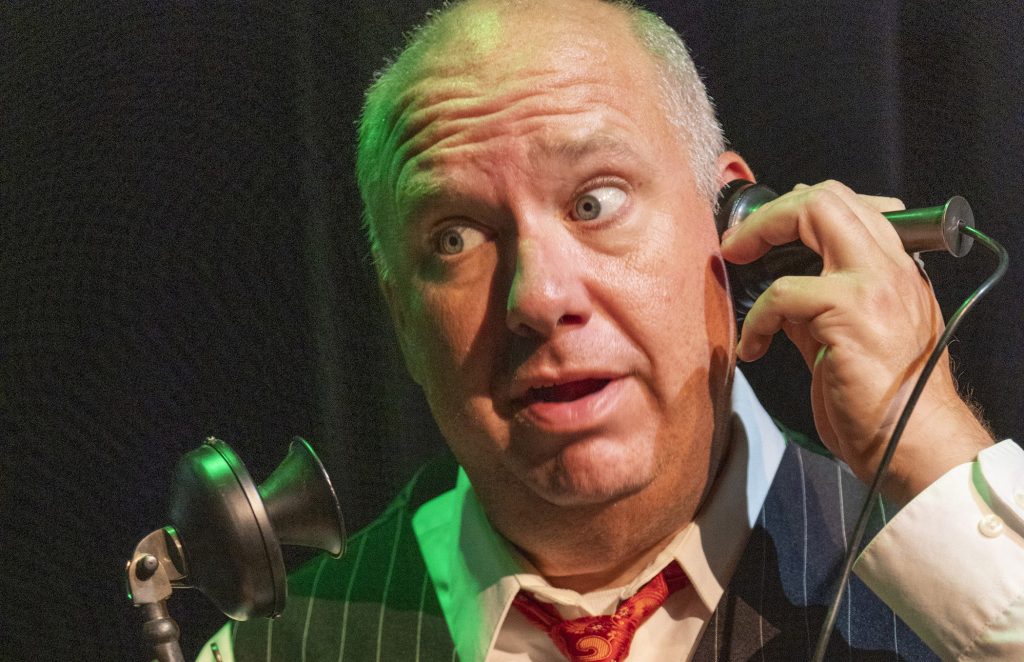 The amusing exploits of this odd couple of creatures have been cleverly adapted for the stage by Dan Gilvezan, who also stars as the philosophical and intrepid Archy.
The show opens with The Boss (Bill Chott), a columnist for the New York Evening Sun, directly addressing the audience, placing "The story I'm about to tell you…" in its 1916 context.
Dressed in a three-piece suit with a thick gold chain for his large gold pocket watch, The Boss recalls how he surprised a large brown cockroach hopping on the keys of his old Remington typewriter "one slow letter at a time."
"I had never seen a cockroach work so hard, nor perspire so freely," remarks the Boss. He reads the letter and is astonished to learn, "Night after night I've written poetry for you," Archy complains, "But the cat sneers and then eats it," and so the little cockroach begs The Boss to leave a sheet of paper in the typewriter for him each night.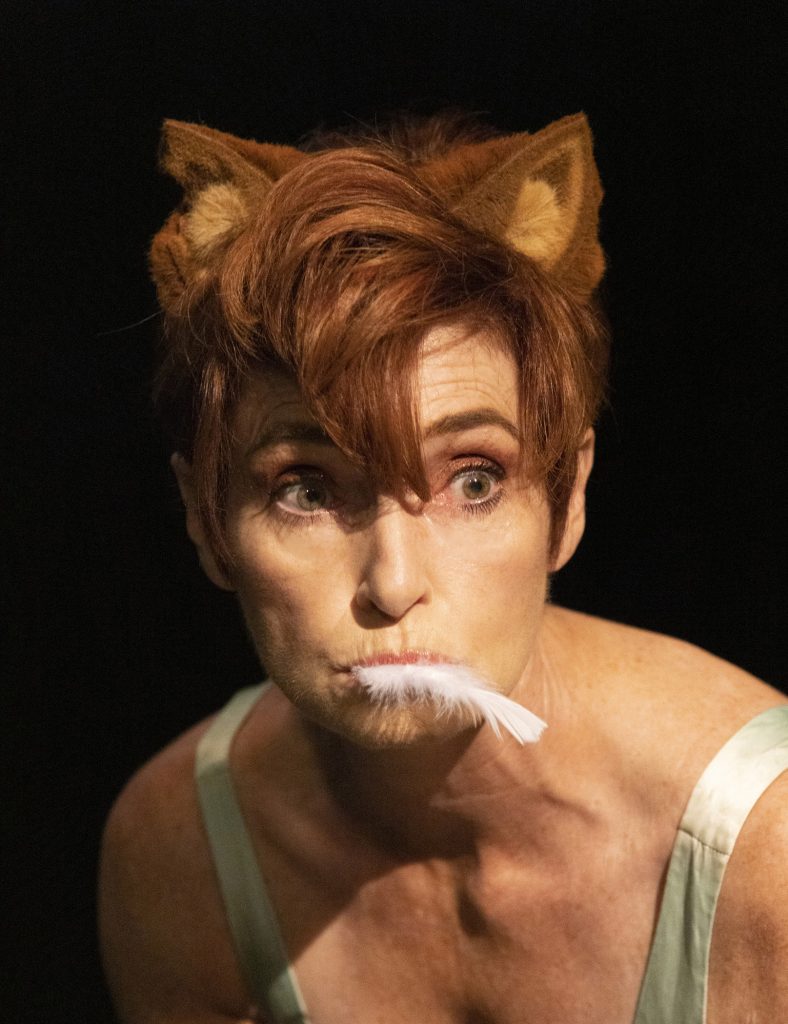 Archy forms an initially uneasy alliance with the smoky-voiced siren Mehitabel, the prowling and ever-hungry alley cat. Formerly aristocratic, now haunting the gutters, Mehitabel regales Archy with tall tales of her past lives.
Mehitabel promises not to eat the papers, provided that Archie agrees to relate her past. The glamorous cat is played by Carolyn Hennesy with aplomb. Quite the diva, she makes a grand entrance complete with a roving spotlight. With delusions of grandeur, the haughy Mehitabel claims to have once been Cleopatra, later saying she was Nefertiti and even Mary Queen of Scots. She's dressed like a flapper in a pale green bejeweled and feathered cocktail dress with plunging décolleté. There's a hilarious visual gag that has her chasing the roving spotlight upon one of her exits. Hennesy doesn't overdo the cat mannerisms, presenting herself as an elegant, sexy dame. "Tourjour gai" is her motto, but throughout the play we witness her heart-breaking disintegration of a Lady turned Alley cat.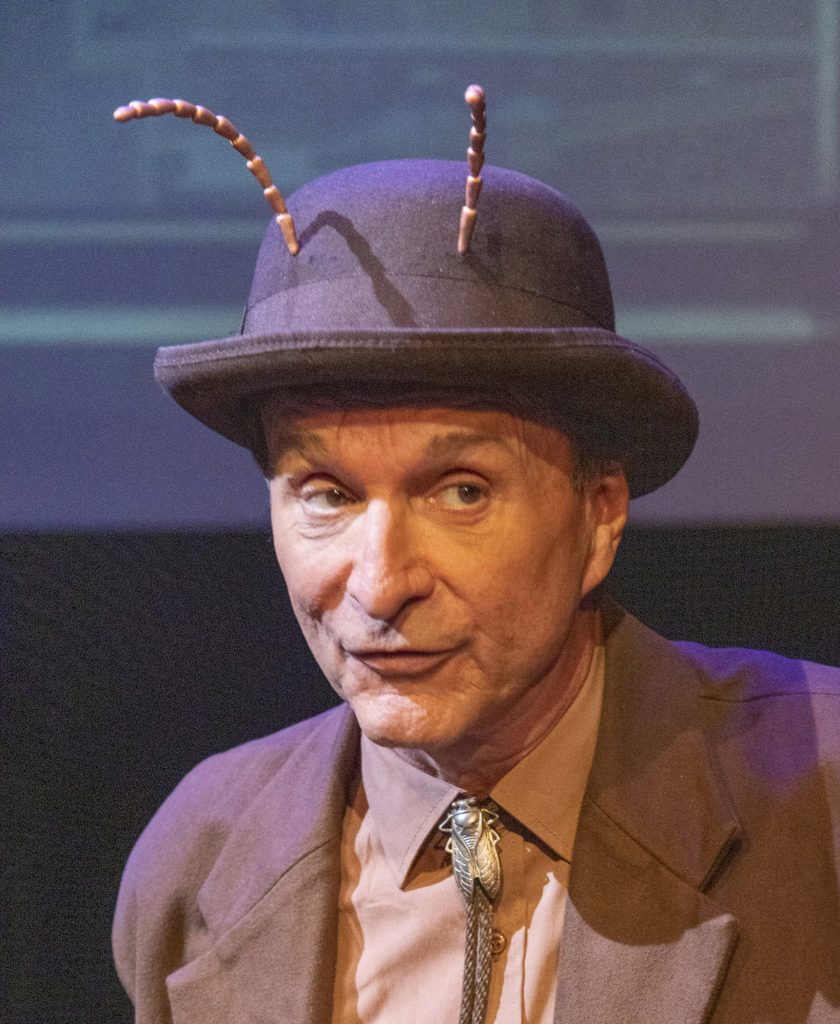 Handsomely dressed in a dapper brown suit, teamed with a bolo tie plus a bowler hat from which his antennae protrude, Gilvezan portrays Archy as an elegant cockroach with the soul of a poet.
Thanks to Archy's nightly missives, we learn all about the nocturnal inhabitants of the Boss' office. The revolving roster of these characters, from nervy May Fly to Ladybug, Country Fly, Flea and Moth, also an old-timer Cockroach, Tarantula, Grasshopper, Wasp and Toad, are all undertaken by the talented Kelly Stables and Richard Horvitz, respectively, who each showcase their vast range of accents and comedy. There are some very big laughs during this one-act, 90-minute show, thanks to expert comic timing from the entire cast.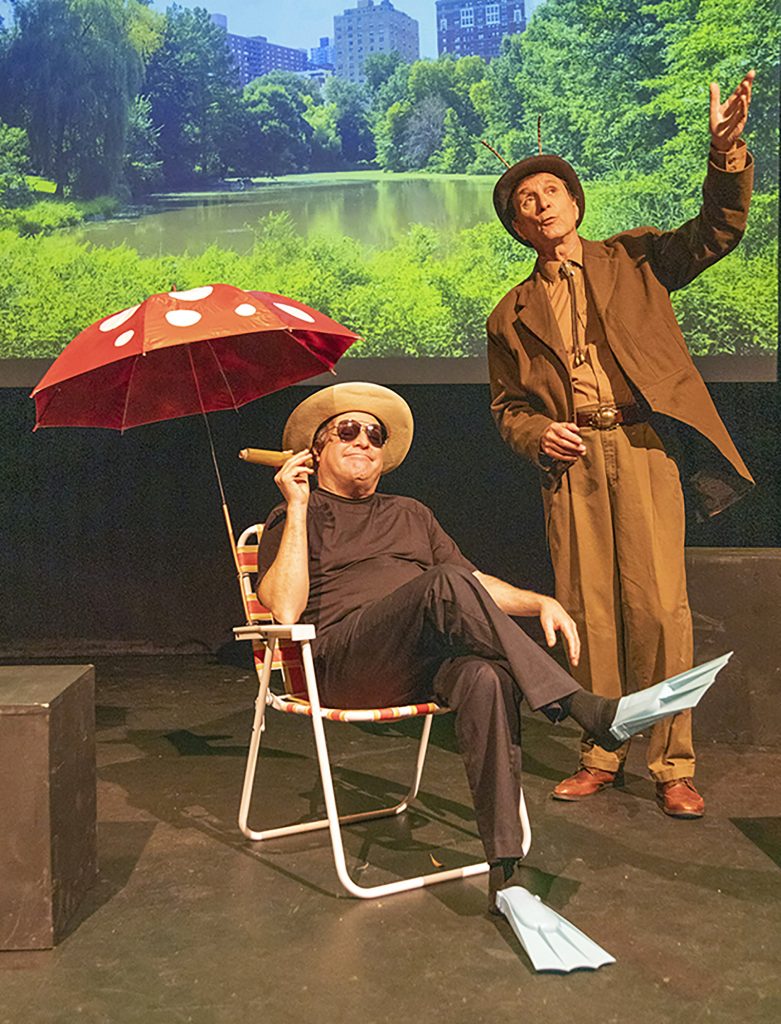 The Boss seems transformed by his interaction with the prosaic cockroach. "Despite everything, there's always reason for hope," he wistfully muses, adding "Maybe I've simply forgotten how to listen…" The Boss begins to notice the minutiae of life. Thanks to his correspondence, the Boss starts to notice "all the little miracles all around."
Meanwhile, Archy muses about the scale of life and reincarnation—who goes up or down the scale and which is up or down?
This marvelous production is the result of a collaboration of artists clearly at the top of their game. The show's producer, Joselle Celine, expertly capitalizes on the creativity and talent of Dan Gilvezan, who imbues Archy the cockroach with warmth and sensitivity. Additionally, the imaginative input of director Moosie Drier helped to shape Gilvezan's script by urging him to create a parallel storyline involving The Boss and his unseen wife (we hear their one-sided telephone conversations).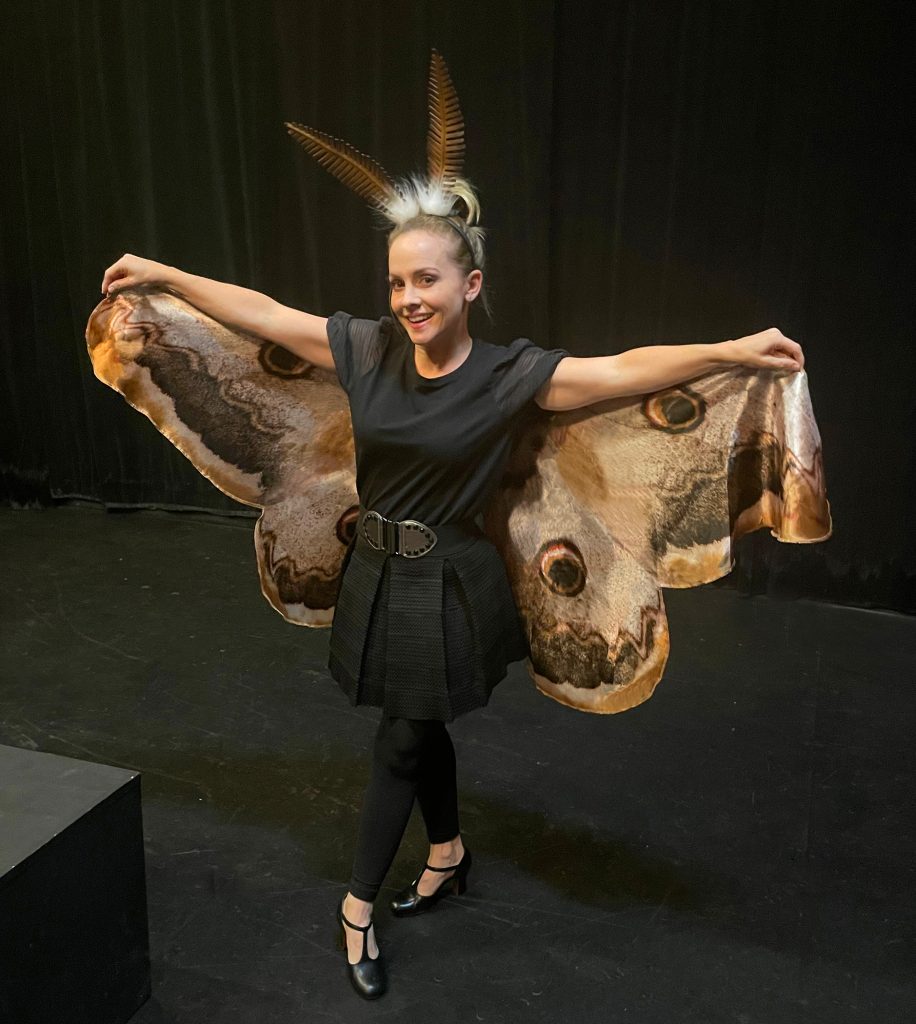 An original score composed for the production by jazz musician Dan West punctuates the action with incidental music as he performs live on stage. Some of the costumes are really gorgeous, especially the moth costume with wings made from printed silk teamed with fluffy antenna.
Buckley Sampson as the show's choreographer brings her delicate approach to the movement of the various creatures we meet throughout the evening. Sampson even doubles as Mehitabel (in silhouette) during a poignant dance that's projected upstage which represents the cat's swan song. This grace note towards the play's conclusion is simply gorgeous.
Transforming what was basically a series of unconnected newspaper columns into a cohesive evening of theater, The Secret World of Archy & Mehitabel features lots of gentle homespun observations and philosophical musings. These charming stories remain as appealing, poignant and relevant today as when they first delighted readers in 1916.
Magical realism and whimsy helps The Secret World of Archy & Mehitabel to feel like Kafka minus the nihilism—don't miss this wonderful production!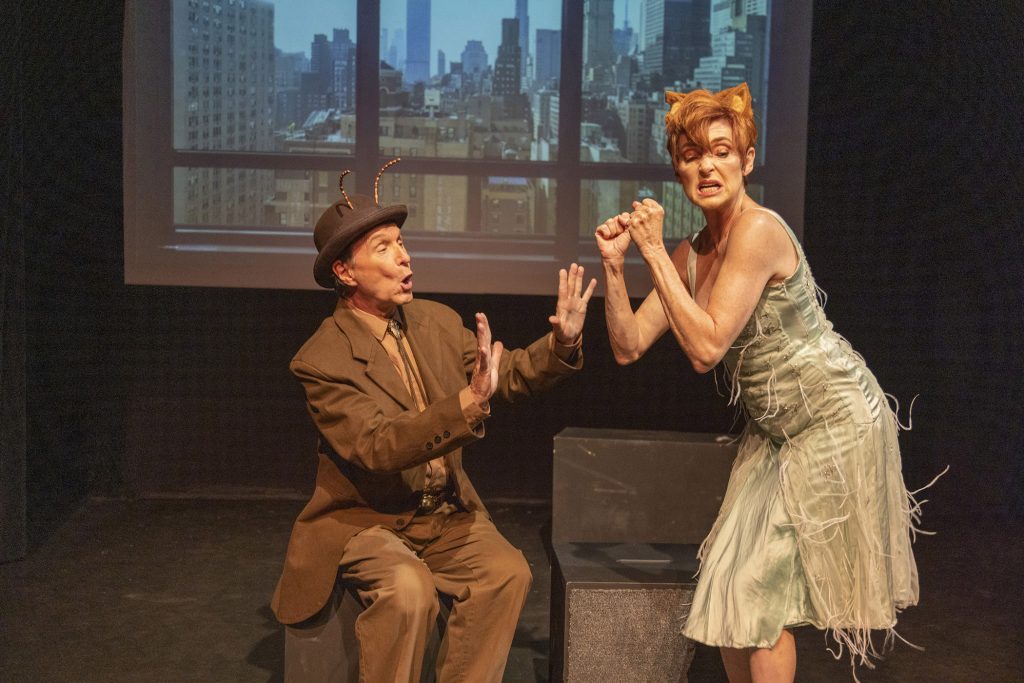 The Secret World of Archy & Mehitabel
• Adapted for the stage by Dan Gilvezan, from the "The Sun Dial" columns created by Don Marquis
• Directed by Moosie Drier
• Starring Bill Chott, Dan Gilvezan, Carolyn Hennesy, Richard Horvitz, Kelly Stables
• Produced by Joselle Celine.
Running time: one-act, 90-minutes.

Performances:
September 10 – October 15
• Saturday at 3 p.m.: Sept. 17 ONLY
• Saturdays at 8 p.m.: Sept. 10, Sept. 17, Sept. 24, Oct. 1, Oct. 8, Oct. 15

Whitefire Theatre
13500 Ventura Blvd.
Sherman Oaks, CA 91423
PARKING:
• Valet parking is available at Augustine Wine Bar, across Sunnyslope from the theater: $9.00
• Metered parking until 8 p.m. on and just south of Ventura Blvd.
• Pay attention to permit parking signs in nearby residential neighborhoods.
• Unrestricted parking is available on Moorpark St. and on the west side of Dixie Canyon Ave.

TICKET PRICES:
• All performances: $30.00
• Seniors: $25.00 (available for the performance on Saturday, Sept. 17 at 3 p.m. ONLY)
• Family 4-pack: $100.00 (2 adults and 2 kids or 1 adult and 3 kids, available for the performance on Saturday, Sept. 17 at 3 p.m. ONLY)
OTHER:
• Appropriate for ages 10 and up.
• Check the website at www.whitefiretheatre.com for up-to-date information regarding the theater's Covid-19 policies on the day of each performance.

HOW:
(818) 687-8559 or www.whitefiretheatre.com