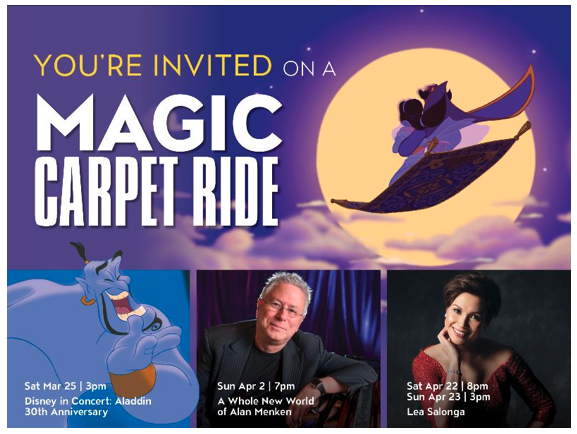 As the beloved Disney animated feature film Aladdin celebrates its 30th Anniversary, The Soraya offers a trio of Disney favorites this Spring.
March 25: Disney in Concert: Aladdin, 30th Anniversary
April 2: A Whole New World of Alan Menken
April 22 & 23: Lea Salonga
Celebrate the 30th anniversary of the release of Disney's classic animation Aladdin. The legendary composer Alan Menken's magical soundtrack and award-winning songs will be performed live by New West Symphony with the film playing on the big screen in the Great Hall. 
From the press release:
A whole new world of Disney will be on full display this Spring as The Soraya presents a trio of family-friendly favorites beginning with Disney in Concert: Aladdin, 30th Anniversary on Sat, Mar 25 at 3pm. The film's composer, Alan Menken, takes the stage the following weekend and is then followed by two performances by multiple award-winning actress and singer Lea Salonga—the original voice of Aladdin's Princess Jasmine.
It has been over three decades since Aladdin, Disney's beloved animated musical fantasy comedy film, first swept audiences away on a magical carpet ride. Originally released on Nov 25, 1992, the Academy Award-winning movie enjoyed significant critical and commercial success.
Three concerts—each with ties to this Disney classic—will give die-hard fans as well as those new to the movie an opportunity to enjoy the enchanting soundtrack by Alan Menken, Howard Ashman, and Tim Rice. Aladdin won Oscars for Best Film score and Best Original Song, and a Grammy Award for Song of the Year in 1992.
One of the most satisfying aspects of being a performing arts programmer is making connections between performances and performers. While some do stand alone in their own right, other times there are deep and important relationships among multiple performances.

Thor Steingraber, The Soraya's Executive and Artistic Director.
Younes and Soraya Nazarian Center for the Performing Arts (The Soraya)
18111 Nordhoff Street, Northridge, CA 91330.
For more information and to purchase tickets, please visit TheSoraya.org,
or simply call the Box Office at (818) 677-3000.
About The Soraya:
Located on the vibrant and diverse campus of California State University in the heart of Los
Angeles' San Fernando Valley, The Soraya continues its vigorous commitment to innovating,
exceling, and amplifying access by offering a wide variety of performances that reflect LA's
many distinctive communities and featuring new and original work from the Los Angeles region as well as artists from around the world.