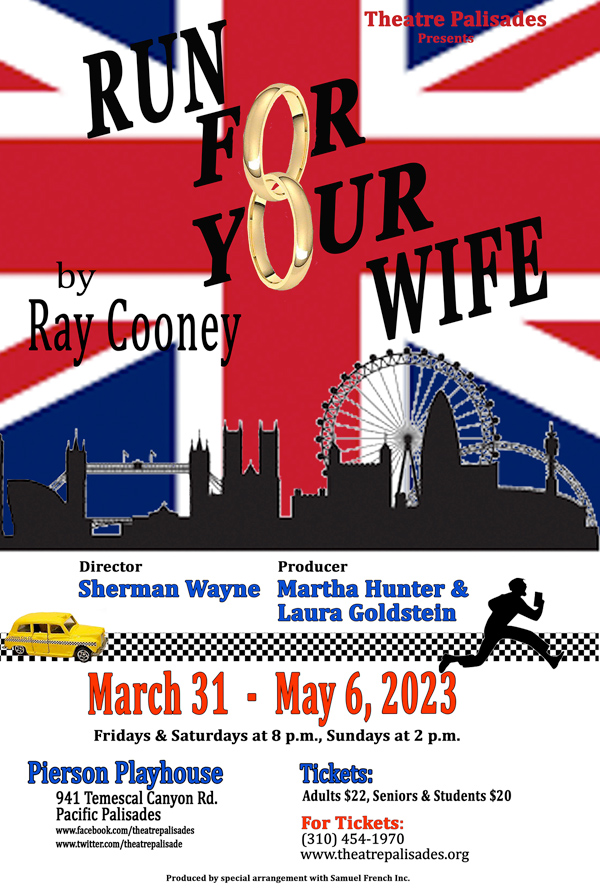 From the press release —
After opening its season with the critically acclaimed production of drama, "Other Desert Cities," Theatre Palisades will be amusing its audience with the laugh out loud English farce, "Run For Your Wife" by Ray Cooney.
A London cab driver, John Smith, is leading two lives, complete with two different wives; Mary and Barbara. He manages to juggle them both without arousing suspicion, until he gets mugged and wakes up in the hospital with the wrong wife by his side. He is forced to explain things to his two wives and hilarity ensues.
When asked what the audience should be prepared for with this production, director Sherman Wayne says to get ready for "virtually continuous laughter."
The Cast:
Christopher Arufffo leads the cast as John (TedX Talk on dialects using cognitive research); Jill Tenney as Mary (Broadway World Best Supporting Actress nominee for Morgan Wixson's "And Then There Were None"); Wendy Taubin as Barbara (Previously seen at TP as Sonia in "Vania, Sonia, Mashaand Spike"); Justin Drew as Stanley (TP debut. Previously seen as Petruchio in The Taming of the Shrew at Theatre Phoenix); Randy Oppenheimer as Sgt. Troughton (Previously seen at TP in Lend Me A Tenor); Adriana Bodner as Newspaper Reporter; Richard Conolly as Porterhouse (Previously seen at TP in Play On!); Michael Anthony Nozzi as Bobby (Previously seen at TP as Henry The Old Actor in The Fantasticks.)
Director: Sherman Wayne
Producer: Martha Hunter & Laura Goldstein
About the company:
Theatre Palisades was founded in 1963 by three television writers; Ken Rosen, Sheldon Stark, and Jacquie Chester. They wanted to produce original plays, starting with their own scripts. By 1967, Theatre Palisades had become a community theatre. In November, 1988, just in time for the 25th anniversary of the group, Theatre Palisades opened the new 125 seat theatre, which was named Pierson Playhouse, in honor of Lelah and J. Townley Pierson who had not only generously donated the property but also contributed extensively to the Building Fund.
The current season of Theatre Palisades includes four more major productions with a run of 17 performances per production. TPYouth produces two shows a year by children for a total of 13 performances a year. The theater also offers chamber music concerts, special shows and membership meetings. Theatre Palisades also hosts many Palisades Historical Society presentations throughout the year. Theatre Palisades offers all events at reasonable prices and has a supportive subscription base and a faithful audience. Theatre Palisades is membership and subscriber driven. They have continuously produced high quality live performances for the past 60 years.
RUN FOR YOUR WIFE opens at 8 pm on Friday, March 31st and runs at 8 pm on Fridays and Saturdays and 2 pm on Sundays through May 7th. Theatre Palisades is located at 941 Temescal Canyon Rd. Pacific Palisades, CA 90272. Tickets are $22 and available online at theatrepalisades.org.
"Run For Your Wife"
Playwright: Ray Cooney
Director: Sherman Wayne
Producers: Martha Hunter and Laura Goldstein
Stage Manager: Adriana Bodner
Presented by: Theatre Palisades
Theatre Palisades
941 Temescal Canyon Rd.
Pacific Palisades, CA 90272
MAP: https://goo.gl/maps/GAZWeJ4YLBPTP5Qi6
Performances:
Opening: 8 pm on Friday, March 31, 2023
Schedule: 8 pm on Fridays and Saturdays, 2 pm on Sundays
Closing: May 7, 2023
HOW:
Tickets at theatrepalisades.org
Adults – $22
Seniors and Students – $20