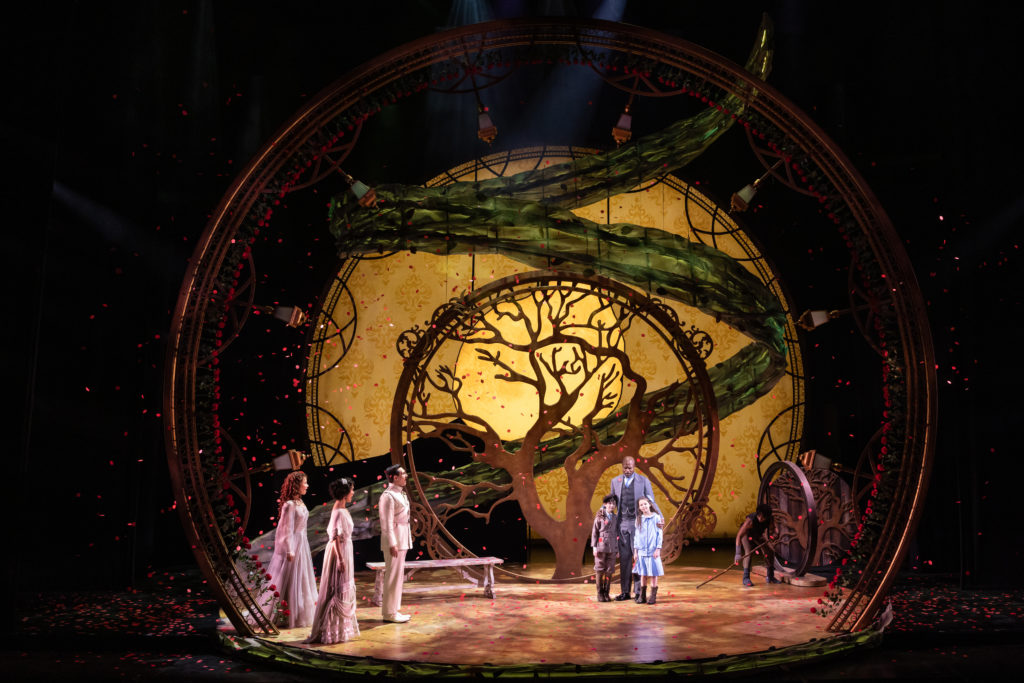 Haunting melodies and magical staging brings a beloved children's book to life; The Secret Garden musical is now playing at the Ahmanson Theatre in DTLA. This breathtaking show runs through March 26, 2023.
Tickets to this show and 75+ additional productions starting at $20.00 are available now during LA Theatre Week—more information can be found here.
Frances Hodgson Burnett's classic work of English children's literature The Secret Garden was first published in book form in 1911, after its serialisation in The American Magazine.
While the story is largely set in the wild Yorkshire moors in England, the action begins with a prologue set in India, speedily charting our young heroine's backstory. It's the turn of the 20th century, and Mary Lennox (beautifully performed by Emily Jewel Hoder) is a neglected 10-year-old girl, born in British India to wealthy British parents. She is cared for primarily by native servants, who allow her to become spoilt, demanding and self-centred. After a cholera epidemic kills Mary's parents, the child is discovered by British soldiers. She is soon sent to England to live with her uncle, Archibald Craven (Derrick Davis), whom her father's sister Lilias (aka Lily – sung by Sierra Boggess) married. He lives on the Yorkshire Moors in a large English country house, Misselthwaite Manor. When she arrives at Misselthwaite and meets the housekeeper Mrs Medlock, she discovers that Lily is dead and that Mr. Craven is a hunchback.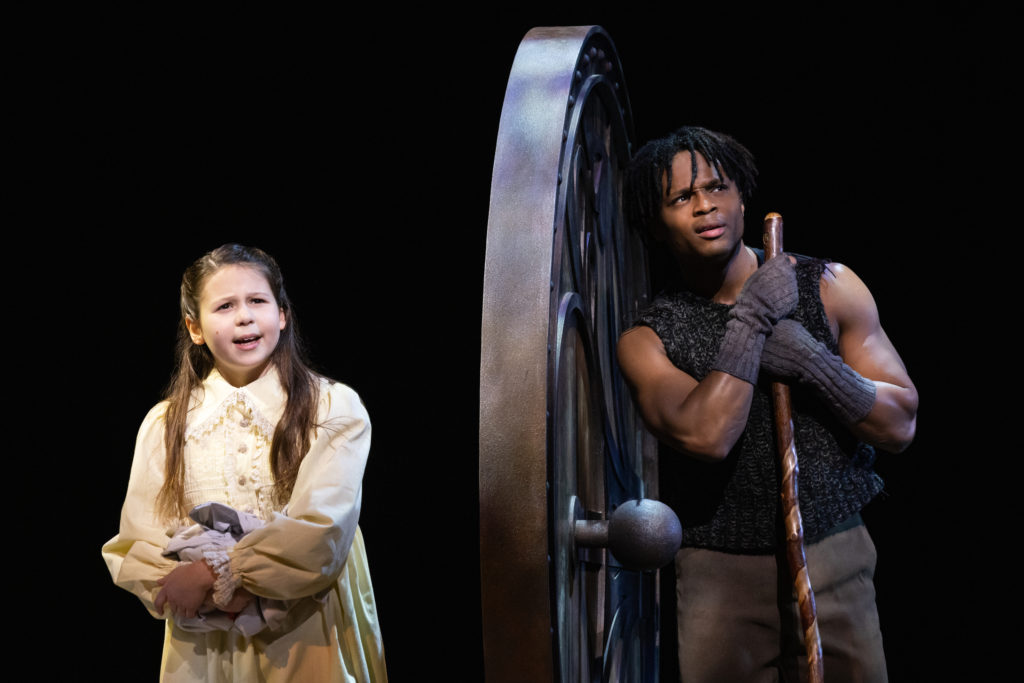 Once there, Mary complains about the drab landscape and her dull surroundings. She finds herself in a huge mansion with a remote and unaffectionate uncle, himself plagued by bad memories and loss. Soon, Mary learns she has a cousin, Colin (Reese Levine), Archibald's son. Colin has been kept bedridden by his uncle Neville, who claims the boy is very ill and needs special treatment. Dr. Neville Craven (Aaron Lazar) also controls the household.
The mansion is haunted by ghosts that represent both Uncle Archibald's and Mary's lingering grief, identified in the libretto as "dreamers" and who sometimes act as a Greek chorus of narrators, including the ghosts of Mary's parents, Rose and Albert.
Eventually, Mary's personality blossoms among the other residents / servants of the manor. She and local boy Dickon (a sunny and endearing John-Michael Lyles) bring new life to a long-neglected garden that formerly belonged to her dour Uncle's late wife Lily, who tragically died following an accident in the garden and shortly after giving birth to Colin, Mary's shut-away and sickly cousin.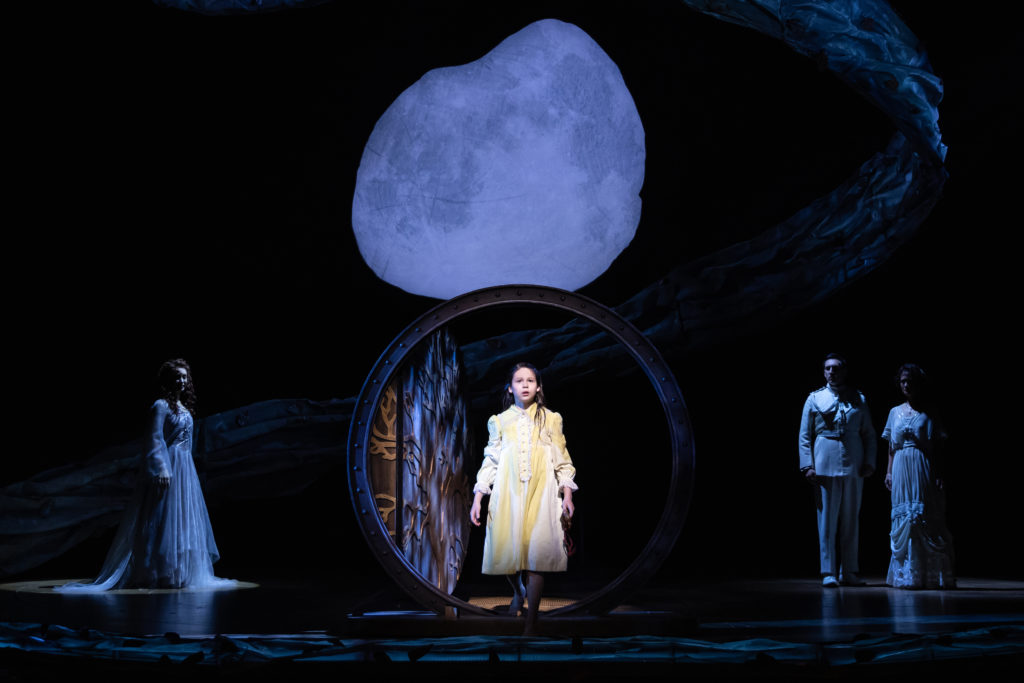 Frances Hodgson Burnett cherished novel has a strong storyline, but this gorgeous musical interpretation brings a tremendous amount of emotionality to the plot's familiar beats. Marsha Norman created the book and lyrics, set to music composed by Lucy Simon, with Warren Carlyle overseeing all as the show's director and choreographer, along with Rob Berman (Music Director).
Imbued with ghosts and magic, the stylized staging exquisitely interprets the source material. The curse of the cholera epidemic, which took so many lives and renders Mary an orphan, is personified as a malevolent dancing spirit; clothed in a cream bodysuit adorned with henna tattoos, she dances with a vivid crimson-red sash and rips their lives away. It's both brutal and horrifyingly beautiful. Kelley Dorney plays Mrs. Winthrop and Cholera.
As well as ghostly characters flitting about and commenting on the action, one magical staging bit has the servants wrapping the chandeliers with diaphanous cloths, symbolizing measures taken to protect the home from dust. The ensconced chandeliers then ascend to the ceiling like spirits.
Derrick Davis is in fine voice and wonderfully regal as Uncle Archibald, so it's odd that the costuming didn't indicate a hump. I guess it's supposed to be more metaphorical than actual… Sierra Boggess is astonishing as the ghostly Lily, her voice as ethereal as her appearances.
But the show really belongs to Emily Jewel Hoder as Mary, who is on stage for virtually the entire two-hour, 15-minute runtime. An accomplished stage presence, her voice is pure and strong and her outspoken personality remains endearing. Reese Levine as cousin Colin matches her contrary spirit with a memorable performance of his own.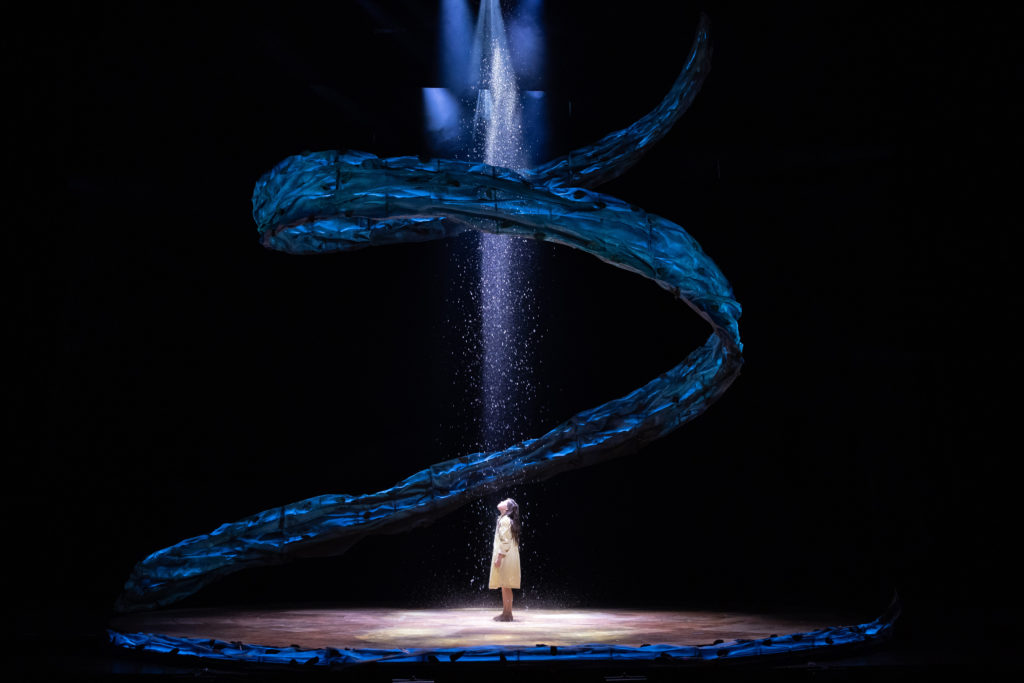 The show has so many magical moments, complementing the sweet and poignant songs, but it's the staging choices that really have impact. Just before the close of Act One, Mary finds herself caught in a sudden rain shower minutes before she steps through the mysterious round gate of the hidden garden; it's a lavish yet somehow simple image that takes your breath away.
Towards the end of the story, a marvelous triumph for Colin unites him with his distant father. Here, we see all the ghosts of the house assisting Colin, almost manipulating him like a bunraku puppet. Its powerful emotionality hits hard.
Do not miss this glorious production!
The Secret Garden
Center Theatre Group / Ahmanson Theatre
135 N. Grand Avenue in Downtown L.A., CA 90012
Book by Marsha Norman
Music by Lucy Simon
Directed and Choreographed by Warren Carlyle
Musical Direction by Rob Berman
"The Secret Garden" blossoms again – reimagined for a new generation by the original creators, Tony® Award and Pulitzer Prize winner Marsha Norman and Grammy Award®-winning composer Lucy Simon, and choreographed by Tony® Award winner Warren Carlyle.
This magical production follows the young, orphaned Mary Lennox as she's sent from her home in India to live with her reclusive uncle on his haunted English country estate. Guided by an exceptionally beautiful score, audiences will be swept away with Mary's unapologetic curiosity as she is joined with the help of unlikely companions sending her on a thrilling quest to untangle the pieces of her family's past and, most importantly – discover herself.
DATES/TIMES: Opens February 26, and runs through March 26, 2023.
Sunday at 6:30 p.m.; Tuesday through Friday at 8 p.m.; Saturday at
2 p.m. and 8 p.m.
Performances:
Tuesday through Friday at 8 p.m., Saturday at 2 p.m. and 8 p.m.,
Sunday at 1 p.m. and 6:30 p.m. No Monday performances.
TICKET INFO: Ticket Prices: $40 – $155 (Ticket prices are subject to change.)
Tickets are available online here, by calling Audience Services at (213) 972-4400 or in person at the Center Theatre Group Box Office (at the Ahmanson Theatre at The Music Center in Downtown Los Angeles).
Groups: (213) 972-7231. Deaf, hard of hearing and/or have low vision community: For more information, visit CenterTheatreGroup.org/ACCESS.
This complete cast of The Secret Garden includes Emily Jewel Hoder (Mary Lennox), Sierra Boggess (Lily Craven), Terron Brooks (Major Shelley), Mark Capri (Ben Weatherstaff), Peyton Crim (Major Holmes), Derrick Davis (Archibald Craven), Randi De Marco (swing), Susan Denaker (Mrs. Medlock), Kelley Dorney (Mrs. Winthrop/Cholera), Ali Ewoldt (Rose Lennox), William Foon (Colin Craven alternate), Ava Madison Gray (Mary Lennox alternate), John Krause (Captain Albert Lennox), Aaron Lazar (Dr. Neville Craven), Julia Lester (Martha), Reese Levine (Colin Craven), Sam Linkowski (swing), John-Michael Lyles (Dickon), Yamuna Meleth (Ayah), Cassandra Marie Murphy (Mrs. Shelley), Ariel Neydavoud (ensemble), James Olivas (Lieutenant Wright), Sadie Brickman Reynolds (Mary Lennox), Kyla Jordan Stone (Alice), and Vishal Vaidya (Fakir).