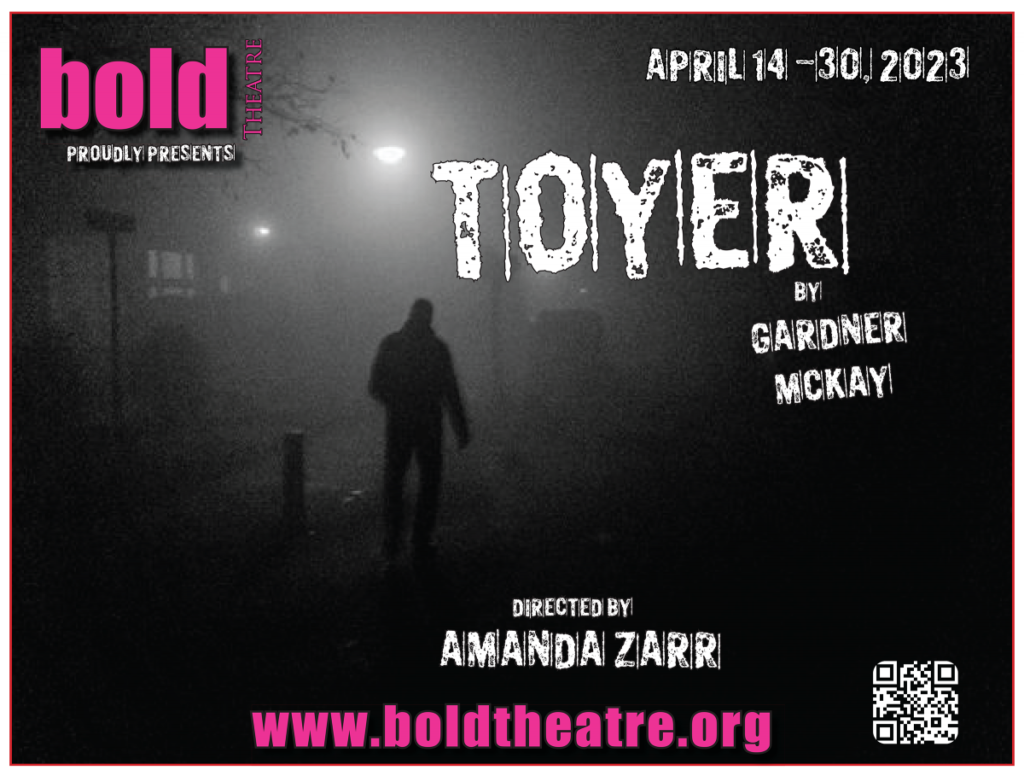 Toyer is a 'cat and mouse' psychological thriller that addresses humanity's vast ability to manipulate one another, our moral lawlessness, our wondrous gift for lying and the awful power of charisma. It is about our capacity to absorb mindless horror as well as our immediate power to forgive.
A 'Toyer' is someone who toys, a mass paralyzer who toys with their victims. It is not murder, or rape, but seduction leading to immobilization.
Toyer is about our capacity to believe any truth, as it suits us…about our dreadful crimes; not that they happen, that we know about them and turn the page.
Bold Theatre is proud to announce their upcoming production of a thrilling playToyer, by Gardner McKay, directed by Amanda Zarr. This thought-provoking production, features a powerhouse cast of professional actors, Keiko Elizabeth and Austin Springer.
"Bold Theatre is different by design in that we tell the stories most theatres are afraid to because they tend to touch on relevant social issues and generate uncomfortable conversations afterwards and Toyer is no exception. With the amazing direction of Amanda Zarr and the mesmerizing performances of Keiko Elizabeth and Austin Springer this show is one that will be talked about long after the run of the show and one not to be missed."

says John J. Pistone, artistic director of Bold.
Toyer, by Gardner McKay, directed by Amanda Zarr
Performances from April 14 to April 30, 2023.
Bold Theatre, located at 10631 Bloomfield Street Los Alamitos, CA, will host the show. Single tickets range from $25-$30 and are available for purchase online here or in person at the Bold Theatre ticket office, or call 562-357-4225.