Another world premiere at this year's Fringe is A Definitive Ranking of My Closest Friends, a one-act comedy about a possibly (definitely) toxic group of six friends, whose time together always seems to end in a blow out. While getting ready to leave for their annual camping trip, a private note is found on the ground. On this small piece of paper are all of their names, ranked.
The play's author, Jay Stalder, talked to ArtsBeat LA about it.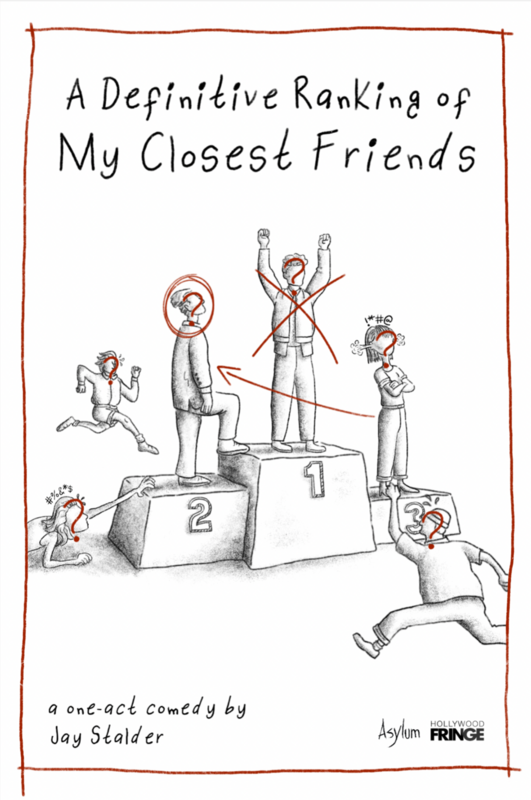 Tell us a bit about the show and its creation.

It actually began as a short film, which we made in 2021. Once completed, I just wasn't finished with these characters and this scenario. I really wanted to explore how it would unfold in real time, live.
Our queer comedy explores the dynamics of a possibly (definitely) toxic friend group, that may have run its course. A private note is made public, and suddenly no one knows where they stand anymore. I think all of this is made so much more uncomfortable as a piece of live theater.
Why do you think it's a good fit for the Fringe? Are you a Fringe virgin?

I am a Fringe virgin! I learned quickly that this really is the perfect environment for our gay little play. We already feel so supported by the community, encouraging us to keep experimenting and taking risks. Our show offers a fresh perspective on something as universal as being an awful friend.
It almost sounds like audience participation with all the emotions going on.

I think the audience is going to feel more involved than they may have expected. Our show asks a lot of questions. Do you have a list like this in your head? Were you dumb enough to write it down?
How much of your life is it based on? 

This is loosely based on something that I almost did. How's that?
What do you hope audiences will get out of it?

While promoting this show, I've been told so many personal horror stories about past friend groups. I hope audiences find ours horrifically relatable, and are able to laugh at it.
Since the Fringe is a collaboration, tell me about other shows you'd like to see.

I already have my ticket for A Shark Ate My Penis: A History of Boys Like Me, which is a one-person musical about the history of trans men. And I can't wait for Big Money, a play about advertising guns to moms. Then based on title alone, Prince Harry: Live! At Coachella. I mean, come on.
A Definitive Ranking of My Closest Friends plays June 1-25 at the Asylum at Stephanie Feury Studio Theatre (SFS Theatre mainstage), 5636 Melrose Avenue. Check the Fringe site for tickets and exact dates and showtimes.