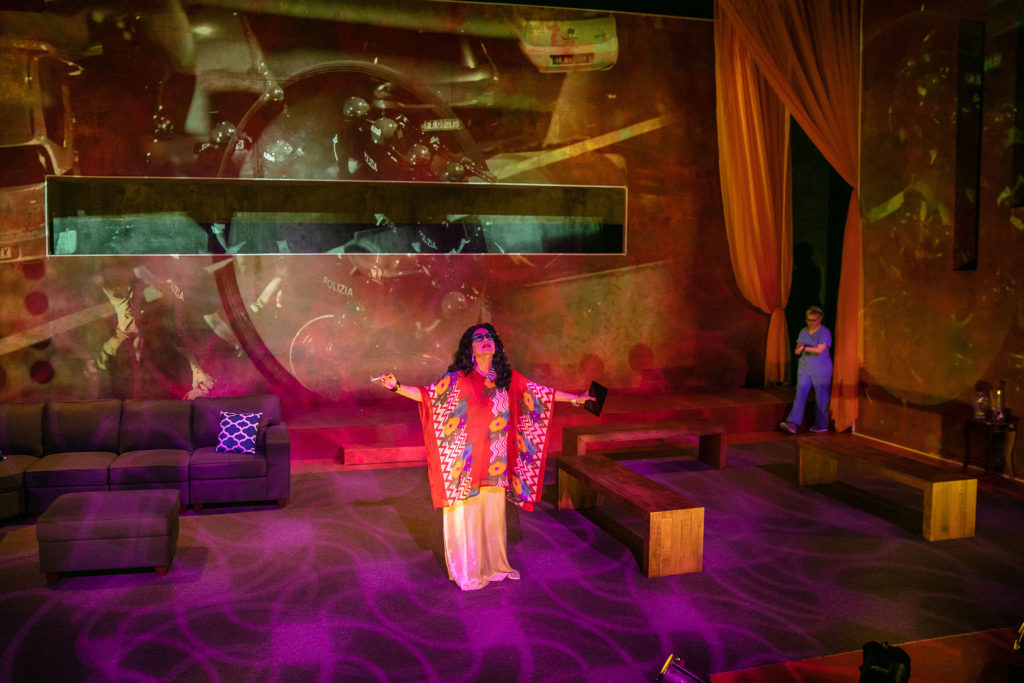 Sly satire and dry humor infused with a mysterious film noir vibe—Whittier Boulevard is a new play devised and created by the company. Making its world premiere, Whittier Boulevard has been created by writers/performers Evelina Fernández, Sal López, Geoffrey Rivas, Lucy Rodriguez under the direction of José Luis Valenzuela — these five being the original, founding ensemble members of the vibrant Latino Theater Company company that has been performing essential theater and community outreach for almost 40 years.
Featuring their trademark blend of comedy, drama, music, and theatrical magic, the story transports us to Los Angeles in the year 2042, where the elderly are erased, their stories forgotten…
In the world of the play, the future is a grim place. Riots and unrest are common, pandemics are commonplace. Climate changes have created horrendous storms while scarcities have lead to draconian laws. Unmarried members of the population are forced to surrender to the totalitarian regime for elimination as soon as they arrive at a certain advanced age. But there are loopholes…
Glamorous Chicana movie legend Veronica Del Rio (Evelina Fernández) lives a life of privilege afforded by her heyday. Enjoying the luxury of her beautiful mansion, Veronica's only companion is her Pilar (Lucy Rodriguez), a no-nonsense live-in assistant and caregiver. But Veronica's 75th birthday looms, and she's not ready for her close-up with her maker just yet.
An unexpected visitor turns up after an anonymous tip. Police Officer Roger (Geoffrey Rivas) demands to see Veronica's birth certificate. Pilar panics, grasping for ways to postpone Veronica's inevitable one-way journey "down Whittier Boulevard." Enter Pablo (Sal López), a poet and a devoted fan of the movie star. Perhaps his marriage proposal can save her from elimination?  
Fernández is clearly having a lot of fun playing this larger-than-life, temperamental fading legend. Dripping with jewels and swanning about in elegant silk kimono gowns, her imperious commands are often hilariously punctured by Pilar's more practical approach. As Pilar, Rodriguez brings a lot of wit to her character's nimble problem-solving techniques. Rivas is fantastic as the tough but sensitive cop gripped with angst and traumatized by having to enforce laws he doesn't necessarily agree with. His sudden but disciplined gestures and body movements recall the hilariously over-zealous library cop from Seinfeld (memorably played by the late Philip Baker Hall). López is also great as the love-struck poet Pablo, whose dreams of uniting with his idol suddenly forming a tantalizing possibility. Meanwhile, Veronica prepares for her impending nuptials by dragging her ancient wedding dress' train as if it's a ball and chain. But will she actually take the plunge?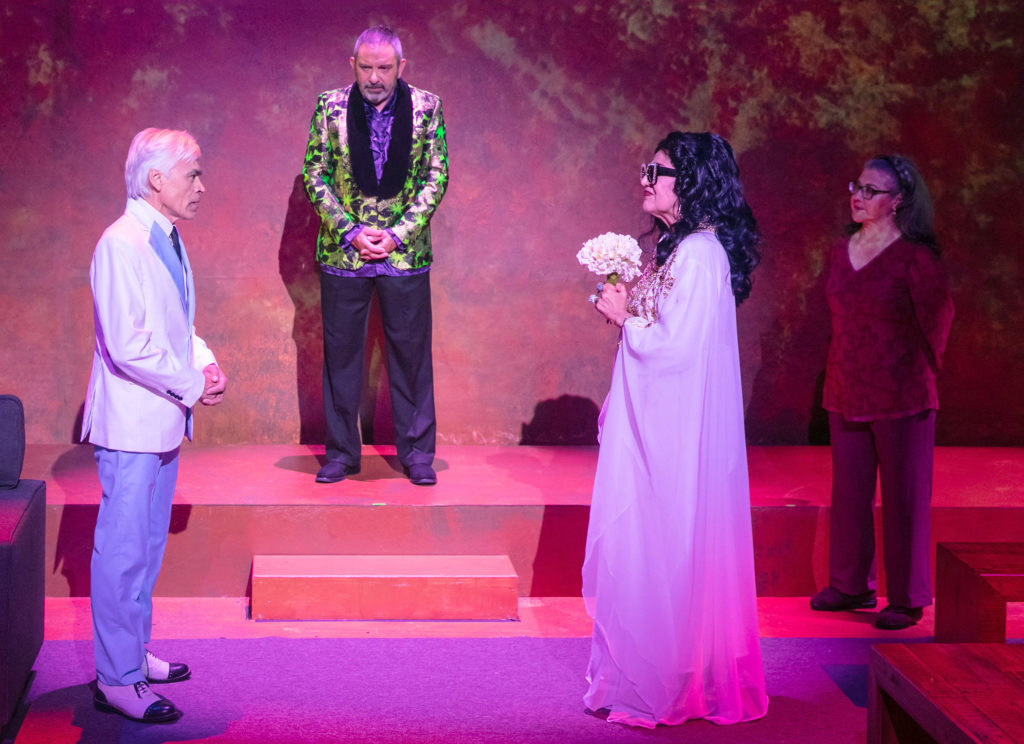 The play is amusing and droll, the pointed commentary never too sharp. A stand-out is a beautiful speech where they reminisce about the thrill of cruising down Whittier Boulevard back in the day, in their "tricked-out low riders," living the life.
Projection design is created by Yuki Izumihara and Yee Eun Nam, effectively punctuating the comedic drama with black and white footage of dynamic protests as well as poetic and dreamily symbolic imagery such as falling petals, beating angel's wings and drifting feathers.
Composer Robert J. Revell complements the story with his original musical score and sound design flourishes, such a moody stings for the telenovela-style emphatic pauses and dramatic bombshells, and brief, high-frequency sounds to signify disorientation. Revell's compositions are, at times, lush and lyrical, at other times rich with a tongue-in-cheek film noir vibe that recalls the soft vibraphone, jazzy sax themes and finger snaps of the late Angelo Badalamenti and his compositions for David Lynch's Twin Peaks.  John Zalewski consulted on the sound design.
A triumph of collaboration, this witty and sharply-observed satire addresses issues of oppression and ageism within a melodramatic and amusing crime-drama realm.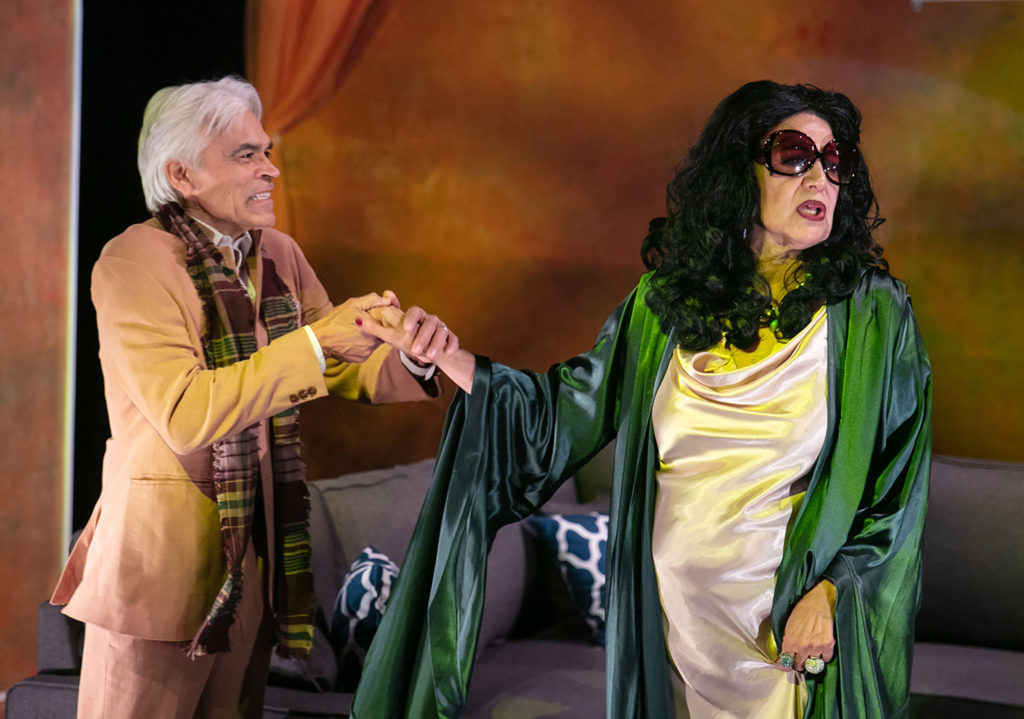 Whittier Boulevard
Latino Theatre Company at the Los Angeles Theatre Center
514 S. Spring Street, DTL.A.
Performances:
Thurs.-Sat., 8 pm,
Sun., 3 pm,
Mon. May 1 & 15, 8 pm;
Runs through May 28, 2023.
Running time: 85 minutes, no intermission.
More information and tickets can be found here.
From the press release:
Latino Theater Company (LTC) kicks off its 2023 Spring Season with an original, satirical comedy (previously announced for 2022, but delayed due to Covid) that takes its title from the 14-mile heart of East L.A. that has been a hub of commerce, culture and cruising for over 50 years.
Making its world premiere, Whittier Boulevard will run through May 28 at The Los Angeles Theatre Center. 
From the company's mission statement:
LTC was founded in 1985 with the goal to establish a theater company dedicated to contributing new stories and novel methods of expression for the American theater repertoire and to increase artistic opportunities for underserved communities. As the company has evolved, our role as the lease-holder of the LATC has become critical to our mission. As we continue to explore the U.S. Latina/o/x experience in bold and contemporary terms, we program our Fall and Spring Seasons with work by local playwrights that speaks to important issues and highlights new voices within the Latina/o/x, First Nation, Black, Asian American, Jewish American and LGBTQ+ communities.