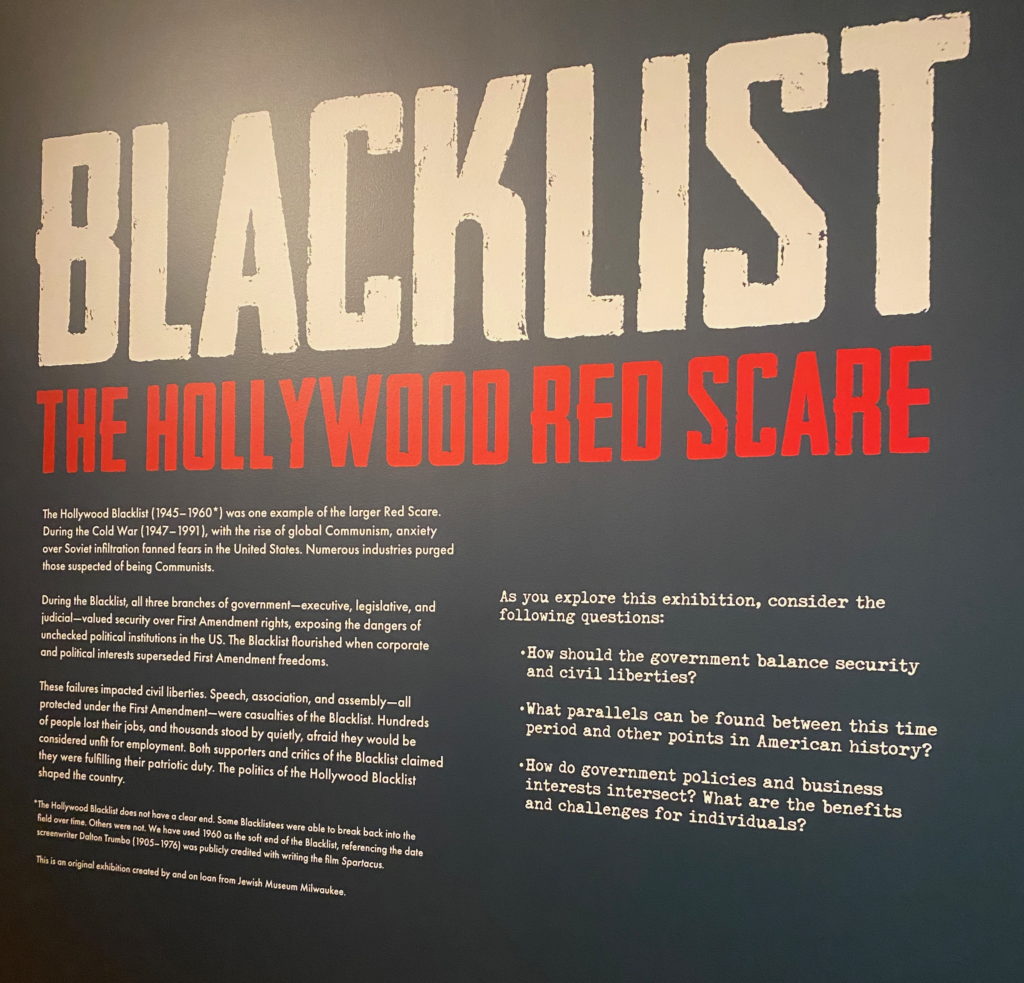 Two new exhibitions have opened this week at The Skirball Cultural Center, curated by Cate Thurston, and Laura Mark, associate curator.
Blacklist: The Hollywood Red Scare explores the actions of the House Un-American Activities Committee and those caught in their scrutiny. Many people were falsely accused of communist associations, and unfairly persecuted by the blacklisting.
A complementary exhibition is Peter Krasnow: Breathing Joy and Light features the artist's "colorful and optimistic" post-WWII paintings, selected from the Skirball's collection.
Developed by the Jewish Museum Milwaukee, and expanded by the Skirball Cultural Center for its presentation in Los Angeles, Blacklist: The Hollywood Red Scare thoroughly examines the proceedings, investigations, motives, and choices of the people impacted by the Blacklist—including many Jewish creatives and executives who suffered under, and enforced it. The exhibition explores, in depth, this defining moment in American history and the contemporary implications for civil liberties, propaganda, government overreach, the rule of law, and the shifting definitions of patriotism.

From the press release.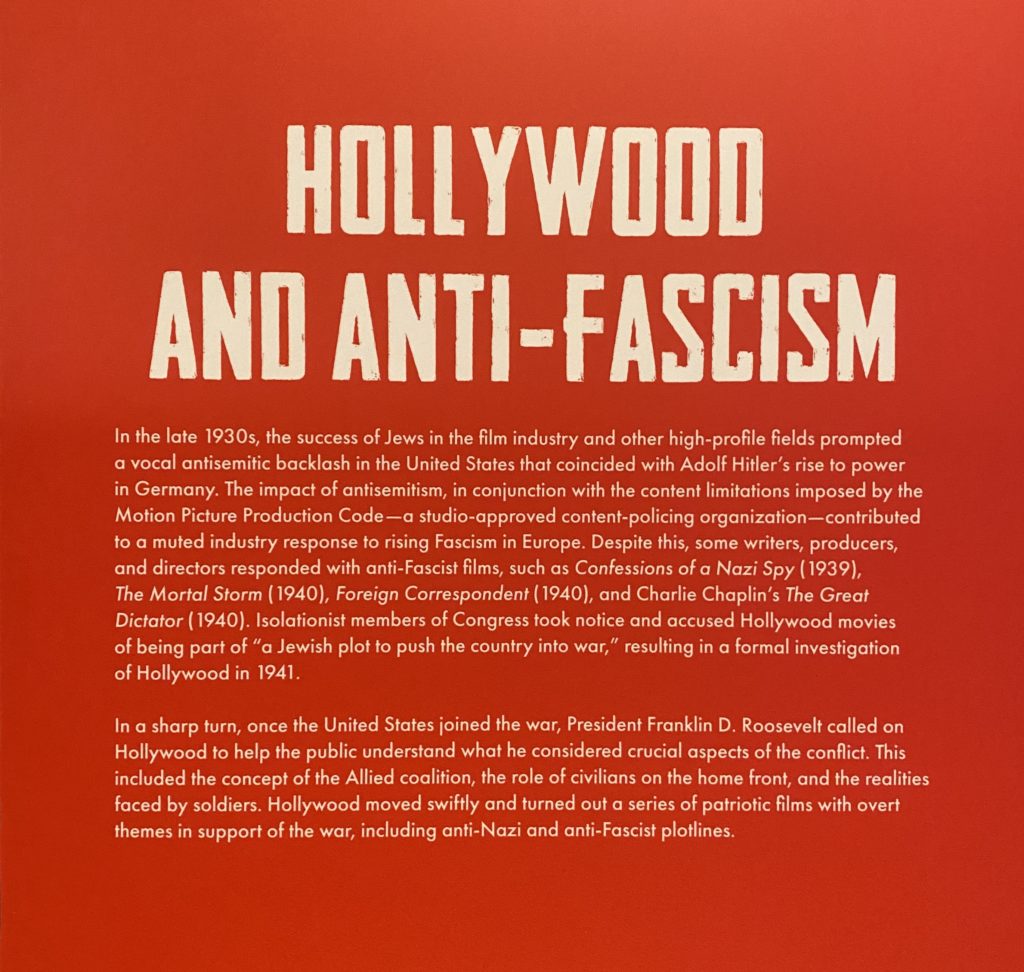 The House Un-American Activities Committee (HUAC) was an investigative committee of the United States House of Representatives. The HUAC was created in 1938 to investigate alleged disloyalty and subversive activities on the part of private citizens, public employees, and those organizations suspected of having communist ties. In 1969, the House changed the committee's name to "House Committee on Internal Security."
When the House abolished the committee in 1975, its functions were transferred to the House Judiciary Committee. The committee's anti-communist investigations are often associated with those of Joseph McCarthy who, as a U.S. Senator, had no direct involvement with this House committee. McCarthy was the chairman of the Government Operations Committee and its Permanent Subcommittee on Investigations of the U.S. Senate, not the House.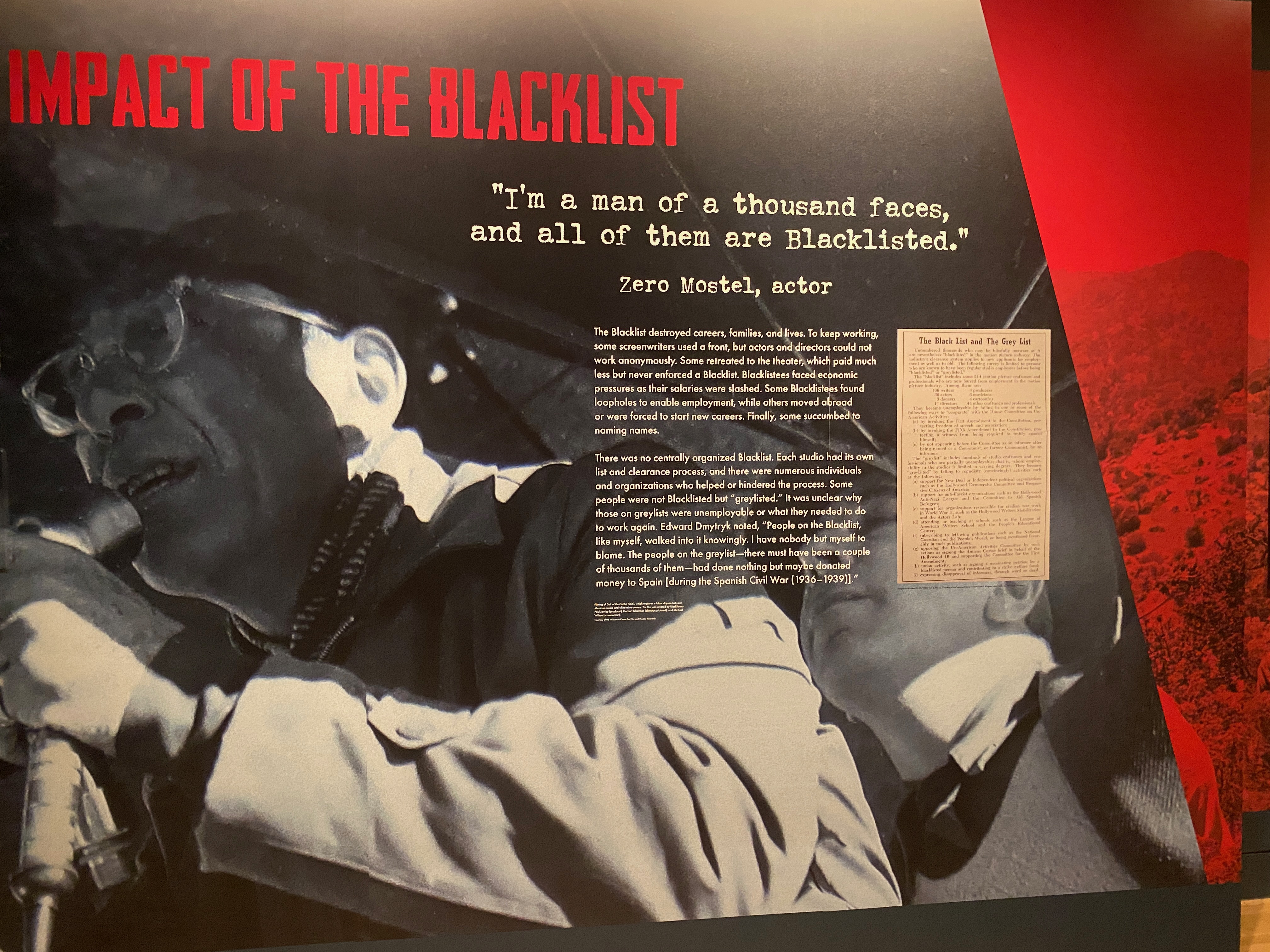 During the 'Red Scare' era, numerous people were publicly denounced as un-American, stripped of their names, passports and blacklisted—denied the ability to work. Many lives were ruined.
One of the most renowned victims was Hollywood screenwriter Dalton Trumbo. In 1947, Dalton Trumbo was called before the House Un-American Activities Committee and refused to comply. Trumbo spent ten months in federal prison, the reason given was a contempt of Congress citation. He refused to answer questions about his political views, and refused to name names of people who were also current or former members of the Communist Party. He didn't want to be a 'fink' or 'rat' anyone out, on principle as well as morality.
Along with Lester Cole, Alvah Bessie, Edward Dmytryk, John Howard Lawson, Sam Ornitz, Adrian Scott, Albert Maltz, Herbert Biberman and Ring Lardner Jr., Trumbo became part of the "Hollywood Ten," a courageous group of film industry creatives whose careers (along with many others) were destroyed because of their stance against the government's modern-day witch hunt.
It will do no good to search for villains or heroes, or saints or devils. Because there were none. There were only victims.

Recollection by Dalton Trumbo, 1970.
To earn a living, Trumbo worked for what he mordantly referred to as the "black market," writing dozens of scripts under pseudonyms, or using sympathetic writer friends as a "front" or covers. In 1953, when Trumbo's screenplay for the classic Roman Holiday won the Oscar, the screenwriter Ian McLellan Hunter took credit instead.
"What's most striking about Blacklist: The Hollywood Red Scare, to me, are the persistent themes we still grapple with in today's society. Two of the Skirball Cultural Center's core values are to pursue justice and honor memory. By presenting this exhibition at the present moment, we are shining light on the impact of restricting civil liberties, and on the sharply different decisions made in the name of patriotism. We hope to inspire those both familiar and unfamiliar with the Hollywood Blacklist to help build a more just, fair, and lawful future."

Skirball Vice President and Museum Director, Sheri Bernstein.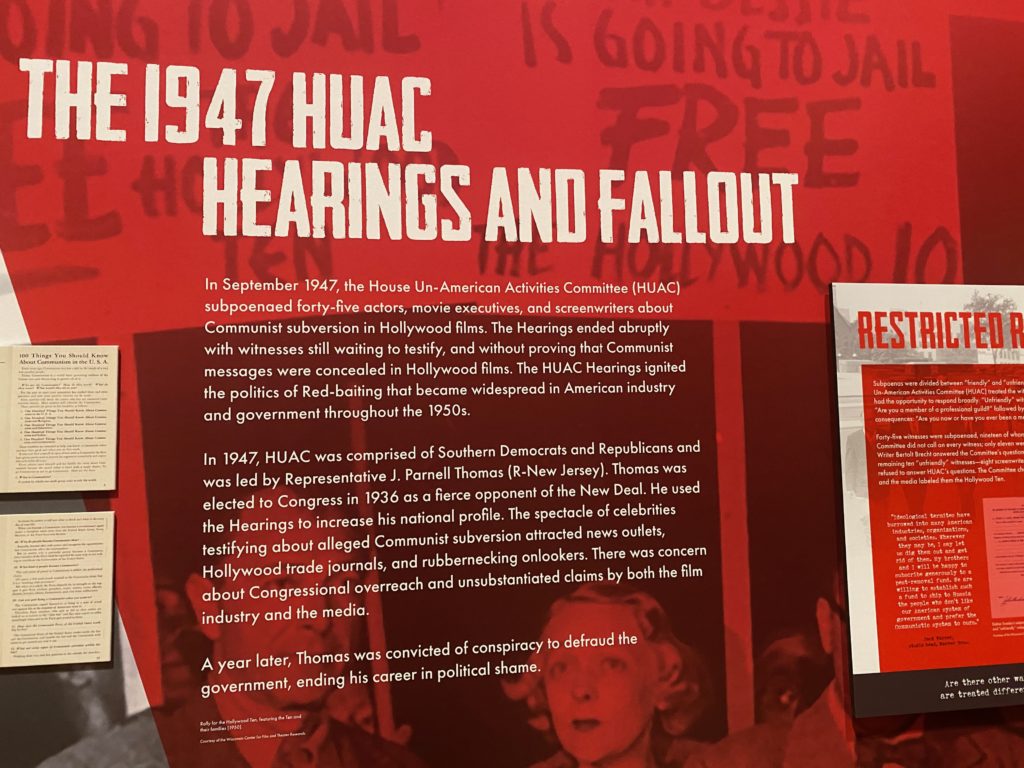 This exhibition illustrates the stories of writers, actors, directors and others, many of them Jews and other minorities, who bravely took a stand for what they saw as every American fundamental freedoms and rights, and they did so at a time when anti-semitism, racism and nativism was rampant in this country.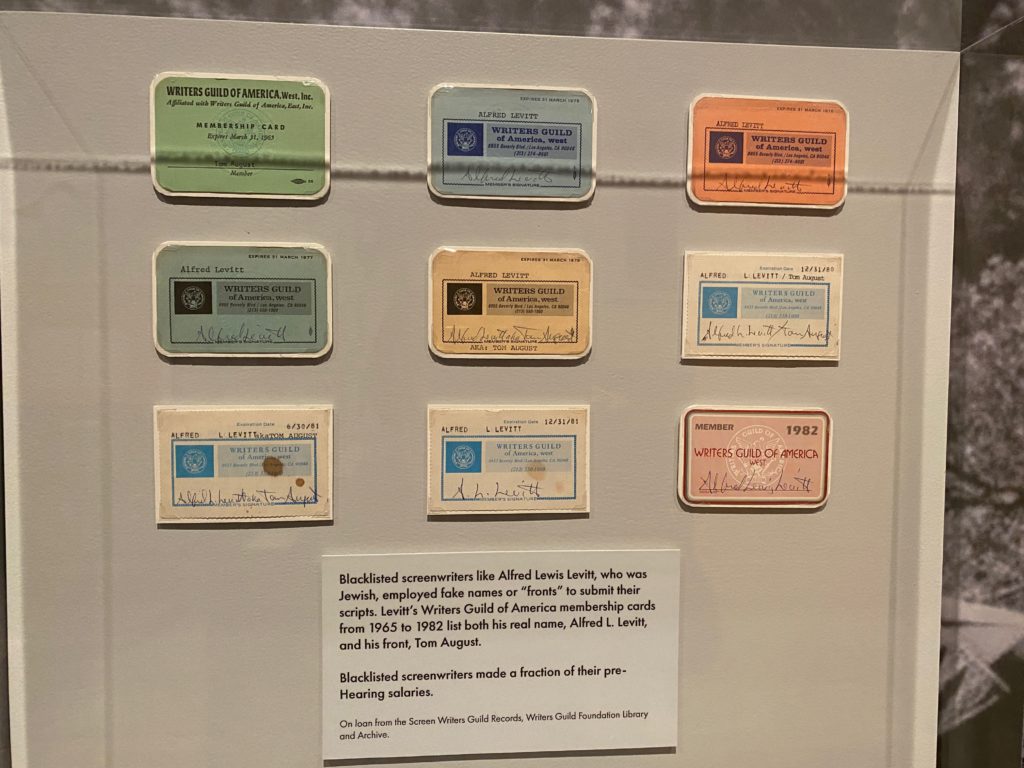 One wonderful and somewhat interactive component of this fascinating and in-depth exhibition features movie posters that are mounted to the wall and function like a folder. You can 'open' the folder to reveal notes regarding the film and how its 'dangers' were assessed by the FBI.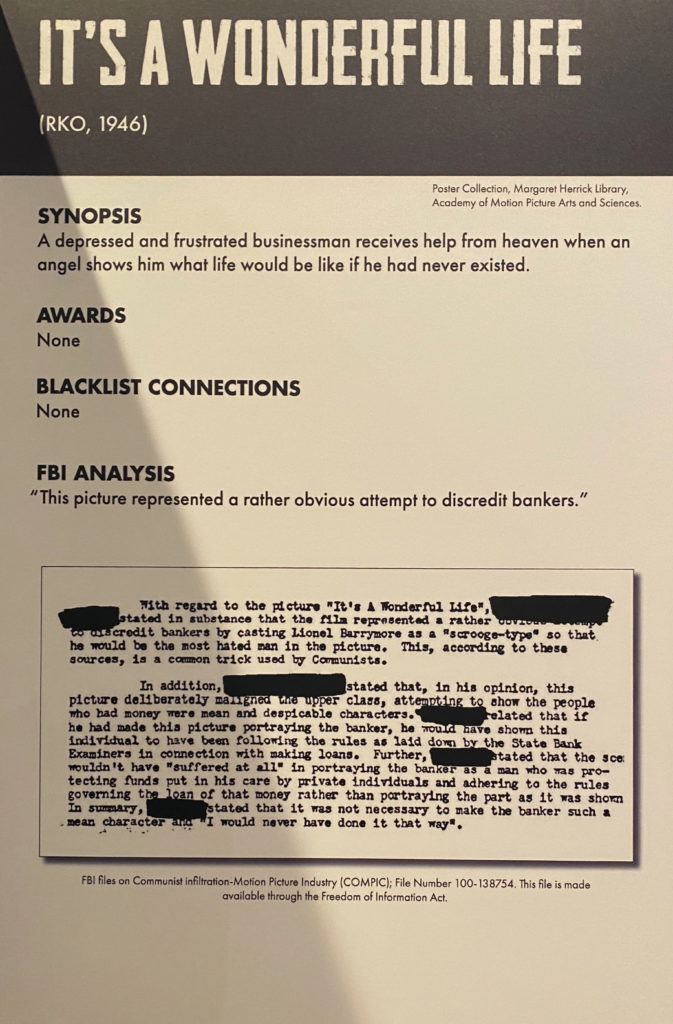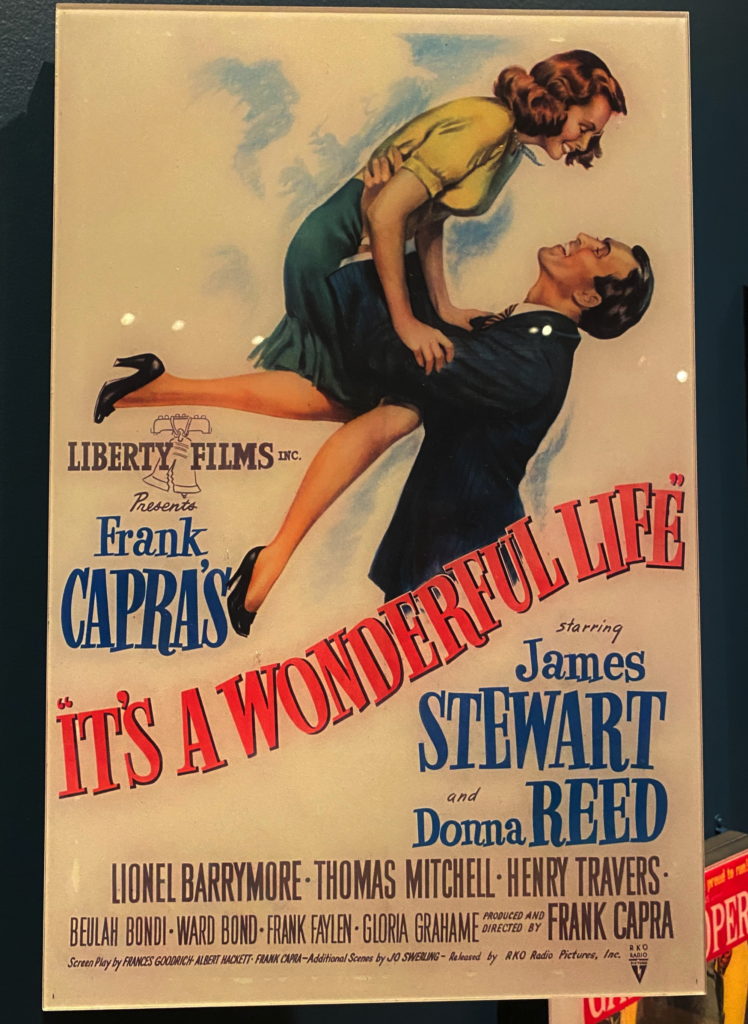 ~~~
~~~
~~~
~~~
~~
Peter Krasnow: Breathing Joy and Light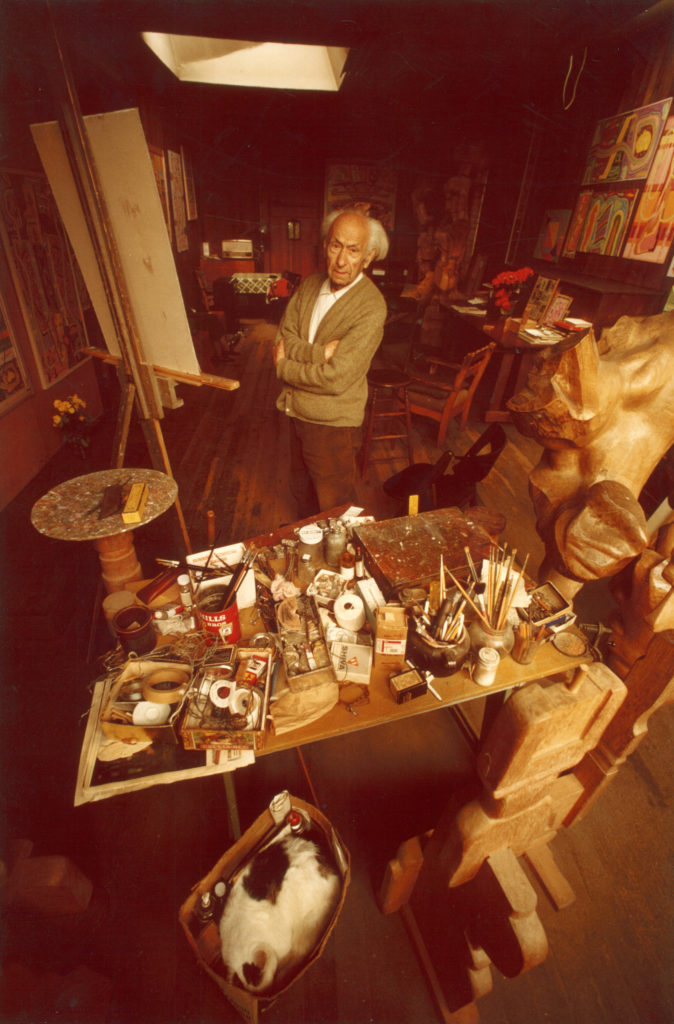 The exhibition on Ukrainian American artist Peter Krasnow, also tells the story of someone who raised his voice against the darkness. Krasnow – like so many members of families who have family members of people who were blacklisted – was a Jewish immigrant who had fled European pogroms in search of freedom and a better life in response to the ravages of the Holocaust and global war in the mid 20th century.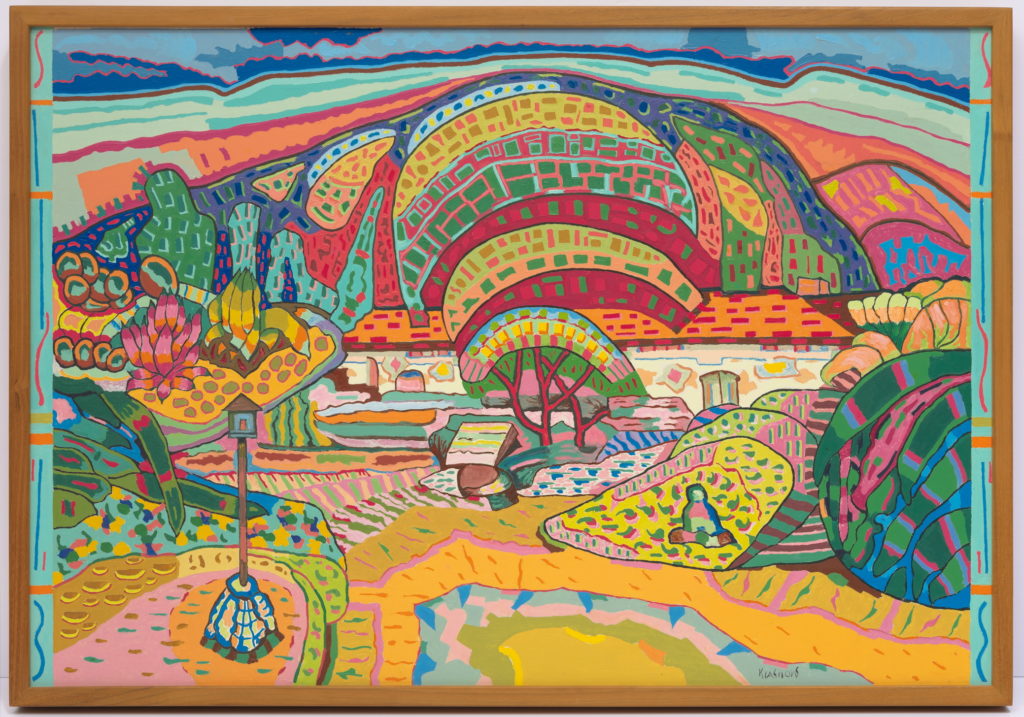 Krasnow devoted his artistic practice to what he called repairing broken worlds, invoking the Jewish concept of tikkun olam and he dramatically shifted his style and palette to create paintings. In his words, grief, joy and light and offered a means of protest against the pain.
~~~
Both these exhibitions reflect the Skirball's focus on telling authentic human stories. Stories that enable us, they hope, to see ourselves to recognize ourselves in one another, and to connect with each other as three dimensional people.
Blacklist: The Hollywood Red Scare / Peter Krasnow: Breathing Joy and Light
Skirball Cultural Center
2701 N. Sepulveda Blvd., Brentwood
Los Angeles, California 90049
Thursday, May 4 – Sunday, Sept. 3, 2023
Tickets: $7 – $18 admission.
PARKING: FREE
Ticketing for the Spring 2023 Exhibitions:
Tickets for Blacklist: The Hollywood Red Scare pricing: $18 General; $15 Seniors, Full-Time Students, and Children over 12; $13 Children 2–12. General admission and tickets to Noah's Ark at the Skirball: $12 General; $9 Seniors, Full-Time Students, and Children over 12; $7 Children 2–12. Exhibitions are always free to Skirball Members and Children under 2.
Peter Krasnow: Breathing Joy and Light and Chloë Bass: Wayfinding will be included with admission to Blacklist: The Hollywood Red Scare, Noah's Ark at the Skirball, or as part of general admission. Advance timed-entry reservations are recommended for Noah's Ark at the Skirball and Blacklist: The Hollywood Red Scare; tickets for these exhibitions will be sold separately.
Blacklist: The Hollywood Red Scare and its related educational programs at the Skirball Cultural Center are made possible by generous support from the following donors:
The Stanley and Joyce Black Family Foundation
Harold and Stephanie Bronson
Engaging the Senses Foundation
Glaser Weil, LLP
Hillside Memorial Park and Mortuary
The Keston Family
In Memory of George Litto by Andria Litto
TZ Projects & Friends Peter and Julie Weil