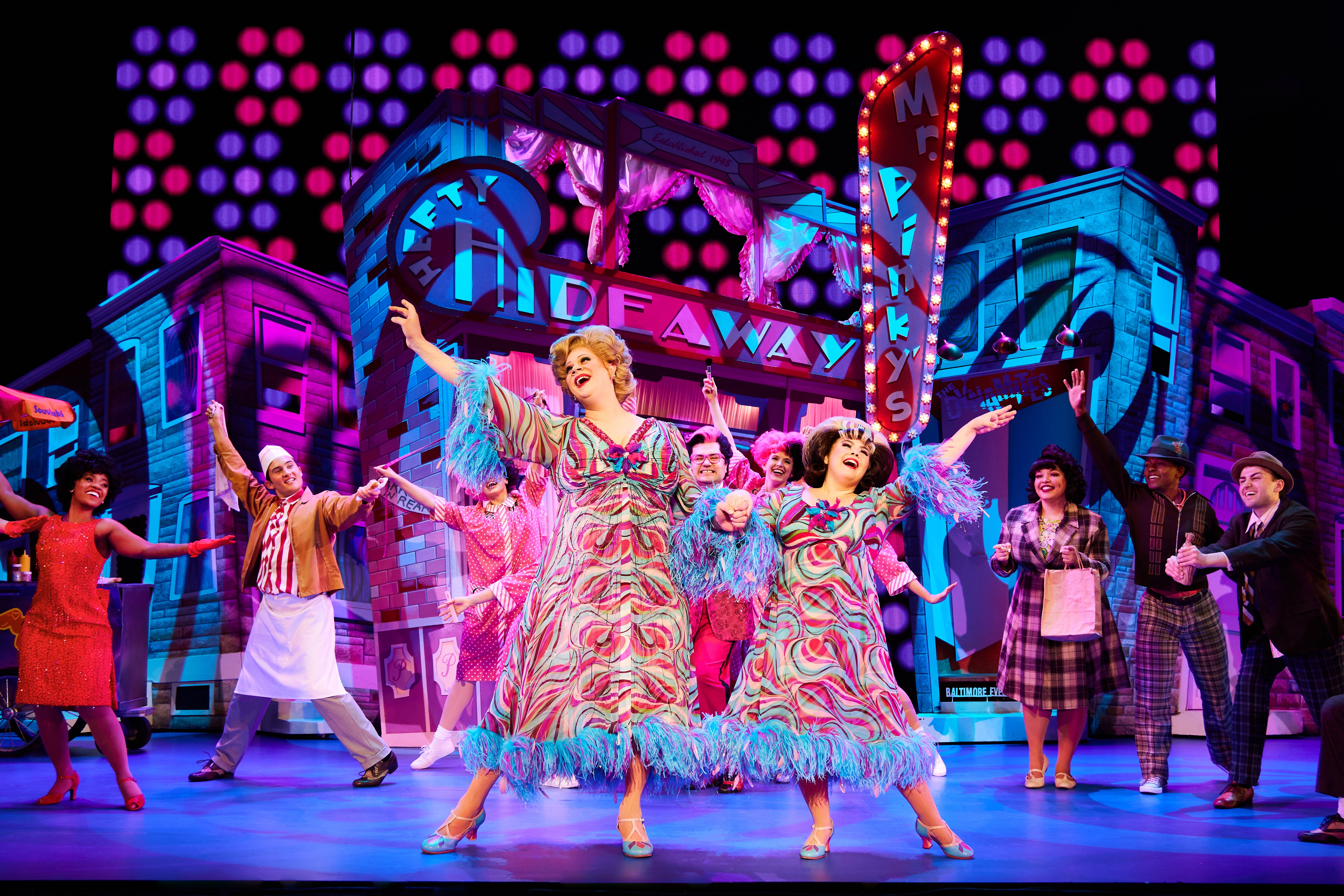 In this bubbly stage musical, pleasantly plump teenager Tracy Turnblad teaches 1962 Baltimore a thing or two about integration after landing a spot on a local TV dance show.
A new North American tour, helmed by original director Jack O'Brien and original choreographer Jerry Mitchell, features a book by Mark O'Donnell and Thomas Meehan. Hairspray features an original score by Academy Award-nominated Marc Shaiman and lyrics by Marc Shaiman and Scott Wittman. The tour is produced by NETworks Presentations.
Hairspray itself has undergone numerous makeovers, beginning as a PG-rated comedy feature film written and directed by campy filmmaker John Waters—legendary director of B-movies such as Polyester and Pink Flamingos, best known as the Pope of Trash. Released in cinemas in 1988, it starred starring Ricki Lake, Divine, Debbie Harry, Sonny Bono, Jerry Stiller, and others.
Later, Hairspray was transformed into a smash-hit Broadway musical that made its out-of-town (Seattle) and Broadway debut in 2002, winning the Tony awards for Best Musical, Best Book and Best Score. The acclaimed musical ran for about five years, touring internationally.
Next came a movie re-make of the stage musical in 2007 starring John Travolta as the mother-in-drag character formerly originated by legendary drag-queen Divine.
Set in the early 1960s, the story addresses issues of segregation, racism, size-discrimination and bullying. Tracy Turnblad (Niki Metcalf), is a plus-sized high-schooler who is obsessed with the local teen television program The Corny Collins Show. When she auditions for a spot on a popular teen dance show, she beats out the spiteful Amber von Tussle (Ryahn Evers), winning over Amber's boyfriend, brooding heartthrob, Link Larkin (Nick Cortazzo) in the process. After meeting some black students at her school, Tracy begins to push for more racial integration on the dance show. This gets her into trouble on many sides, especially with Amber's pushy Mom Velma von Tussle (Addison Garner). Velma is a super-skinny blonde who produces "The Corny Collins Show." Openly racist and power hungry, she really is the character you love to hate.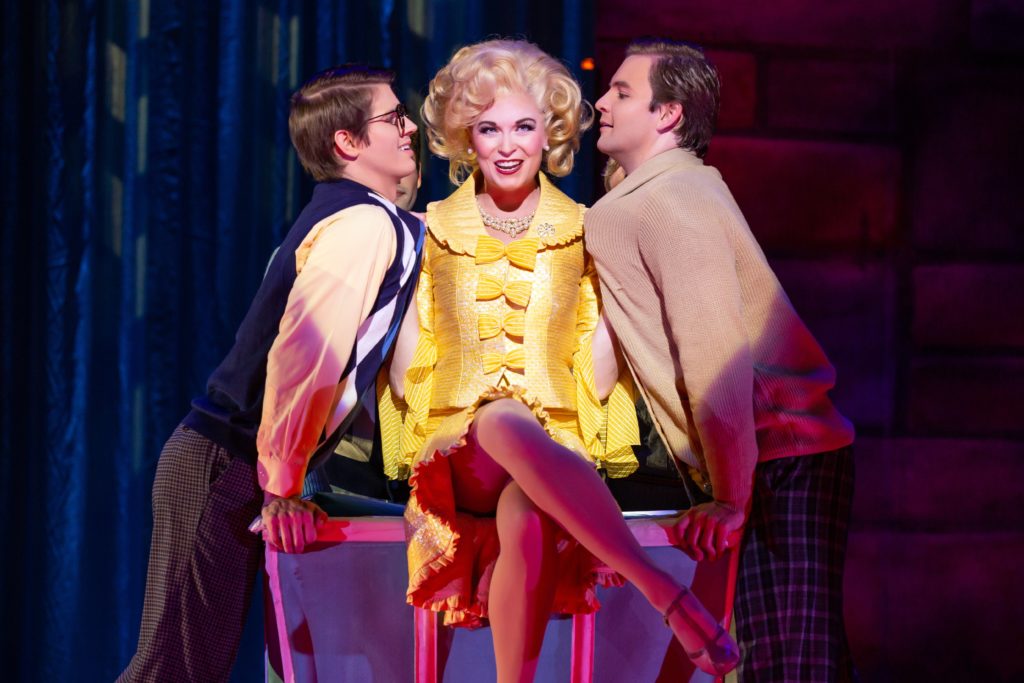 The upbeat show is fun with lots of heart, as well as containing serious themes that advocate for racial equity and acceptance of outsiders and non-conformers.
The Tony Award-winning score is full of lively numbers, kicking off with the cheerful opening song "Good Morning, Baltimore" as Tracy starts her day.
Performances are decent, but the show itself isn't as vibrant and lively as you might expect. Garner as the villainous Velma von Tussle really gives the best performance in the show. The show also comes alive when, at Tracy's school mate Seaweed J. Stubbs' invitation, the Turnblads end up at his mother Motormouth Maybelle's record shop for a platter party ("Run and Tell That"). Charlie Bryant III as Seaweed is superbly dynamic.
Poppy colors, peppy songs make Hairspray an effervescent musical with heart and soul.
Hairspray is the story of 16-year-old Tracy Turnblad in 1960s Baltimore as she sets out to dance her way onto TV's most popular show. Can a girl with big dreams (and even bigger hair) change the world? Featuring the beloved score of hit songs including "Welcome to the '60s," "Good Morning Baltimore," and "You Can't Stop the Beat."

This new touring production reunites Broadway's award-winning creative team, led by Director Jack O'Brien and Choreographer Jerry Mitchell, to bring Hairspray to a new generation of theater audiences. Hairspray is based on the New Line Cinema film written and directed by John Waters, who served as a creative consultant on the musical comedy. It features a book by Mark O'Donnell and Thomas Meehan. Hairspray features an original score by Academy Award-nominated Marc Shaiman and lyrics by Marc Shaiman and Scott Wittman.

From the press release.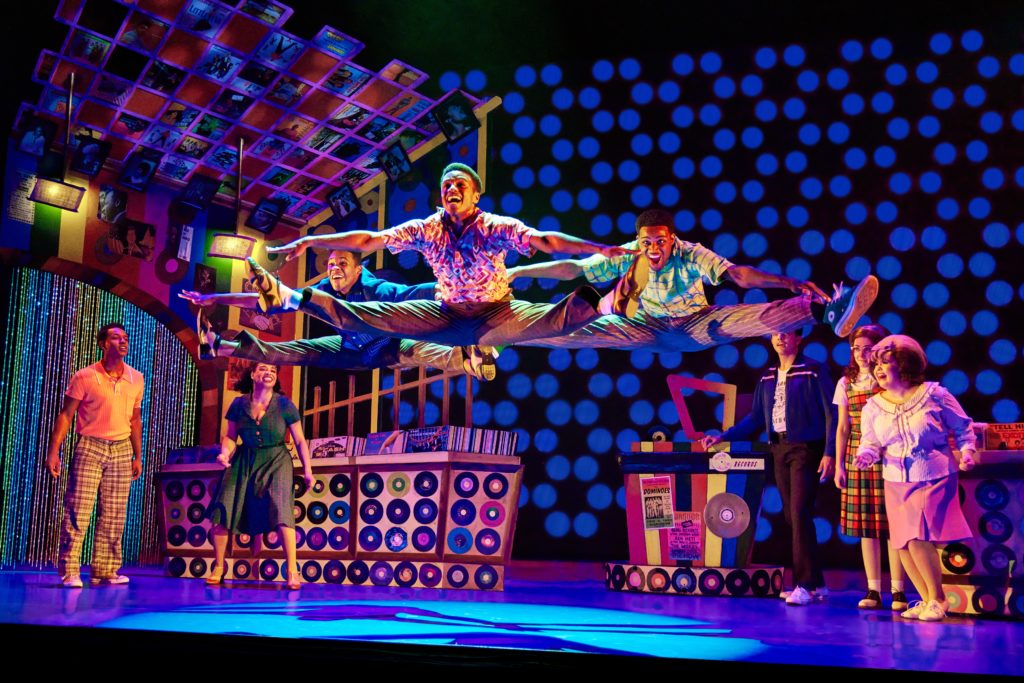 Hairspray
May 2 – May 21, 2023
Dolby Theatre in Hollywood
6801 Hollywood Blvd, Los Angeles, CA 90028
Performance Schedule:
Tuesday – Friday at 8pm
Saturday at 2pm & 8pm
Sunday at 1pm & 6:30pm
Tickets: Online: BroadwayInHollywood.com or Ticketmaster.com
Phone: 1-800-982-2787
In Person: Dolby Theatre Box Office (Visit website for hours)