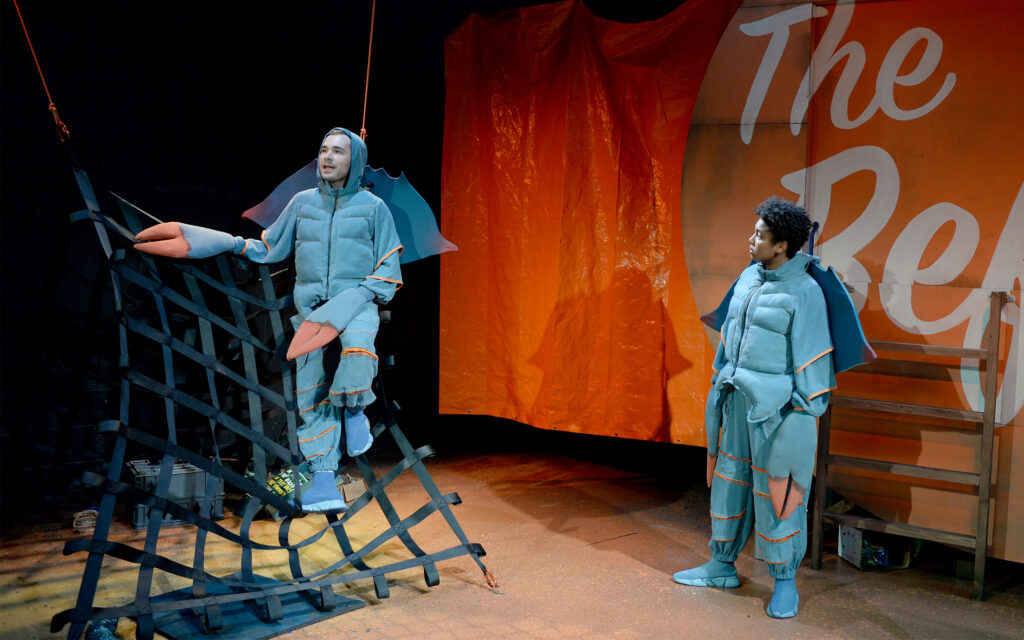 When I got to my seat at the Atwater Village Theatre, I saw a note. It informed me that this seat was in "the Crabby Zone," and that performers in crab costumes with outsized claws would be running up and down the aisle and that anyone choosing to sit in this area might get jostled by said crustacean accoutrements. I was fine with this, and indeed thought it right and proper that the critics should be placed in this area, as we are crabs of the first order. Reader, I was in fact jostled by crab costumes, which is something I so rarely get to say in a review. That was amusing, as is Echo Theater Company's world premiere production of Bernardo Cubría's Crabs in a Bucket, which features a terrific cast in a fun if somewhat slight play.
Amargo (Xochitl Romero) and Pootz (Anna LaMadrid) are two crabs living in a bucket. They've been there more than twenty years as other crabs have come and gone, trying and failing to escape the bucket to get to the fabled Outside. They're rehashing a conversation they've had many times when a younger crab, Beb (Jordan Hull), enters the bucket in a whirlwind of energy. Beb is full of ideas how to get to the Outside, and she draws the ire of Amargo, who believes that her rules are the only correct ones. Tensions build, until one day during an attempt at bucket escape, a fourth crab, Mamon (Michael Sturgis), drops into the container. This is a huge surprise for Amargo and Pootz, because Mamon was in the bucket with them before, and he can tell them all about the Outside.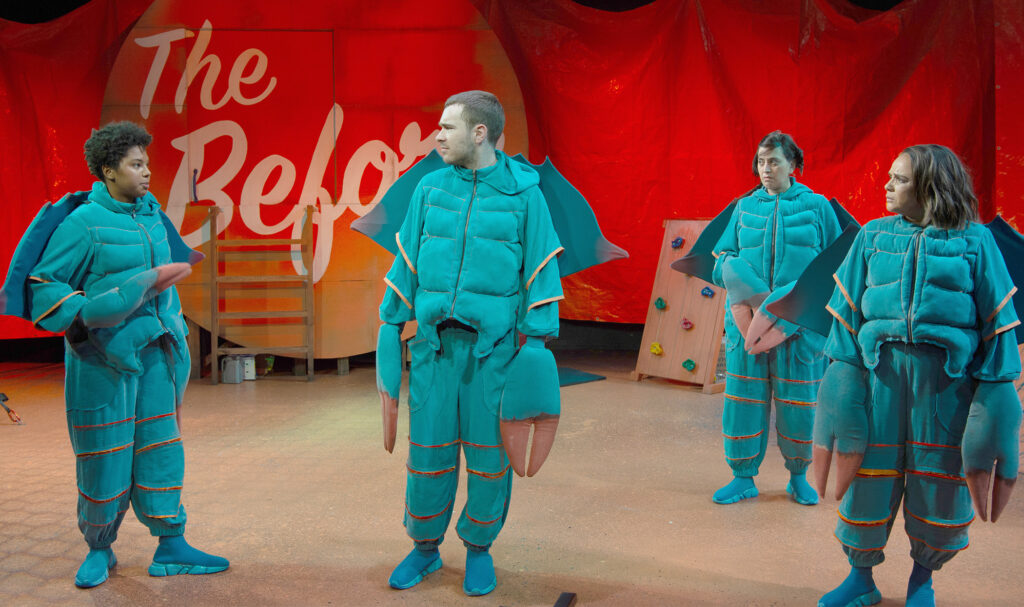 Romero does nice work as the domineering Amargo, grimly holding onto whatever tiny influence she has left. LaMadrid is charming as the kind and loyal Pootz, the designated follower in a group of two. Hull is a ball of fire as the self-assured Beb, skating onstage and standing up to all comers. Sturgis displays his expert comedic skill as Mamon as the crab attempts to manipulate all the others to his benefit from the moment he reenters the bucket.
Director Alana Dietze brings visual flair to the production in many creative ways, from the strobe-lit fights to the top of the bucket staged in the aisle between audience members to the mincing little sideways movements of the crabs. Lou Cranch's costumes are clever and appropriate, and Amanda Knehans' scenic design is refreshingly non-literal and features a delightful surprise at the show's conclusion.
Cubría's writing is humorous and smart, as in this putdown from Mamon to Amargo: "I'm Radiohead and you're the Dave Matthews Band!" He keeps things lively and entertaining, but when the play philosophizes about how naked ambition can be pointless or how being unwilling to bend or change can be isolating it's less successful. Cubría may want this show to be an allegory, but it comes alive when it's just being fun, people in big crab costumes being snarky and colliding in the Crabby Zone.
Crabs in a Bucket is presented by Echo Theater Company at the Atwater Village Theatre and plays through August 21. Tickets are available here.