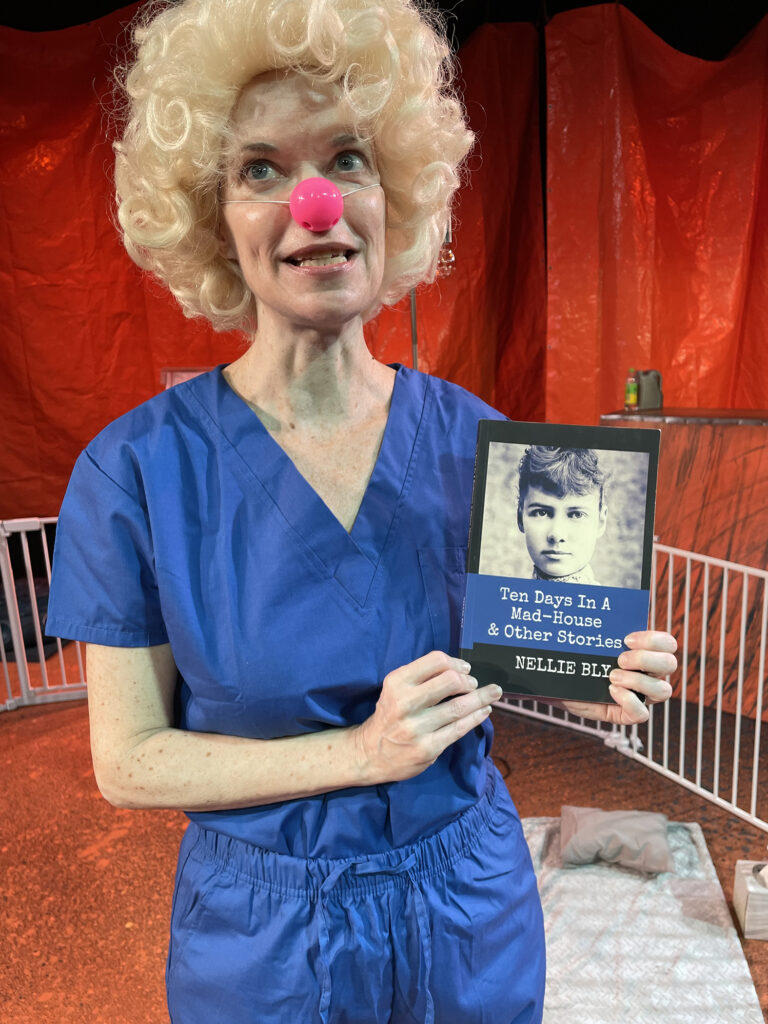 A complex and nuanced solo show, written by and featuring Ann Noble, is currently playing on Tuesday evenings at The Echo Theater in Atwater Village.
The one-act play is set in an infant's playpen, which serves as a metaphor for Bella's limited world. Bella is surrounded by toys, stuffed animals, and books, but she is also isolated and alone. Wearing simple blue medical scrubs, a pink clown nose, and a curly blonde wig, we learn through her monologues that she has been incarcerated for a crime she did not commit. Left to her own thoughts in solitary confinement, Bella appears to be struggling to make sense of her situation. Plucking a clump of blonde hair from her curly wig, Bella fashions a puppet from a small pillow – even giving it a small clown nose. It's through the improvised puppet that Bella can imagine conversations with radical figures from history, such as courageous social activists and journalists Nellie Bly and Dorothy Day, as well as campaigners Emma Goldman and Joan of Arc. Bella feels that all these women would do, and indeed did, the most courageous things for love. "I like to quote rebellious women when I am not feeling free," she muses.
Noble's dialogue is shrewdly observant with flashes of light comedy and wit and she does a superb job of weaving together humor and pathos. The play is also thought-provoking, raising important questions about the nature of justice, the power of the state, and the importance of maintaining a hopeful outlook.
As Bella, Noble brings her wistful protagonist to life with her expressive eyes, her animated and bubbly voice and graceful gestures. The accomplished actor brings both an element of vulnerability as well as strength and resilience to a role that is both captivating and heartbreaking. She has a sweet personality throughout most of this short (one hour) play, with oblique hints that she might be slightly deranged due to some possible abuse at the hands of her mother when she was little.
A Bella Incarceration is a quirky play from one of L.A.'s most talented artists.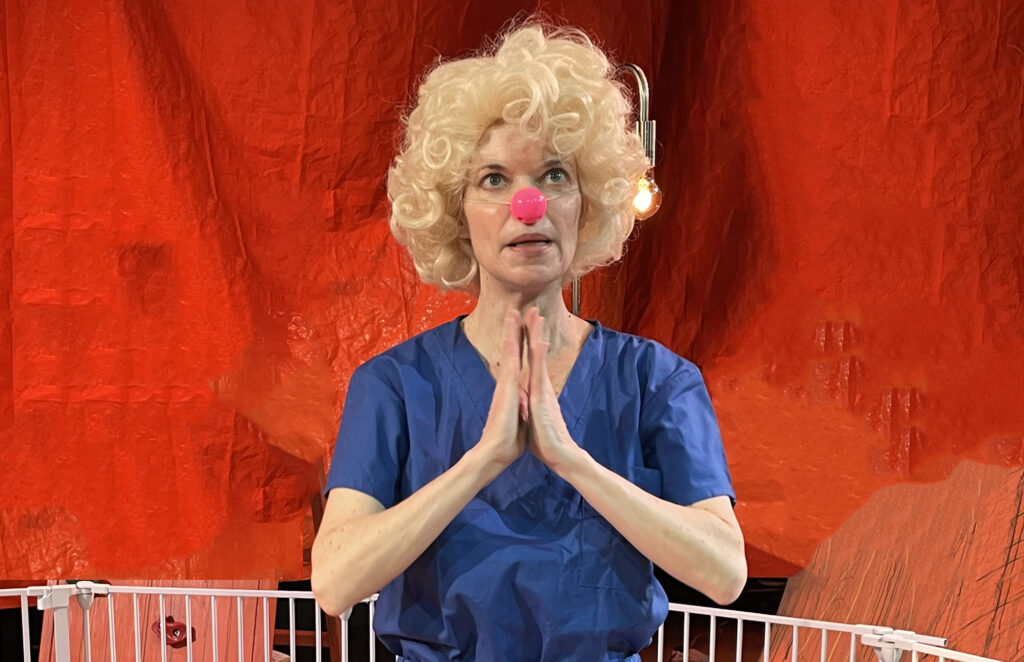 A Bella Incarceration, written and performed by Ann Noble.
Echo Theatre Company
Atwater Village Theatre
3269 Casitas Ave
Atwater Village, CA 90039
Performances are every Tuesday through August 22, 2023.
All tickets are $10.00
FREE PARKING available in the Atwater Crossing (AXT) lot, one block south of the theater.
For more information and to purchase tickets, call (310) 307-3753 or go here.