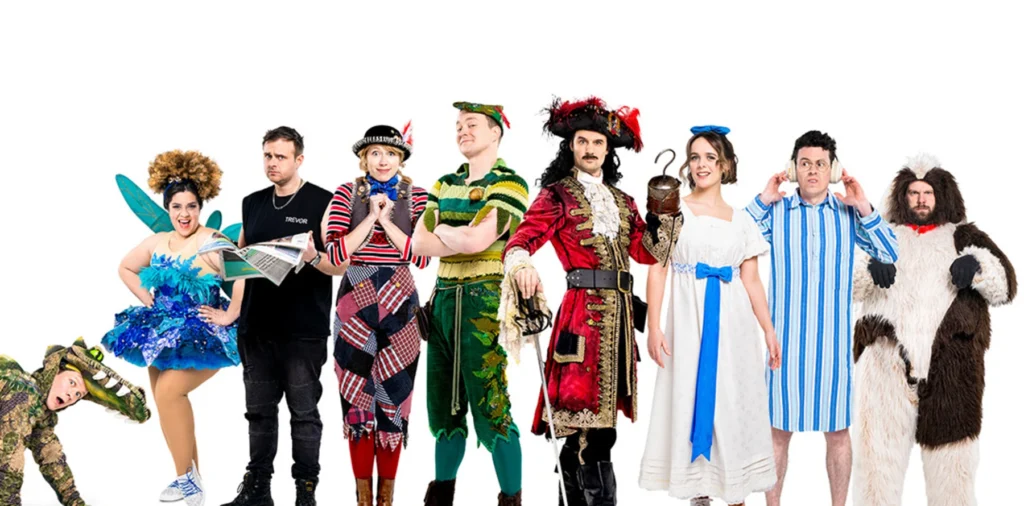 For better or worse, it's human nature to find the misfortune of others amusing. YouTube is filled with videos of people making mistakes or getting hit somewhere unpleasant by a stray ball. The show The Play that Goes Wrong took that premise and ran with it to great success several years ago, and has spawned spinoffs such as Peter Pan Goes Wrong, which is currently running at the Ahmanson. Often sequels are lesser versions of the original production, but thankfully that isn't the case here. I actually enjoyed this show more than the first one – it's energetic, very creative and most importantly, hilarious.
The Cornley Drama Society is putting on a production of J. M. Barrie's Peter Pan, but there are some issues it has to deal with. The easily irked director is playing Captain Hook (Henry Shields) and is yelling back at the audience when they boo him. The Narrator (Bradley Whitford, who's in the production until August 27, to be replaced for the rest of the run by Daniel Dae Kim) is struggling with near constant stagehand issues, and the actor playing the dog, Nana (Henry Lewis), keeps getting stuck in the doggie door. Young actor Max (Matthew Cavendish) is inadvertently having his secret crush on the actress who plays Wendy (Charlie Russell) revealed via private recordings being played onstage. But this is nothing compared to all the hapless actors getting crushed by sets, dropped from great heights or being accidentally electrocuted.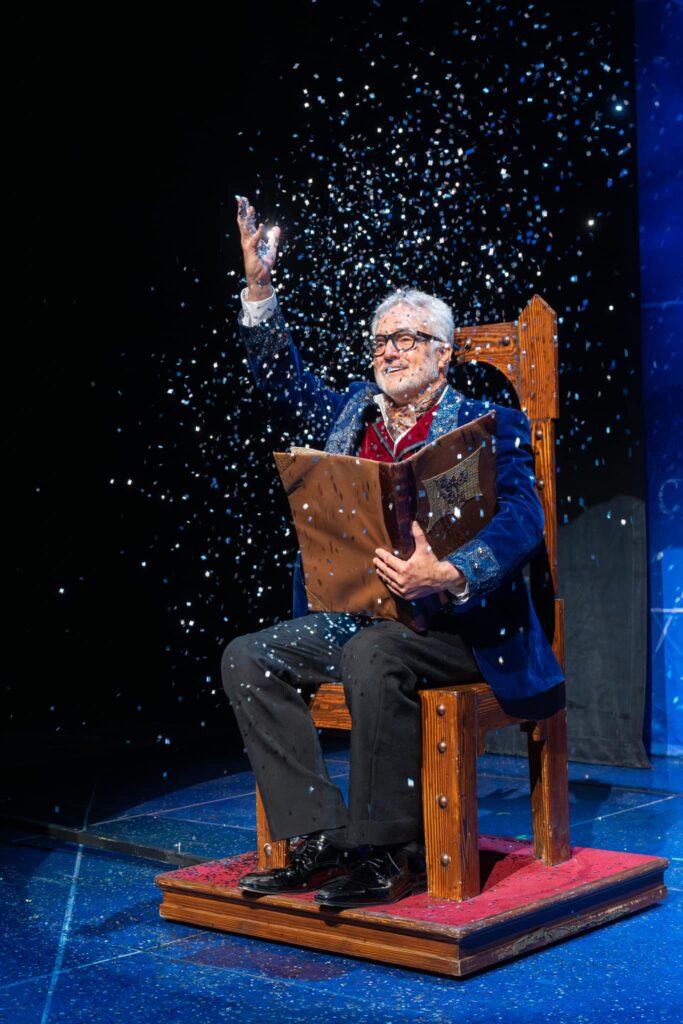 Whitford is amusing and a good sport, considering all the pratfalls he's subjected to, and it's going to a be a month after the show closes before he gets all that confetti out of his hair. Lewis is quite good as the blunt and unsafe company manager, and Cavendish gains massive audience sympathy with his winning performance. Russell is terrific as the actress gamely trying to stay professional as Wendy regardless of the chaos around her, and Nancy Zamit impresses both with her frequent quick changes and her energetic goofy dances as Tinker Bell. Shields, however, steals the show as the director and Hook, with a fantastic performance of repressed irritation that finally explodes in a tour de force of enraged interaction as he shouts at the booing audience to shut up and starts insulting children in the front rows. It's one of the funniest and bravest pieces of acting I've seen in a long time.
Adam Meggido's direction is a marvel of clockwork precision in depicting an escalating series of mishaps (two set pieces in which a rotating stage speeds up and a black light puppet sequence falls apart are highlights), but he also gets very strong work from his ensemble as well. Simon Scullion's scenic design deserves a mention for providing many different settings for the show and simultaneously making the Ahmanson seem like a theatrical deathtrap. The script by Lewis, Shields and Jonathan Sayer seems like an improvement upon The Play that Goes Wrong, taking what was a clever but repetitive concept and adding more variety to it. It also has fun with the familiar tropes of a Peter Pan play, getting a lot of comedic mileage from the spectacle of stage flying gone terribly wrong.
Peter Pan Goes Wrong is neither subtle nor freighted with deep meaning, but it is very, very funny and makes for an extremely entertaining time in the theater.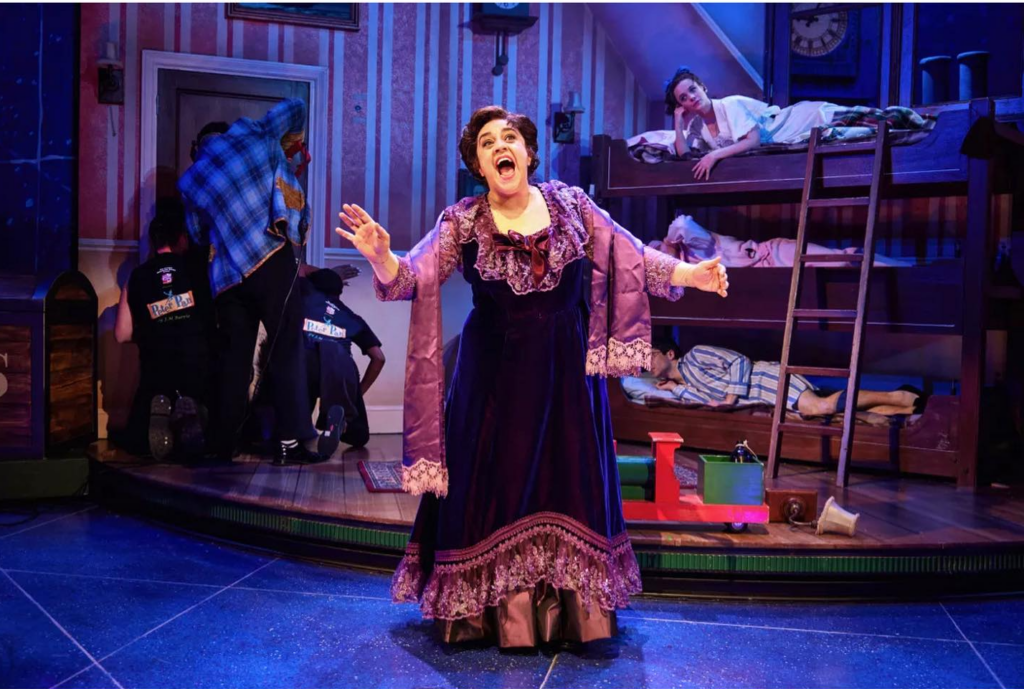 Peter Pan Goes Wrong is a Mischief Production at the Ahmanson Theatre and plays through September 10, 2023. Tickets are available here.