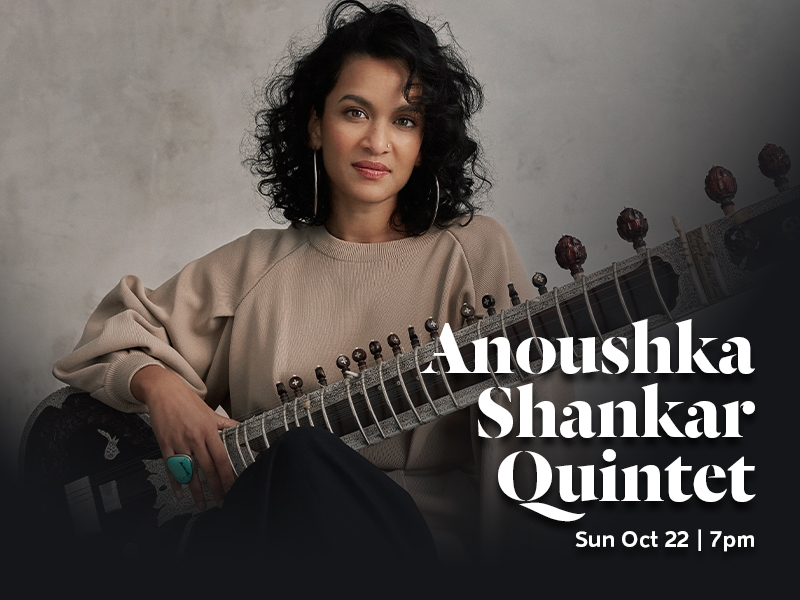 Sunday, October 22, 2023 at 7pm
Tickets start at $42.00; Now available at TheSoraya.org
Sitar virtuoso Anoushka Shankar — the youngest-ever GRAMMY nominee in the world music category — brings her new quintet to The Soraya on Sunday, October 22 at 7:30pm. Placing the sitar front and center, Anoushka Shankar, a nine-time GRAMMY nominee in her debut at The Soraya, incorporates traditional Indian and modern electric music into her work, producing a unique sound that transcends genres.

Daughter of acclaimed musician Ravi Shankar, Anoushka's exposure to world cultures—from her upbringing in Delhi to her travel throughout the United Kingdom and Southern California—has placed her at the forefront as an activist, human rights ambassador, and highly sought after musician. Her mastery across styles has led to collaborating with a wealth of talented and popular musicians like Nina Simone, Lenny Kravitz, Madonna, Eric Clapton, Elton John, and Sting.
The Anoushka Shakar Quintet performs Sunday, Oct 22 at 7pm. Tickets start at $42; Now on sale at www.TheSoraya.org