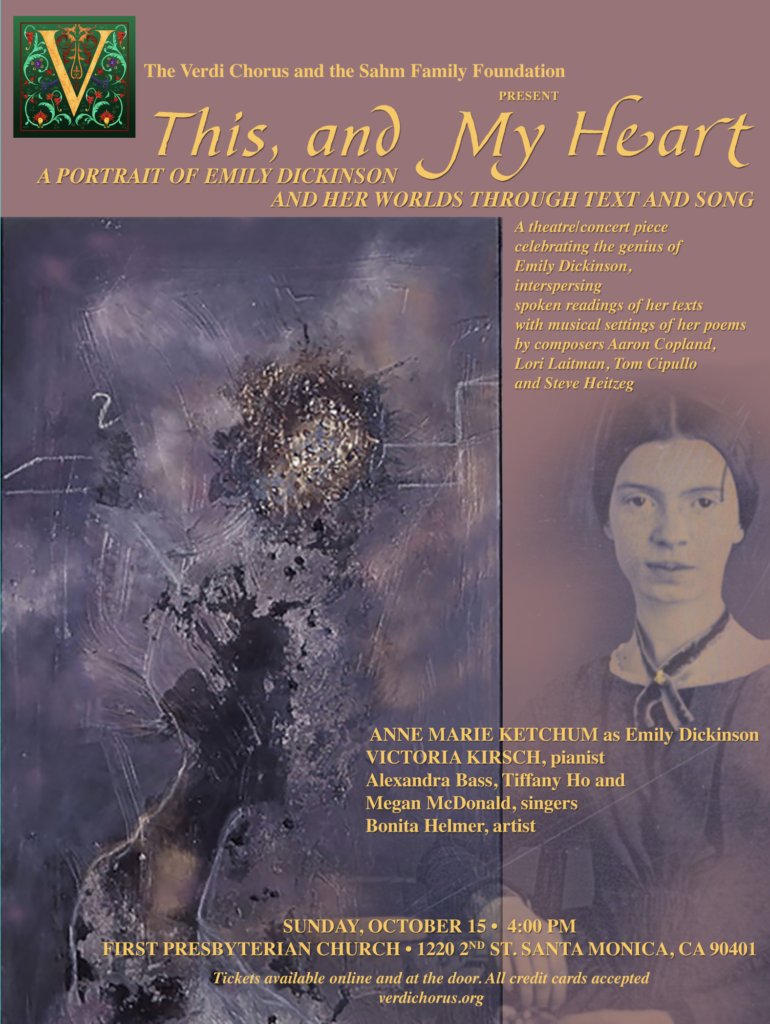 The poetry of Emily Dickinson has inspired books, films, and plays – and now, the Verdi Chorus is kicking off its 40th anniversary season, by presenting with the Sahm Family Foundation, This, and My Heart, A Portrait of Emily Dickinson and Her Worlds Through Text and Song on Sunday, October 15 2023 at the First Presbyterian Church in Santa Monica.
This unique theatre/concert piece celebrates the genius of Dickinson, interspersing spoken readings of her text with musical settings of her poems by composers Aaron Copland, Lori Laitman, Tom Cipullo and Steve Heitzeg. Verdi Chorus Artistic Director Anne Marie Ketchum portrays Emily Dickinson with Fox Singers (asatellite group of the Verdi Chorus) Alexandra Bass, Tiffany Ho and Megan McDonald expressing Dickinson's thoughts through the singing of her poetry. Victoria Kirsch is the pianist.
This, and My Heart was written by Ketchum, Kirsch and actress Linda Kelsey, and was first presented as part of Grand Performances in Los Angeles, made possible by a grant from the National Endowment for the Arts and the Cultural Affairs Department of Los Angeles. The piece premiered in 2009 and was performed throughout Southern California over the next five years, including engagements at Stanford University and the Annenberg Beach House. This performance is expect to begin a new series of engagement for the work.
Emily Dickinson was a woman who led a life that was hers and hers alone; she didn't follow all the rules of her time and culture – she was aware of them, but dealt with them in her own way and on her own terms. The poetry of Emily Dickinson moves in so many surprising directions with the change of a single word from what you might expect to hear. She can take a simple thought or concept and bring a profundity to it that cuts to the core.

Verdi Chorus Artistic Director Anne Marie Ketchum.
The Fox Singers demonstrate the mission of the Verdi Chorus and the Sahm Family Foundation to provide performance opportunities to young professional singers.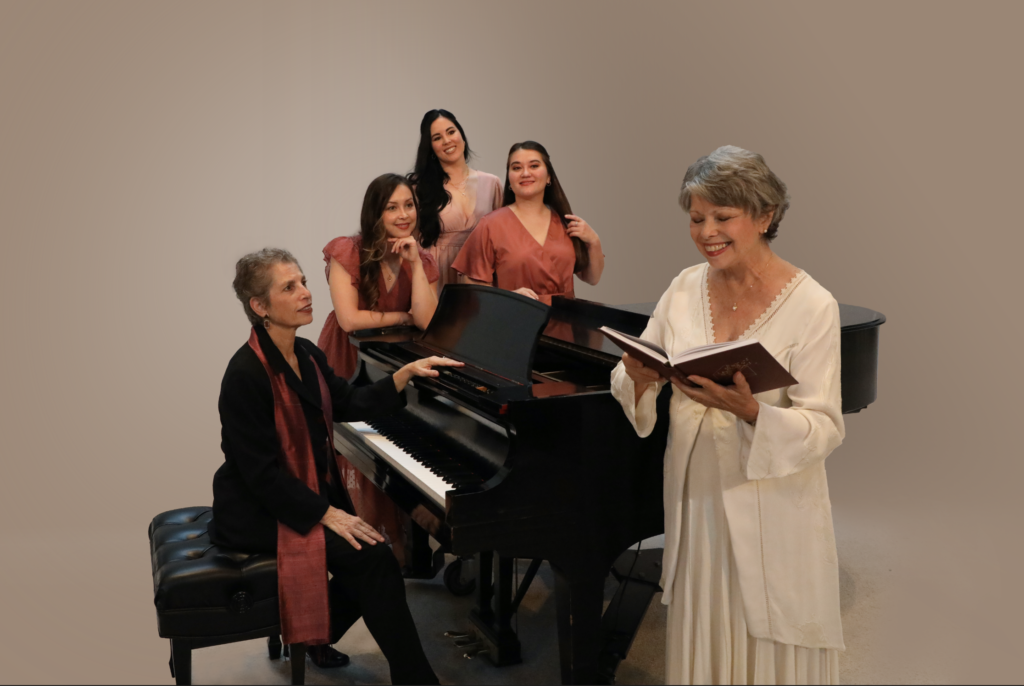 ArtsBeatLA was able to interview Anne Marie Ketchum about the forthcoming performance:
This, and My Heart was a creative collaboration between you and pianist Victoria Kirsch and actress Linda Kelsey, and has already been performed numerous times since 2009. How has the work evolved or developed over the years since its first conception and performances? Also, how has the presentation of the work been influenced by the venue, for example, its staging at Stanford University versus the Annenberg Beach House?
"This, and my Heart was originally conceived for three women who wrote the piece – actress Linda Kelsey, pianist Victoria Kirsch and myself. Linda portrayed Emily Dickinson – I sang the songs, all based on Dickinson poetry, with Vicki at the piano and also serving as the narrator. The first time we performed This, and my Heart was at an outside venue in downtown Los Angeles, where the issue of microphones was a major concern, and other times we performed in very intimate places where we were very close to the audience. There were a couple of times when we did a two-person version of the show with just Vicki and myself, where I sang the songs and portrayed Emily Dickinson as well. When performing for a school or university we sometimes cut the piece down to fit in the time space of a lunch hour or class time. And there were times, for example at Stanford University, when we would do the show and then follow with a question/answer session afterwards, where we talked about Dickinson herself, what it was it like to work on her poetry, and how the show came into being. We found the show to be infinitely flexible in terms of adjusting it to fit the performance situation."
What does the forthcoming staging at First Presbyterian Church in Santa Monica bring to the event?
"This time This and my Heart is being presented by the Verdi chorus for which I am the Artistic Director. I am using three of our young professional singers from the Chorus, Alexandra Bass, Tiffany Ho and Megan McDonald to sing most of the songs in the piece. I will be singing three of the songs. We are also changing the way the stage looks. This time the set background will be original artwork by Bonita Helmer, consisting of four large paintings of abstract art entitled The Four Worlds. It is based on the Kabbalah and symbolizes The Tree of Life."
What can audiences new to the work expect?
"This is an unusual way to present poetry and song. Not being a song recital nor a poetry recital it is a combination of the two presented in a theatrical setting. The piece looks at the different areas of her thought in the context of her life – how she saw nature, fame, religion, love and death. There are hundreds of songs written by hundreds of composers using her poetry – by famous and lesser-known composers. Finding the particular songs to use was a complex process and they were chosen based on what seemed best to fit the essence of Emily. This piece uses musical settings of her poems by composers Aaron Copland, Lori Laitman, Tom Cipullo and Steve Heitzeg.
"The readings of her poems and excerpts from her letters amplify the songs, giving them added vibrancy and depth."
What do you find especially magical or inspirational about the works of the great poet and author Emily Dickinson?
"Emily Dickinson was a recluse during most of her life and preferred the solitude of her own house in order for her mind to travel the vast territory of her own creativity.  She used few words but they were so carefully chosen that the impact of her thought was enormous.  She focused on nature, love, religion, death and life. One of the interesting things about her is that her poetry can be interpreted in so many ways. She talked about telling it "slant." In other words, you read her poetry and you think she's talking about one thing, and suddenly you look at it again, and it could mean something entirely different – a totally different subject, and then it's enlightening in a very different way. She intentionally gave us poems that held many meanings in just a very few words. All of it is still intensely relevant today, so many years later."
All responses are from Verdi Chorus Artistic Director Anne Marie Ketchum.
Verdi Chorus 40th Anniversary Season
This, and My Heart, A Portrait of Emily Dickinson, And Her Worlds Through Text and Song
A theatre/concert piece celebrating the genius of Emily Dickinson, interspersing spoken readings of her texts with musical settings of her poems by composers Aaron Copland, Lori Laitman, Tom Cipullo and Steve Heitzeg.
Anne Marie Ketchum as Emily Dickinson
Victoria Kirsch, pianist
Alexandra Bass, Tiffany Ho and Megan McDonald, singers
Bonita Helmer, artist
Venue:
First Presbyterian Church in Santa Monica
1220 2nd Street,
Santa Monica, CA 90401.
When: Sunday, October 15 2023 at 4:00 pm
Tickets: Prices: $10.00 – $50.00
Presented by Verdi Chorus and the Sahm Family Foundation.
BIOGRAPHIES:
Music Director and Founding Artistic Director ANNE MARIE KETCHUM has been the conductor of the Verdi Chorus since its beginning in 1983. Well recognized as a singer, conductor, stage director and educator, she taught on the voice faculty of Pasadena City College for 34 years until her recent retirement. During her tenure at Pasadena, she directed a full opera each spring to critical acclaim. As a singer, she has appeared internationally and is well known for her performances of contemporary art music, vocal chamber music, solo recitals, and opera. Her recordings of Morten Lauridsen's Cuatro Canciones and of Aurelio De La Vega's Recordatio were both honored with Grammy nominations. She has premiered numerous works by such composers as Ernst Krenek, Aurelio De La Vega, Schulamit Ran, and Hans Werner Henze. Among Ms. Ketchum's creative activities is This and My Heart: A Portrait of Emily Dickinson and Her Worlds through Text and Song – a concert/theater piece which she co-wrote and performs with actress Linda Kelsey and pianist Victoria Kirsch. This was first presented as part of Grand Performances in Los Angeles and made possible by a grant from the National Endowment for the Arts and the Cultural Affairs Department of Los Angeles. She has also served on the faculty of OperaWorks, Angels Vocal Art and at California State University, Northridge. Ms. Ketchum and the Chorus have received commendations on several occasions from the county of Los Angeles and from the city of Santa Monica.
Collaborative pianist/vocal coach VICTORIA KIRSCH curates and performs innovative programs throughout Southern California, including concerts based on museum exhibitions and staged art song/poetry programs, including eleven concerts for USC's campuswide Visions and Voices program. She co-created This, and My Heart with actor Linda Kelsey and soprano Anne Marie Ketchum after receiving a Chairman's Grant from the NEA's Dana Gioia, and the piece premiered at Grand Performances in downtown Los Angeles in 2009. Victoria was the onstage pianist for soprano Julia Migenes (Carmen in the award-winning opera film directed by Francesco Rosi), touring the world for many years with the celebrated singing actress. She has worked with national and regional opera companies, including LA Opera and Long Beach Opera, and she served as an official pianist for the Operalia Competition and the Metropolitan Opera's National Council Auditions. Victoria has been a faculty vocal and opera coach at UCLA's Herb Alpert School of Music since Fall 2015, where she is now a Continuing Lecturer. She has been the music director of OperaArts, a Coachella Valley-based performance organization, a faculty member of the Los Angeles-based Angels Vocal Art summer program, a teaching artist for LA Opera's Community Programs Department, and she has served on the faculties of USC's Thornton School of Music and SongFest. She was associated with the Music Academy of the West in Santa Barbara for many years, playing in the studio of renowned baritone and master teacher Martial Singher and serving as a member of the vocal faculty.
Visual artisi BONITA HELMER has been exhibited nationally and internationally. Exhibitions include: Starland Museum, Beijing,: Museum Sonderjylland , Denmark, Kunstraum F200 galerie, Philip Johnston Building Berlin; MOCA, Beijing; a solo show at Le Musee Bateau Lavoir, Paris; an official adjunct show as part of the MOCA Los Angeles, Whack retrospective of Women in Art; International Space Conference in Washington, DC; Orange County Museum of Art; Gallery Q, Tokyo; French Consulate/Alliance Francaise, Los Angeles; UCLA Dortort Center for the Arts, HUC Museum, NYU campus; Museum of Latin American Art (MOLAA) Long Beach. Helmer has also done paintings as set design for performance pieces, one co-produced by CalArts and the other in part by an NEA grant.
During graduate work at Otis College of Art and Design, Helmer worked with Mitsumi Kanemitsu who became a strong influence in the use of abstraction in painting. Helmer also met and studied with Francoise Gilot at University of Southern California/Idyllwild campus. Gilot introduced Helmer to the use of universal symbols in art. Helmer taught at Otis College of Art and Design 1998-2018. She received her BA in painting, UCLA, Antioch and did graduate work at Otis Art Institute. Additional studies include the origins of the universe via physics and astronomy at UCLA. She has continued in her personal research into physics and space combined with mystical studies and references to ancient spiritual beliefs..
Born and raised in Southern California, mezzo-soprano ALEXANDRA BASS is an in demand soloist for both concert and operatic repertoire. Upcoming and recent engagements include Carmen (Opera Santa Barbara, 2023; Landmark Opera, 2022; Vox Visceralis, 2019), and Faust (Valley Opera & Performing Arts, 2020), as well as The Mikado (2019), Iolanta (2022), Elixir of Love (2022), and her role debut as Kate in The Pirates of Penzance (2023), all with Pacific Opera Project. On the concert stage, Alexandra has been a member of The Verdi Chorus since 2019. In 2021, she was chosen as a Walter Fox Singer and looks forward to performing with them for their 40th Anniversary season this year. Other recent recital work includes SongFest's digital concert program, Songs of Unity and Hope, and her Canadian debut with the Toronto Summer Music Festival as an Art of Song Academy Fellow, performing the works of Schumann, Schubert, and Clarke. Alexandra earned her Bachelor of Music in Vocal Performance from the prestigious Oberlin Conservatory of Music, studying under the tutelage of Lorraine Manz. Performance highlights while at Oberlin include Mrs. Grose (The Turn of the Screw), Marcellina (Le nozze di Figaro), as well as both Sorceress and Spirit (Dido and Aeneas). She is an alumna of Oberlin in Italy, the Taos Opera Institute, and SongFest's Young Artist Program. Alexandra is also a proud member of SAG-AFTRA. For more information, please feel free to visit AlexandraBassMezzo.com
TIFFANY HO has been praised as a "gloriously radiant" (Broadway World)"silvery soprano" (Opera Today) with a "crystalline, pure, powerful voice" (LOL-LA).

She was recently seen as Gretel in Hansel and Gretel with Pacific Opera Project and is a frequent soprano soloist with Concerts for Hope performing in facilities such as prisons, drug rehab centers, and homeless shelters throughout the country.

Past operatic roles include Princess Saralinda (13 Clocks – a world premiere), Meleagro (La Corona), Melpomene (Il Parnaso Confuso), 1st Cercatrice (Suor Angelica), Lauretta (Gianni Schicchi), The Princess (L'enfant et les sortilèges), Frasquita (Carmen), Peep-Bo (The Mikado), Nella (Gianni Schicchi), Zerlina (Don Giovanni), Giulietta (I Capuleti e i Montecchi), Adina (L'Elisir d'Amore), Prilepa (Pikovaya Dama), Bellezza (Il Trionfo del Tempo e del Disinganno), Clarice (Il Mondo della Luna), Little Matchgirl (The Happy Prince), and Sandman/Dew Fairy (Hansel und Gretel).

In addition to her involvement in opera and solo classical work, Tiffany has an extensive choral background. She sings with the Los Angeles Master Chorale on the Auxiliary Roster, performs as a Fox Singer with the Verdi Chorus, and is a member of Laude at First Congregational Church of Los Angeles.

Tiffany earned her Master of Music degree, with distinction, in Vocal Performance and Pedagogy from Westminster Choir College; she received her Bachelor of Music degree, cum laude, in Music Education at Nazareth College of Rochester. www.tiffanyhosoprano.com
Lyric soprano MEGAN LINDSEY McDONALD is a native of Southern California. Earlier this year she took the stage with San Diego Opera for Puccini's double bill Suor Angelica/Gianni Schicchi. In 2022, she performed La Traviata with the Santa Barbara Opera chorus.Her past opera roles include Micaëla in Bizet's Carmen, Susanna in Le nozze di Figaro, Despina in Cosi fan tutte, Antonia in Les contes d'Hoffmann, Papagena in Die Zauberflöte, Laetitia in The Old Maid and the Thief, Pitty-Sing (cover) in The Mikado, Anne Page in The Merry Wives of Windsor, and a one-act concert reading of The Kugelmass Episode for LA Opera. She is currently a section leader with the Verdi Chorus of Santa Monica, since 2018. She most recently concluded a five-week opera outreach program with Pacific Opera Project for local middle schools and high schools throughout Los Angeles. She has an extensive choral background and holds a B.M. and M.M. degree in Vocal Performance. She is very excited to be a part of TAHM and thanks her family, Wilson, and cat Axl for their support. www.meganlindseysoprano.com
VERDI CHORUS is a Southern California nonprofit organization dedicated to presenting opera choruses in concert and to providing career development opportunities for young professional singers. As the only choral group in Southern California that focuses primarily on the dramatic and diverse music of the opera chorus, The Verdi Chorus gives talented amateur singers the unique opportunity to sing side-by-side with professional singers in rehearsals leading up to performances held to the highest artistic standards. Under the direction of its remarkable Artistic Director Anne Marie Ketchum, each rehearsal is like a vocal master class.

The Verdi Chorus was founded in 1983 at the Verdi Restaurant in Santa Monica. When the restaurant closed in 1991, The Verdi Chorus continued. In 1999, the chorus incorporated as a 501(c)(3) nonprofit organization. Under the continuous direction of Founding Artistic Director Anne Marie Ketchum, the Chorus presents four concerts each year as well as other collaborative events. Its repertoire includes over 300 choruses from 81 operas in seven languages.
For more information visit: www.verdichorus.org.