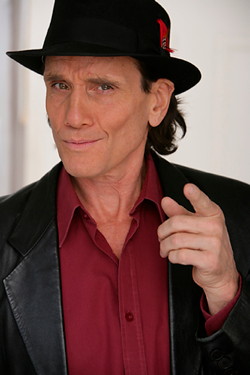 Lulled by Native American singing and chanting, gradually you find yourself being pulled into another world.
Two one-man plays, written by and starring acclaimed actor and storyteller Robert Owens-Greygrass (Lakota*), will run in repertory during March, presented by Native Voices at the Autry.
Rich with contemporary and historical elements, Walking on Turtle Island portrays Indigenous experience through the stories and culture of Turtle Island. Ghostlands of an Urban NDN provides a gritty and humorous look at the conflicting worlds of a mixed-race heritage.
Greygrass begins Walking on Turtle Island holding a handmade drum that he begins to beat, plaintively singing in his native Lakota tongue. His voice soars and seems full of emotion. When the last note of the song dies away, he removes his blazer and immediately engages his audience with his stories.
Walking on Turtle Island is a riveting one-man show. Thoughtful and thought-provoking, this lively and entertaining artist takes us on a rare journey, compelling us to look at life through a new set of eyes.
Throughout the two-hour evening, Greygrass effortlessly slips in and out of various personae, in order to present an illuminating dialogue between selected members of his family and his reservation. One minute he's a snot-nosed little kid, the next minute he's his cousin or even the kid's uncle. Best of all is when he takes on the persona of an ancient grandma who has seen it all.  Playing an Ojibway elder, "she" recalls the days when her people lived in harmony with nature until the early white settlers relocated them time and again.  These sequences are the most heart-wrenching as even today many people don't understand the relationship and deep connection some indigenous races have with their land.
We follow the passage of the spirit of his people from a state of purity, enjoying a happy and peaceful existence, to the interaction with the white settlers, through to the dilution and pollution of the spirit and his race in more modern times.  Most affecting is the persona that dominates Act Two; a young 'half-breed' whose years of abuse and racism have turned him into a destructive drunkard.  Clearly speaking from the heart, Greygrass' show is not simply a rant, rather a well-constructed and beautifully performed piece.
Apparently Greygrass grew up in Northern California (in Hayward) and a long way away from his mother's Lakota and Cherokee roots.  Typical of his generation, he experienced many of the problems facing urban Indians.  As a young adult seeking a better way of life, Greygrass began to explore his Lakota heritage and in this way was able to turn his life around.  What followed were many years of traditional spiritual practices; sweats, vision quests, Sundance, listening to the Elders, learning the language, history, stories, as well as years of activism with the American Indian Cultural Center.
With flashes of humor and some swearing, Walking On Turtle Island examines the social issues that Native American people have faced, highlighting cultural alienation, genocide and oppression along race lines but above all evoking the voices of a past generation.
~ ~ ~
Native Voices at the Autry is the country's only Equity theatre company dedicated exclusively to presenting and developing the work of Native American playwrights.
In these two vastly different works, which showcase his wit and humor, Greygrass portrays an astonishing 38 characters. Kevin Sifuentes (Hopi*) directs both productions. Randy Reinholz (Choctaw*) is Native Voices' Producing Artistic Director, and Jean Bruce Scott is Producing Executive Director.
Rich with contemporary and historical elements, Walking on Turtle Island conveys the often untold Indigenous experience through some of the powerful and unique stories of Turtle Island (North America). It is a tour-de-force vehicle for Greygrass, who depicts 22 dynamic characters—from a grandfather, to a mixed-blood sun dancer, to a boy who has lost his dog, to an 80-year-old Ojibway woman, to Iyeska, a trickster and spirit guide who moves through centuries and inhabits various spiritual "skins." Greygrass previously starred in productions of Walking on Turtle Island at the prestigious Border Crossings' Origins: Festival of First Nations and the international Festival at the Edge in the United Kingdom.
Ghostlands of an Urban NDN follows "Robert," a multiethnic-non-specific-lower-middle-class-urban-NDN (slang for "Indian") as he navigates the conflicting worlds of a mixed-race heritage. Greygrass plays 16 characters in this gritty look at the sometimes humorous, always gripping urban Native journey through the "ghostlands"—on and off the streets of contemporary "America."
*Refers to the artist's tribal affiliation(s)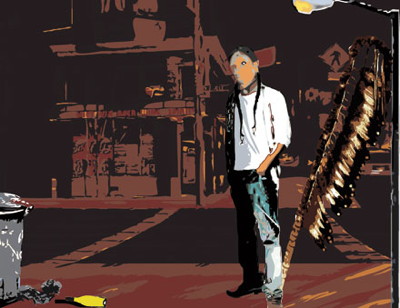 Wells Fargo Theate,
Autry National Center
4700 Western Heritage Way
Los Angeles, CA 90027-1462
Performance dates:
March 3–18, 2012
(Previews begin March 1st)
Walking on Turtle Island
PREVIEW:
Thursday, March 1, 8:00 p.m.
OPENS:
Saturday, March 3, 2:00 p.m.
RUNS:
Sunday, March 4, 2:00 p.m.
Thursday, March 8, 8:00 p.m.
Saturday, March 10, 2:00 p.m.
Sunday, March 11, 2:00 p.m.
Thursday, March 15, 8:00 p.m.
Saturday, March 17, 2:00 p.m.
Sunday, March 18, 2:00 p.m.
Ghostlands of an Urban NDN
PREVIEW:
Friday, March 2, 8:00 p.m.
OPENS:
Saturday, March 3, 8:00 p.m.
RUNS:
Friday, March 9, 8:00 p.m.
Saturday, March 10, 8:00 p.m.
Friday, March 15, 8:00 p.m.
Saturday, March 17, 8:00 p.m.
TICKETS:
$20 general adult admission
$10 students/military/seniors (55+)
$12 Autry members
Groups of 10 or more save 40%
Previews:
$10 general admission
$5 students/military/seniors (55+)
Free for Autry members
Two-Show Ticket Package:
$30 general adult admission
$15 students/seniors (55+)/military
$18 Autry members
(Does not include previews)
CONTACT INFO:
323.667.2000, ext. 299
About the Autry National Center:

The Autry National Center, formed in 2003 by the merger of the Autry Museum of Western Heritage with the Southwest Museum of the American Indian and the Women of the West Museum, is an intercultural history center dedicated to exploring and sharing the stories, experiences, and perceptions of the diverse peoples of the American West. Located in Griffith Park, the Autry's collection of over 500,000 pieces of art and artifacts, which includes the collection of the Southwest Museum of the American Indian, is one of the largest and most significant in the United States.

The Autry Institute includes two research libraries: the Braun Research Library and the Autry Library. Exhibitions, public programs, K–12 educational services, and publications are designed to examine the contemporary human condition through the lens of the historical Western experience and explore critical issues in society.

Weekday hours of operation for the Autry National Center's museum at its Griffith Park location are Tuesday through Friday, 10:00 a.m. to 4:00 p.m. The Autry Store's weekday hours are Tuesday through Friday, 10:00 a.m. to 4:30 p.m., and the Autry Cafe is open Tuesday through Sunday, 9:00 a.m. to 4:30 p.m. Saturday and Sunday hours for the museum and the store are 11:00 a.m. to 5:00 p.m. The museum, the store, and the cafe are closed on Mondays. The libraries are open to researchers by appointment.

Museum admission is $10 for adults, $6 for students and seniors 60+, $4 for children ages 3–12, and free for Autry members, veterans, and children age 2 and under. Admission is free on the second Tuesday of every month.
Native Voices at the Autry, a constituent of Theatre Communications Group (TCG), is made possible in part by grants and support from the Department of Cultural Affairs, City of Los Angeles; the Los Angeles County Arts Commission; the National Endowment for the Arts; Edison International; Nissan; the San Manuel Band of Mission Indians; Wells Fargo; and the Judith Jacobs Foundation.
Cast and Crew:

Playwright and performer Robert Owens-Greygrass is of Lakota*, French, and Irish heritage. He is a published writer, storyteller, actor, and wellness consultant, working throughout Turtle Island (the United States), Canada, England, Germany, and Australia. He spent three years with the Oregon Shakespeare Festival and fifteen years with D'White Dog Productions LLC, touring and performing as a storyteller with his solo shows and "wellness through the arts" to countless festivals, universities, reservations, public and private schools, the United Nations, prisons, and theatres. Los Angeles audiences will remember him from the Mark Taper Forum's Palestine, New Mexico; Theatre at Boston Court's Street Angel Diaries; and Native Voices' world premieres of Kino & Teresa and Salvage. Last spring Owens-Greygrass had a successful three-week run of his two highly acclaimed, original one-man plays, Walking on Turtle Island and Ghostlands of an Urban NDN, at the National Museum of the American Indian in Washington, D.C., which was followed in July 2011 by a run at Rich Mix Theatre for Border Crossings' Origins: Festival of First Nations in London. Later that summer he was a featured storyteller at Festival at the Edge (FATE) in Shropshire, England. Owens-Greygrass is a proud member of Actors' Equity and the Screen Actors Guild.

Director Kevin Sifuentes (Hopi*) has directed and produced original plays for the nonprofit KBR Productions and the Living Edge Theatre Company. In December 2009 he served as Assistant Director at the Mark Taper Forum under the tutelage of award-winning director Lisa Peterson for Palestine, New Mexico, an original piece by the critically acclaimed Chicano theatre troupe Culture Clash. Sifuentes has directed, written, and produced several short films. He was nominated for the Discovery Award: Outstanding Directing Debut and Favorite Short Subject Screenplay at the Playhouse West Film Festival for his film The S Word. Onstage and in front of the camera, his is a familiar face. His acting stage credits include work with theatre companies such as the Center Theatre Group, the Mark Taper Forum, South Coast Repertory, San Jose Repertory, About Productions, Cornerstone Theatre Company, and Native Voices at the Autry. On television and in film, Sifuentes was last seen in ABC's Desperate Housewives and NBC's Law and Order: L.A. and he will appear in the soon-to-be-released film The Last War Crime. In addition to directing and producing theatre and film, he is a private acting and playwriting coach in Los Angeles and has worked with the Native Voices Young Playwrights Project, ENCOMPASS, Mentor Artists Playwrights Project (MAPP), the Institute of American Indian Arts (IAIA), the Virginia Avenue Project, and the National Council of Community and Justice (NCCJ), whose projects focus on bringing the theatre and playwright experience to low-income communities.

Native Voices At The Autry is the country's only Equity theatre company dedicated exclusively to producing new works by Native American playwrights. The company has been hailed by critics as "a virtual Who's Who of American Indian theatre artists," "a hotbed for contemporary Native theatre," "deeply compelling," and "a powerful and eloquent voice." Native Voices, which provides a supportive, collaborative setting for Native theatre artists from across North America, was established as a resident company at the Autry National Center in 1999. It is widely respected in both the Native American and theatre communities for its breakthrough plays and diverse programming, which highlight unique points of view within the more than 500 Native American nations in North America. Deeply committed to both developing new works by beginning, emerging, and established Native playwrights from across North America and seeing them fully realized, Native Voices has presented fully staged productions of 19 critically acclaimed new plays, including 14 world premieres; 8 playwrights retreats; 18 new play festivals; and more than 150 workshops and public staged readings of new plays. Native Voices is led by Founder/Producing Artistic Director Randy Reinholz (Choctaw) and Founder/Producing Executive Director Jean Bruce Scott. The theatre maintains successful long-term relationships with New York's Public Theater, Native American Public Telecommunications (NAPT), Washington's Kennedy Center, the National Museum of the American Indian, Montana Rep, and La Jolla Playhouse.