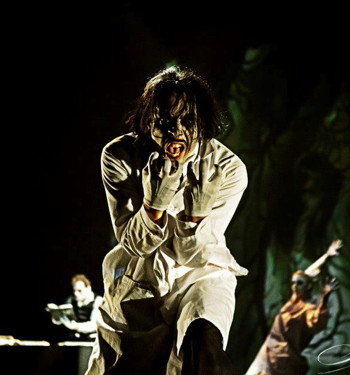 Hello readers!
My theater review this week for the LA Weekly is of The Cabinet of Dr. Caligari, an innovative dance work presented by Astra Dance Company,  playing for TWO MORE NIGHTS ONLY, this weekend at the El Portal Theatre, in NoHo.
Click here to go to the LA Weekly's theater page and scroll about halfway down to read it.
~ OR ~
You can just read it here!!
Happy reading!
The Cabinet of Dr. Caligari
Astra Dance Company has interpreted the twisted, sinister plot and expressionistic style of the 1920s silent horror film classic to produce a gorgeous if disquieting acrobatic ballet. A breathtakingly talented troupe of 17 neoclassical dancers, contortionists and circus artists emote and perform the melodramatic tale of murder and mystery against a projected backdrop of animation and abstract, jagged settings.
Best friends Francis (a superb Gaston Askey) and Alan (Olivia Bollfrass) vie for the affections of pretty Jane (Amy Highfill). When the menacing Dr. Caligari (Roger Fojas) comes to their small German town with his traveling carnival, a series of inexplicable murders send the townspeople into a frenzy of panic and mistrust.
Nichelle Bane and Chandrae Roettig's sometimes jerky and manic choreography is dynamic, dazzling and expressive. It's well complemented by Regan Remy's marvelous original score, which merges classical instruments such as violin, clarinet and bassoon with the exotic flavor of the saw and udu.
Director Sasha Travis has staged her ambitious ballet well, creating vivid sequences and alluring drama. Concetta Marie Verna's beautiful costumes permit fluid movement with period style. Although silent movie-type title cards projected on side screens frequently divert our focus from the stage, the graceful and athletic ballet is engrossing.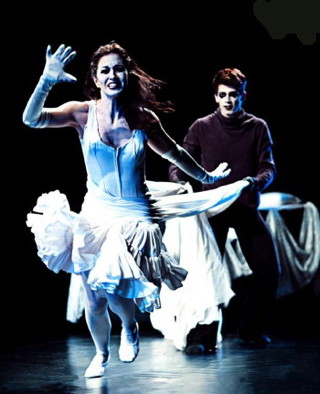 Astra Dance Company at El Portal Theatre,
5269 Lankershim Blvd.,
North Hollywood.
Oct. 5-6, 2012 — two performances remain

8 p.m.
(818) 508-4200