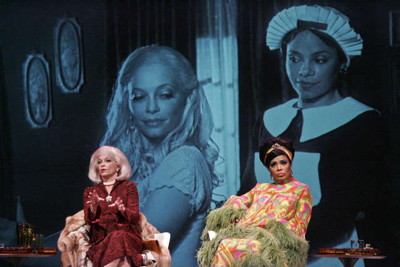 Lynn Nottage's play By The Way, Meet Vera Stark is light years apart from her recently staged play (also at the Geffen) entitled Ruined, which was a potent portrayal of unspeakable tragedy in war-torn Congo. Yet the main focus of this play is once again the plight of black women, to which Nottage gives thoughtful examination coupled with wry commentary.
Ostensibly a comedy, this time her primary setting is the Hollywood studio system during the 1930s. We gain an unusual insight into the close friendship between two actors. One – Gloria (Amanda Detmer) – is white, privileged and desperate for the lead role in an upcoming Southern saga. The other – Vera (Sanaa Lathan) – is black and also desperate for a good movie role – any role. Unfortunately for a 'colored girl,' the only screen roles available are menial ones such as maids and mammies.
What's great about Nottage's play is the places she takes us. She shows us a friendship between two women that privately is equitable, warm and honest. We later see the expected roles they each adopt for the studio 'suits'; mistress and housemaid. We are also privy to the impoverished living conditions of Vera, who shares an apartment with a couple of other struggling black actresses. We see the daily nuisances of living in an apartment block that shares a telephone in the corridor (much more than a nuisance if you don't receive the messages regarding work opportunities) and the mild tension between roommates over sharing good clothing.
What's also great about By The Way, Meet Vera Stark is the play's structure. Act One is set in 1933, and is almost a complete play in itself. But surprisingly in Act 2 we leap to 2003, to an academic retrospective of Vera Stark's acting career, in particular how her career took off after she landed the role of the maid opposite her friend Gloria in the fictional Sothern saga The Belle of New Orleans. The fictional movie clearly resembles Gone With The Wind, which was notable for Hattie McDaniel supporting role, as she was the first African-American to win an Academy Award. Funny lines include Gloria's lament, "It's exhausting to be this fabulous!"
Nottage pokes gentle fun at all the stereotypes presented throughout her play, especially the angry and pompous activists on the academic panel who want to rewrite Vera's history from their loaded perspective. "Vera is at once in the role and commenting on it!" one academic loudly proclaims. Part of the retrospective is a critical evaluation of footage from a TV talk show from 1973, where Vera is shown as a washed up drunkard, still being trotted out to discuss her major film role of long ago and the numerous movies that she subsequently appeared in. The TV show is purportedly a live taping that ambushes Vera by unexpectedly bringing on her old friend Gloria. Acrimonious accusations give way to a reconciliation, of sorts.
Jo Bonney directs well, extracting flamboyant and amusing performances from all. In act one lovely and opulent sets designed by Neil Patel truck on and off stage handled by old school stagehands wearing newsboy caps – it all adds to the period flavor. Tony Gerber directed the movie clips from The Belle of New Orleans.
By The Way, Meet Vera Stark is worth seeing.
Photos by Michael Lamont.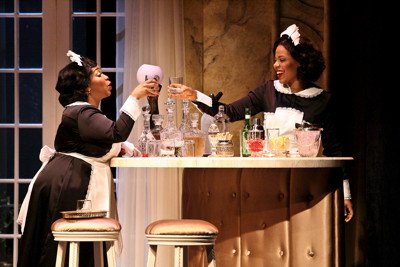 By The Way, Meet Vera Stark
10886 Le Conte Ave.,
Los Angeles
Performances:
Runs until Sunday, October 28, 2012.
Tuesdays-Fridays, 8 p.m.;
Saturdays, 3 & 8 p.m.;
Sundays, 2 & 7 p.m.
Running time:
Approximately 2 hours and 20 minutes, with an intermission.
TICKETS:
$37—$57.00
Box Office:
Purchase tickets here or call (310) 208-5454