David Mamet's grubby and farcical political play November, now playing at the Mark Taper Forum downtown, is a riot of foul language and racial epithets, all tumbling from the mouth of the President of the United States, as daffily portrayed by Ed Begley Jr.
Begley Jr. plays his thoroughly corrupt President Charles Smith with jocular brutality, cursing a blue streak and brazenly money-grubbing and hustling at every turn. He knows "the ship is sinking" – all the signs are there that he is about to lose the Presidential race – so Smith is looking to line his pockets on his way out of the White House. His equally greedy wife persistently calls Smith in the Oval office clamoring to keep a sofa she had recovered, "with the taxpayer's money" she is indirectly informed.
Mamet has devised a sleazy and tasteless scenario that just gets more and more ridiculous as it unfolds. Fortunately November is a jaunty single act of about 75 minutes, so the rapid-fire jokes don't wear out their welcome. November is outrageous and stupid fun but really lightweight fare full of guilty laughs. The Pulitzer-winning playwright also has a lot of fun with describing racial stereotypes; the President describes China as a "wily Oriental nation" and a few anti-Semitic gags are thrown in for good measure (irrespective of the fact that Mamet is Jewish.)
Performances are all very good, but then again, the material has its own buoyancy and run-away-train rhythm to it. Nor is anyone asked to do much with their role apart from maintain some cracking comedic timing.
Felicity Huffman plays Smith's speechwriter Bernstein. Smith has her hauled in to the Oval office in order to work on a speech for him despite the fact that she just got off a plane from China with her girlfriend and their newly adopted Chinese baby girl. Plus, Bernstein is a wreck – suffering from a ghastly flu. Still, it's fun to watch her clack away on an old typewriter.
Rod McLachlan is fantastic as the President's aide, fielding phone calls, barking orders and patiently if exasperatedly explaining why the President cannot execute some bizarre scheme. Todd Weeks is fine as a Turkey industry executive and Gregory Cruz is also very good as Dwight Grackle, an important Native American chieftain with his own agenda.
Somehow the annual turkey-pardoning event factors into the scenario, which the President quickly seizes on as an opportunity for extortion of the Turkey industry. But Bernstein has her own ideas of extortion in mind…
November is silly and funny but nasty – strictly for die-hard fans.
Photos by Craig Schwartz.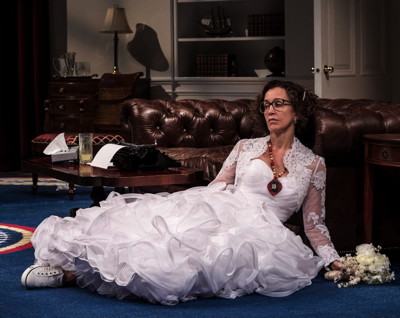 November
Mark Taper Forum
601 W. Temple Street #111,
L.A., CA 90012
Performances:
Runs until November 4, 2012.
Fridays at 8pm;
Saturdays at 2:30 and 8pm;
Sundays at 1 and 6:30pm.
Running time:
Approximately 75 minutes, no intermission.
TICKETS:
$45.00—$75.00
Box Office:
Tickets and information are available here and at the Center Theatre Group box office, located at the Ahmanson Theatre, or by calling 213-628-2772.