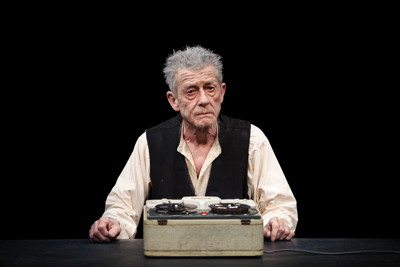 Samuel Beckett's melancholy one man, one act play is being performed superbly by John Hurt in his first appearance on a Los Angeles stage, at the Kirk Douglas Theatre, in a production imported from the Gate Theatre in Dublin, Ireland.
Much like Clint Eastwood waited until he was sufficiently old and grizzled enough to play the aging gunslinger in Unforgiven, Hurt seems to have arrived at the perfect point in his illustrious career to portray the decrepit Krapp. At 72, the Oscar-nominated British actor is actually a fraction older than the character (69). Hurt's hair is short, spiky and powdered grey, his teeth appear rotten with a front one missing, his face is sagging and lined with the deep creases of a long life and Hurt even limps and leans on a walking stick throughout, at times grunting with the effort; the cane was still in use during opening night's enthusiastic curtain call.
Beckett's play is a lonely man's meditation on his life. Lights come up on a pensive Krapp, seated at his old wooden desk. He's wearing a dirty and disheveled vest, dingy shirt and suit pants. There's some non-verbal business. Eventually he rummages in his desk drawer for – I won't say what, because what happens next is clowny and pretty funny. The gag is picked up again when we first listen to a tape (on an old reel-to-reel machine), one that Krapp recorded the day he turned 39. It's obviously a pivotal moment in his life. Krapp reflects on this recording and eventually commences a new one.
As ever (with Beckett) there's a thread of comedy verging on vaudeville running beneath the drama, but the show is essentially a gloomy meditation on the elusiveness of happiness and a condemnation of the cozy comfort of nostalgia. The evening is well directed by Michael Colgan.
A truly great actor, Hurt's performance is riveting. His voice, both the pre-taped version and when he speaks live, is rich with musical resonance and expression. If you were ever going to see this bleak play staged, now is the opportunity to see it done with one of the finest actors today.
Photo by Ryan Miller/Capture Imaging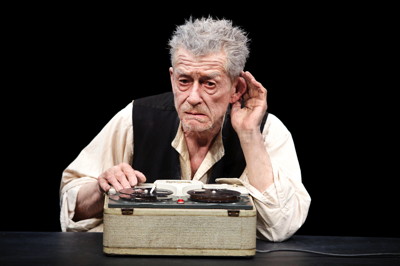 Krapp's Last Tape
Center Theatre Group/Kirk Douglas Theatre
9820 Washington Blvd.,
Culver City CA
Performances:
Runs until November 4, 2012.
Tuesdays through Fridays, 8 p.m.
Saturdays, 2 and 8 p.m.
Sundays, 1 and 6:30 p.m.
Running time:
Approximately 55 minutes, no intermission.
TICKETS:
$20—$60.00
Box Office:
Purchase tickets here or call (213) 628-2772