A beautifully constructed play, The Manor opens in the mansion's stylish living room with one of the three servants, the family's Valet, James (David Hunt Stafford / Phil Persons / Richard Large), directly addressing the audience solemnly while the rest of the cast drift about in a ghostly fashion. Suddenly, the music changes to an upbeat tempo and everyone begins dancing gaily at an engagement party, signifying a flash back in time.
After that introductory scene, the audience is then sorted into three groups and led off by one of the three servants. Bates apparently wrote the drama with a blueprint of Greystone Manor at hand, as, during the show, audience members follow the actors around the stately home, from room to room, with each group observing the plot unfold in a slightly different sequence of scenes to the other. It's both an ingenious and practical theatrical device.
The gloomy, Gothic Tudor architecture and layout of this majestic Beverly Hills' Manor certainly adds to the experience.
Starring alongside Bates, who plays Marion MacAlister, is a fourteen-strong cast who are all very good. Beverly Olevin directs the intricately staged melodrama with a sure hand.
For a fanciful glimpse of the past as well as a peek inside a lovely old mansion, you can't go wrong with experiencing The Manor.
Side note:
As the audience members follow the actors during the play, comfortable shoes (and warm clothing for winter performances) are recommended.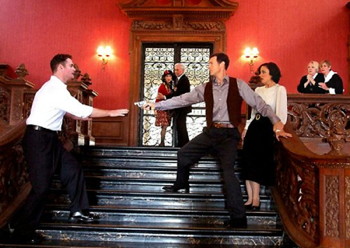 The Manor is staged at 1pm on selected weekends, and 6pm on selected weeknights at —
Greystone Park
905 Loma Vista Drive, Beverly Hills 90210
Tickets are $55.00 per person, plus $3.00 service charge.
Please call (310) 694-6118 for bookings.
DATES & TIMES:
1:00pm matinees: Nov. 3, 4, 10, 11, 17, 2012
6:00pm weekday evenings: Nov. 1, 2, 14, 15, 16, 2012 (Note early curtain time)
Other dates TBA – check their website.
To be notified of any newly scheduled dates for THE MANOR at least two weeks prior to the general public, please call the reservation line – (310) 694-6118 – and leave your e-mail address or phone number.
Review by Pauline Adamek