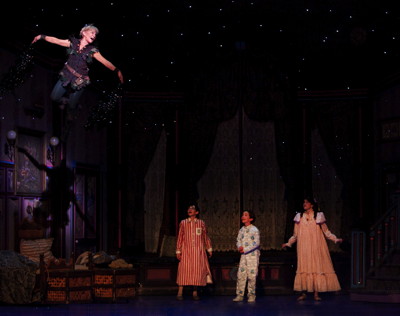 The girl who refuses to grow old is playing the boy who wouldn't grow up. Former Olympic gymnast (circa 1968 & 1972) and Broadway musical star, Cathy Rigby has been starring as Peter Pan (on and off) for the past 23 years and is still going strong! Once you let go of the fact that it's a 60-year-old woman portraying a mischievous and fearlessly cocky little orphan, you can immerse yourself in the world of this delightful and magical musical. Cathy Rigby is PETER PAN is now playing at the Pantages Theatre in Hollywood for two weeks only; running from January 15 – 27, 2013.
In Sir James M. Barrie's 1904 play (later a novel and several film adaptations), Peter Pan is a magical boy who can fly. Peter brings the Darling children (Wendy, John, and Michael) from London to his home in Neverland, where they encounter mermaids and a tribe of Native Americans, led by the beautiful Princess Tiger Lily. The children have adventures that include a confrontation with the dastardly pirate Captain Hook and his crew.
As the action moves from the children's perfect Victorian nursery, crammed with toys and beds and featuring tall French windows, to the magical island of Neverland, there are several magnificent sets (designed by John Iacovelli) to enjoy throughout the two-hour show. Scene one, where we meet the Darling family, including children Wendy (Krista Buccellato), John (Lexy Baeza) and Michael (Sophie Sooter and Hadley Belle Miller), seems overlong. I didn't need Father's hissy fit over not being able to tie his bowtie, but as the same actor goes on to play Hook, I suppose some contrasting personality needed to be established. Mercifully, Brent Barrett doesn't camp it up Hook, despite the wig of ringlets and flamboyant pirate's garb.
But once Tinkerbell make her entrance (the teeny little fairy is a bouncing iridescent light and xylophone music) and Peter Pan swoops in on wires, the play really comes alive.
Rigby is a perfect, grubby-faced ragamuffin in the role — swaggering and cheeky at times, sweet and endearing at others. She has the little boy voice and child-like gestures down, from the shrugs, the kicks and the spirited run, to the raspberries (fart sounds) and spitting drink. When airborne, she pings around the stage like a manic pinball, letting fly cascades of 'fairy dust' glitter.
One of the most magical aspects of the show is the sleight-of-hand involved. You never quite see Rigby replenish her glitter, nor attach or remove her flying wires. Nicely done! Props to Glenn Casale for his superb direction throughout.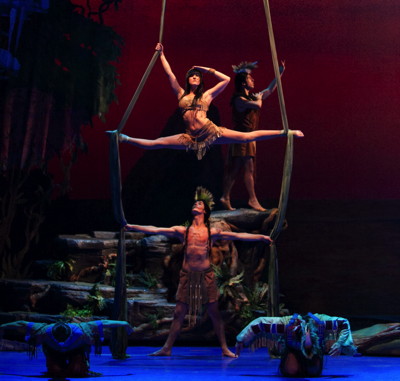 When the action moves to the mythical world of Neverland, we meet the fierce Native American tribe led by Princess Tiger Lily (Jenna Wright), and what an introduction. Wright is first seen executing the splits, several feet above the stage, suspended in a tissue trapeze rig. Wow!
A highlight of the show is the extended and dynamic dance and song number at the top of Act Two. Peter, the Darling children, all the Lost Boys and the natives execute a dazzling acrobatic and percussive routine. (NB – the original Broadway production was conceived, directed and choreographed by Jerome Robbins.)
Do not miss this show!
Peter Pan photo credit: Michael Lamont.
Hook & Tiger Lily photo credit: Isaac James.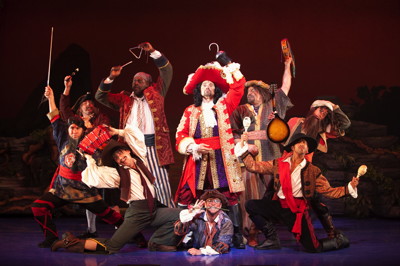 Cathy Rigby is PETER PAN
The Pantages Theatre
6233 Hollywood Boulevard, just east of Vine Street.
Hollywood
Runs:
January 15 – 27, 2013. 
Performances:
Tuesday through Thursday at 7:30pm
Friday at 8pm,
Saturday at 2pm & 8pm and
Sunday at 1pm & 6:30pm.
Tickets:
Prices range from $32.00—$190, including fees.
***Prices are subject to change without notice.
Box Office:
1-800-982-2787
Purchase tickets online here or here.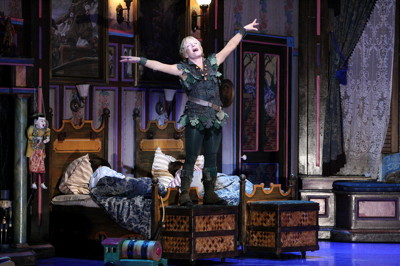 Tickets may also be purchased in person at the Pantages Box Office and all Ticketmaster outlets.
The Pantages Theatre box office opens daily at 10am except for holidays.