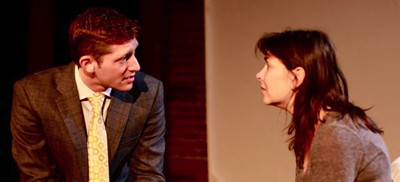 Jemma Kennedy's comedy The Grand Irrationality raises a number of perplexing questions. Why is a British writer's play, which was developed at the National Theatre in London in 2009, making its world premiere here in Los Angeles and not, say, at the National Theatre in London?
Also, why is the word "Revenge" writ large on one of the hanging flats in the otherwise spare set and why do we only see it during the first few scenes of the play?
Some research reveals that Kennedy was spurred by revenge to write this play; "It was an act of literary revenge." she bluntly declares in the opening line of an article for LA Stage Times. Well, that explains why there is no evidence of 'revenge' as a theme; it's merely the driving force behind the text. Later in the article she confesses that her impetus for revenge transmuted into "a desire to make peace with [her] own dysfunctional family." Okay.
Well, The Grand Irrationality is enjoyable thanks to its sophisticated and intelligent script. The dialogue is interesting, even if half the time the characters converse artificially – more like play characters than real people. It's also full of types – and, regrettably, some sexist stereotypes – rather than fleshed out characters; the leading man Guy (Gregory Marcel), an advertising copywriter, is chilly, detached and a womanizer. His boss, Alex (James Donovan) is a clichéd venal and sadistic advertising executive. Guy's perpetually moaning sister Rose (Mina Badie), who is suffering from post-natal depression throughout, is a one-note whiner. Bess Meyer is good as French-accented charity activist Vivienne, as is Peter Elbling as Guy's father Murray.
There are some good dialogue exchanges, such as when Guy's petulant lover Nina (Kirsten Kollender playing a sexy, high-powered, mini-skirted business woman) insists he be honest with her, and Guy retorts with a brutal observation, something along the lines of 'women always say that but can't handle it when you are.'
Unfortunately John Pleshette's direction has produced a languorous pace that saps the play's crackling vitality. Kennedy's scenes chop back and forth from numerous locations – a restaurant, Guy's home, the ad agency, Guy's Dad Murray's home, the foyer of Murray's apartment building, a park bench etc. Laborious scene changes and shifting of set pieces (e.g. rearranging a double bed and its bedding to be a single couch) are not helped by the chill musical accompaniment, which is more often than not a repeated fragment from the cruisy title song from the movie Trainspotting by Primal Scream. Perhaps they'll all pick up the pace as the production continues.
While this production is flawed, Kennedy's play is worth seeing.
Photos by Dima Otvertchenko.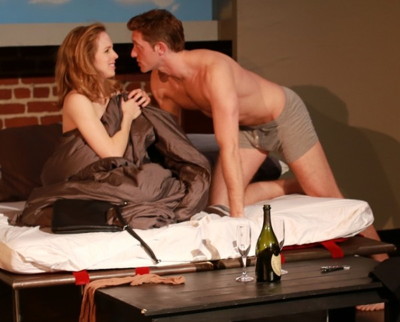 The Grand Irrationality
The Lost Studio
130 S. La Brea Ave.,
Los Angeles
Performances:
Fridays, Saturdays, 8 p.m.;
Sundays, 4 p.m.
Runs through March 3, 2013
Tickets:
(323) 960-4443 or purchase online.