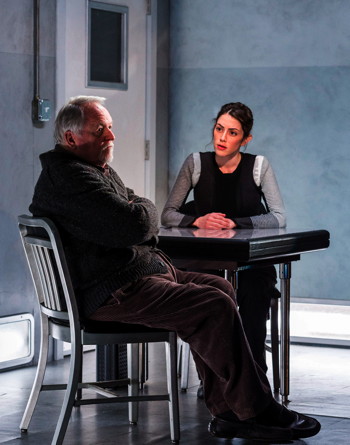 A creepy, futuristic mystery drama, Jennifer Haley's The Nether starts off in a grey interrogation room starkly lit by neon lighting, but soon gets very complicated indeed. It transpires that a man named Sims (Robert Joy) is being held for questioning regarding a virtual crime. That is to say, crimes that were perpetrated in a virtual realm of his creation. Is he being held for the crimes or for clandestinely creating a lucrative offshore business? His highly interactive digital site, called "The Hideaway," is a secret and encrypted realm; a popular retreat where paying users can indulge their fantasies of sex and violence with minors while preserving their anonymity. Everything from sounds, smells and touch have been lovingly (and creepily) recreated.
A stunning revolution of the set (superbly designed by Adrian W. Jones) reveals a second set, the idyllic world of the "The Hideaway," styled as an early 1900s brothel. It's here that we meet one of the young female characters, Iris (brilliantly played by Brighid Fleming) as well as one of her customers. Back in the real world, the Detective Morris (Jeanne Syquia) is determined to unearth exactly who are the criminals behind the virtual characters.  Dakin Matthews is great as one of the players in the game suffering interrogation.
The entire cast delivers superb performances, each impeccably exploring all the nuances and complexities of the script. Fleming is especially good—disturbingly so—as the pint-sized prostitute, adeptly handling encounters with her regular customers.
The playwright Jennifer Haley appears to be going to great lengths to argue for the rights of a pedophile to enjoy their perversions, going as far as to present a persuasive and sympathetic case. The ominous implication is clearly stated; by denying the protagonist his faux outlet, he claims he has no choice but to satiate his perverse appetites in the real world.
It's a disturbing thesis that lies at the heart of this handsomely staged play.
Recommended – with reservations.
The Nether is now playing at the Center Theatre Group's Kirk Douglas Theatre.
Photos by Craig Schwartz.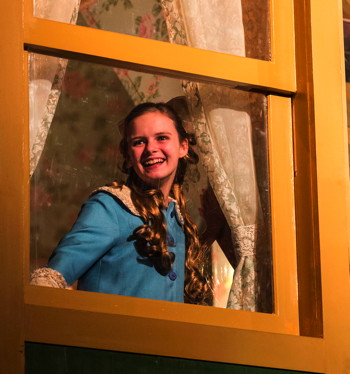 The Nether
Kirk Douglas Theatre
9820 Washington Blvd.,
Culver City
Performances:
Tues.-Fri., 8 p.m.;
Sat., 6 & 9:30 p.m.;
Sun., 3 & 6:30 p.m.
Runs through April 14, 2013.
Tickets and more info here.
Box Office – (213) 628-2772