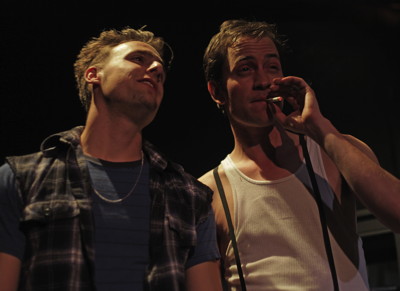 Now starring as the lead in Trainspotting, the stage version of Irvine Welsh's grungy novel, Justin Zachary says he views the narrative as something akin to the diary entries of a Scottish heroin addict. To see Zachary onstage embodying the central role of Mark Renton, trembling and quivering, is to believe that he is that addict, somewhere in the throes of withdrawal. His initial primal scream of anguish sets the tone for the rest of the show. But to understand Zachary's performance is to realize that his development of the character is an acknowledgment to his struggle and growth as an actor.
Growing up in Bakersfield, Zachary put down the tenor sax and, following his mother's suggestion, tried drama. He was quickly recognized for his talent and willingness to take on any role. After graduating from Centennial High School  he commenced acting classes with television actor Paul Coufos and it was then that he first met Trainspotting director Roger Mathey.
Says Zachary, "Roger gave me the script for the play. I was nineteen, I was a kid. I read it and was like, 'I can't do this. I can't do an accent.' And he was like, 'I believe in you. I think you can.'"
So he accepted, finding his accent while driving to rehearsals one day. The play became a local hit collecting three important awards (Best Actor, Best Director, Best Ensemble) among thirty productions at the annual seat of your pants Productions awards banquet of 1999 in Bakersfield. Zachary decided to move to LA to pursue a career as an actor. Once he arrived, very quickly the small town praise he'd received got washed away in a big city flurry of minor stage and film roles. For a few years the young actor faced a daily struggle to find work, until Mathey revived Trainspotting in 2002 for the LA stage, once again casting Justin in the lead. In preparation for the larger audience and bigger name critics, Zachary delved deeper into the role. He used Gary Oldman's portrayal of punk-rocker Sid Vicious in Sid & Nancy as inspiration. He also read novels by William Burroughs and picked up mannerisms from the Hollywood Boulevard street crowd, but it was a trip back to Bakersfield that solidified his preparation.
Zachary recalls, "I saw an old friend from high school and said I was doing Trainspotting in LA. He said, 'Come here. You want to see a junkie?' So he pulled me around the back alley and pointed to one of his friends. Then this guy vomits, wipes his mouth, smiles and looks at me, 'We just scored some, do you want to watch?' I just sat there and watched them cook up in a bottle cap. They used a cigarette butt as a filter."
Zachary used the experience to perfect the role and when the reviews came in the results were clear. Trainspotting went on to be voted among the top ten plays of the year in the LA Times and LA Weekly and Zachary earned Entertainment Today Magazine's New Discovery Award. With the praise Justin felt his chest swell some and it took Mathey pulling him aside to help him regain his focus.
Over the subsequent decade, Zachary worked in film with actors such as Michelle Phillips (Harry + Max, 2004) and Corbin Bernsen (Submission, 2006) and underwent intense audition sessions for two films The Girl Next Door (2004) and Imaginary Heroes (2004), with those roles eventually going to Emile Hirsch. Currently Zachary is working to write and produce a film for Dreamworks, called The Architects, a sci-fi project and can be seen in the short action film, Seed. He has also continues to work in a variety of small theater productions. Still, the role of Mark Renton has become something of a tuning fork for where he stands as an actor. And the role, more than just an acknowledgment of his talent and drive, has made Zachary into a very fine actor. For the most current production, he has learned to 'trust his instincts' in a way he has not done before. "You have to find the beauty in it and when you do it shines even brighter," he muses.
When he talks you can see it all in his incredibly emotive eyes; the grit, the beauty, and above all, the appreciation. After a decade, Zachary is finally ready to let go of Mark and take his place among the other rising talents in Hollywood.
"There are certain roles, you have got to just let go. You've got to be able to take off that hat after a night of performing and go home and just be you. That's something I try to make a point of during this play—not taking too much of it home with me. Leave it there, wipe off the make-up, look at yourself and say, "I'm back to myself again."
Let's hope Hollywood is ready for him.
Trainspotting is adapted by Harry Gibson from the novel by Irvine Welsh.
This show is not recommended for all audiences and ages.
Directed by Roger Mathey.
Produced by seat of your pants Productions
Photos by Tyson Wade Johnston.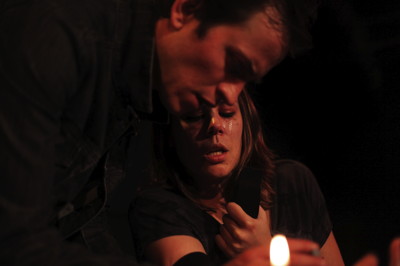 Trainspotting
6322 Santa Monica Blvd, Hollywood, CA 90038
Performances:
Fridays and Saturdays at 8pm,
Sundays at 7pm,
Through June 2, 2013
Running time:
Approximately 2 hours, 30 minutes, with an intermission.
Tickets:           
$15.00—$20.00
Box Office:
Purchase tickets here or call (323) 960-7785
Review by Jesse Herwitz