Intense and heartbreaking, Nina Raine's drama Tribes is about a turbulent family and the one member who feels left out. A Bohemian British family consisting of a loud, domineering and profane writer father, a hippy mother, and three grown children—two sons and a daughter, who have all moved home—all interact in a raucous fashion, shouting each other down as they energetically exchange intellectual opinions. All but one… The youngest, Billy (Russell Harvard), is deaf. Having never learned to sign, Billy's spent a lifetime being largely excluded from their vociferous debates.
Billy meets Sylvia (Susan Pourfar) at a party and through her is introduced to the deaf community. Finally encountering for the first time a tribe where he feels he belongs, this shift causes a major rift within his negligent family.
Raine's drama powerfully puts forward numerous complicated issues for examination. It's an excellent play that finds the emotional threads within its complex themes. The playwright cleverly sets a lot of things up but then doesn't trust her audience to make the connections, regrettably succumbing to the urge to then explain them.
Supported by projected text (sur-titles) and a deliberately disconcerting (at times) sound design, this play permits non-deaf audience members an insight into a deaf person's daily experience, yet with the absence of American Sign Language (ASL) experts signing, the production curiously excludes deaf people from enjoying the play. (Apparently ASL interpretation will be offered for one performance during its run.)
Nevertheless, Tribes, as directed by David Cromer, is a fascinating and rewarding piece of theater.
Now playing at the Center Theatre Group's Mark Taper Forum, Tribes runs through April 14, 2013.
Photos by Craig Schwartz.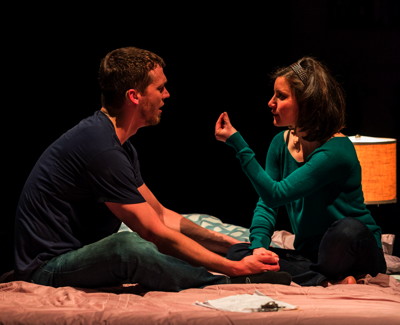 Tribes
Mark Taper Forum
601 W. Temple Street #111,
L.A., CA 90012
Performances:
Runs through April 14, 2013.
Fridays at 8pm;
Saturdays at 2:30 and 8pm;
Sundays at 1 and 6:30pm.
Running time:
Approximately Two hours & ten minutes, one intermission.
TICKETS:
$45.00—$75.00
Box Office:
Tickets and information are available here and at the Center Theatre Group box office, located at the Ahmanson Theatre, or by calling 213-628-2772.