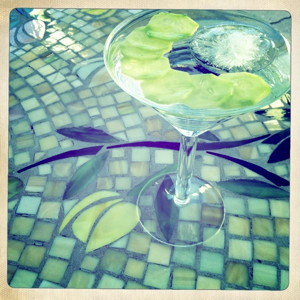 ***
Somehow Hendricks Gin — a Scottish concoction — has recently crossed my radar, meaning during this past Christmas. I think it's been around since the 1960s, but further research is required.
This aromatic spirit has supplanted (at least for now) my go-to Gin of choice, the elegant Bombay Sapphire, for the makings of my occasional Gin and tonic consumption.
While many make find this usage sacrilegious (the purity of Martini reigns supreme) I really love it for G&Ts — especially with the addition of some fresh cucumber slices instead of fresh lime juice (of which I used to like a lot in there – perhaps too much…)
Hendrick's Gin is a brand of gin produced by William Grant & Sons in Girvan, Scotland. In addition to the traditional juniper infusion, Hendrick's uses a hint of Bulgarian Rose followed by a mash of cucumber.
Hendrick's gin is bottled in a dark brown apothecary-style bottle.
No more Bombay Sapphire for me for the time being, although Sapphire is way more affordable (less than half the cost) than Hendricks.
Case in point: Trader Joes (here in Sthn Cali) is selling a 750ml bottle of Hendricks for about $25.00.
BevMo cellars sells a 1.75 Litre bottle of Bombay Sapphire for around $30.00!
It's tough when you develop expensive tastes
*sigh*
Review by Pauline Adamek