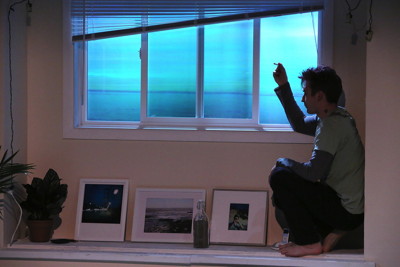 Opening next weekend at the Lillian Theatre – previews start tonight – is a play from an exciting New York theater company, Rattlestick Playwrights Theater.
READ ALL ABOUT IT!
Here follows my interviews with playwright and director Daniel Talbott, and the lead performer in Slipping, Seth Numrich.
READ my interview & article on the LA STAGE TIMES site.
~ OR ~
You can just read it here!
Happy reading!
Rattlestick Is Slipping Into LA
Features by Pauline Adamek | April 4, 2013
Intro:

Off-Broadway's Rattlestick Playwrights Theater dips its toe in LA theatrical waters with a revised production of Daniel Talbott's Slipping, which played at Rattlestick in 2009. Talbott is directing his own work for the first time, joined by Seth Numrich, who played the protagonist in NYC and recently was Broadway's Golden Boy.
For the past 17 years, New York's Rattlestick Playwrights Theater has forged a reputation for nurturing writers. The group's website currently lists 37 affiliated playwrights, including such well-known names as Adam Rapp, Annie Baker, Stephen Belber, LA's Michael John Garcés, Jonathan Tolins, Lyle Kessler, Lucy Thurber, Craig Wright and singer Suzanne Vega. Rattlestick produced The Revisionist, a new play by actor Jesse Eisenberg, who stars opposite Vanessa Redgrave in the Off-Broadway production, which has been extended through April 27 at Cherry Lane Theatre.
Dedicated to developing and producing innovative new plays, the company operates an Emerging Playwrights Program, annually organizes 40-50 public and private readings, and sets up talkback sessions for the playwrights, providing the writers with networking opportunities. Workshops and retreats for writers are also arranged.
Now the company is making its debut in Los Angeles, bringing one of its earlier productions to Hollywood.
Daniel Talbott
's first full-length play,
Slipping
, will have a five-week limited run at the Lillian Theatre in Hollywood. A coming-of-age story,
Slipping
stars
Seth Numrich
(Broadway's
War Horse, Golden Boy
), in the lead role of high school senior Eli, a troubled teen who wrestles with the recent loss of his father as well as his sexual identity.
If its first LA production goes well, the company plans to set up permanent digs on the West Coast, forming a sister company called Rattlestick West. It also marks the first time Talbott is directing his own work, something that he appears visibly nervous about — rattled, even.
In making this exploratory expansion from New York to LA, it's fitting that the Slipping company — presently consisting of writer/director Talbott, his four actors and production staff — is rehearsing in view of the iconic Hollywood sign.
Talbott discusses
Slipping
in the pleasant outdoor courtyard of El Centro Theatre, where leading man Seth Numrich later joins the conversation.  Hanging clusters of jasmine flowers perfume the quiet space and, out on the street, a taco truck sounds its horn at lunchtime. Welcome to Hollywood!
This production of Slipping marks the first time Talbott has officially worked in LA, but not in California. He began working in theater in San Francisco. "Being in LA actually reminds me a lot of the Bay Area theater community in the best ways," he muses. "It has such a huge place in my heart. It's scrappy and people are truly only doing it because they love doing it; there's no other reason other than the love of the work. That's my first impression and I really love that."
Talbott insists that this production is thoroughly LA, with actors who live here. "We want to be home base for people who are working here, so it's not like we are shipping in actors and kind of giving [local] people the middle finger, you know?"
The  local acting pool now includes two of the actors who played these roles in New York. Talbott says he "wrote the play for both of them" — meaning Numrich, who plays Eli, and MacLeod Andrews, who plays Jake. "It's the first play I ever wrote."
An early incarnation of Slipping was seen at the Young Playwrights Festival at the Royal Court, in London. Recalls Talbott, "It was called The Canvas originally, and then it became Slipping when I started working on it at Rattlestick." The play received its premiere at Chicago's The Side Project, directed by Adam Webster.
For its New York premiere at Rattlestick Playwrights Theater in 2009, under the direction of Kirsten Kelly, Talbott says, "I started getting more bold and hopefully brave about it, and made the sex more physical, as well as the danger and desire. It really was like an apprenticeship, trying to write plays." Back then Talbott thought of himself first and foremost as an actor, but also as a director and producer. "This is my first full-length play and so looking back on it, I think I'm a different writer now."
About Slipping.
Rocked by the death of his father, high school senior Eli and his English professor mom Jan (played by Wendy vanden Heuvel) relocate from San Francisco to start a new life in Iowa. Talbott's drama explores the complications of young love and the angst that most teenagers experience as they come of age.
Numrich explains some of his character's backstory, including an abusive sexual relationship, and how that, and the loss of his father, lead to a suicide attempt. "There's all this stuff that we're trying to leave behind. My character comes with all this emotional baggage, and feels he needs to be emotionally protected from being vulnerable to anyone because that didn't work out so well in his previous attempts." The actor adds, "For me, it's about that struggle of wanting to have love, wanting to have connection but facing all the things that get in the way of being able to do that."
Andrews plays Jake, a love interest whom Eli meets at his new school. Maxwell Hamilton is also in the cast.
Numrich appeared on Broadway last year in the boxing drama
Golden Boy.
Also on Broadway he played the young lead in
War Horse,
and appeared in
The Merchant of Venice
in 2010. Numrich has numerous Off-Broadway stage credits, as well as performing in
The History Boys
(CTG/Ahmanson Theatre, 2007). His television work includes
The Good Wife
, and regular appearances in the TV series
Gravity
. Numrich is currently shooting an original historical drama pilot in Virginia for the AMC network, called
Turn,
about a ring of spies during the Revolutionary War. Numrich reveals he plays a lieutenant in the Continental army.
Slipping was his first experience with Rattlestick. He performed in a workshop of the play at the theater in 2007, the same year he graduated from Juilliard, before appearing in its first production in 2009. Numrich was the youngest person ever accepted into Juilliard's drama division, when he was 16.
"The thing that I love about Rattlestick," says Numrich, is that "the focus is always about facilitating the work for the playwright, and so it's always about new plays and it's always about giving the playwright an opportunity to continue to develop new work."
The actor adds, "There's just something about the atmosphere of the work there that feels risky. Boldness and bravery and failure are actually celebrated and rewarded. Because Rattlestick continues to function on a relatively small scale, they manage to balance everything. The bottom line is not about money; it's about producing this interesting work."
Both Numrich and Talbott appear grateful to have the opportunity to revisit this play. Marvels Talbott, "I think it's a stronger play now and it's such a luxury — you don't often get to go back and rework something, especially with two of the people you wrote the play for. It's a huge honor."
When asked why it's taken him so long to direct his own work, Talbott shifts uncomfortably in his chair, finally confessing, "I never wanted to. I don't want anyone to think it's an ego thing or anything. I love collaboration. I want feedback. I want input. Theater happens between people, not inside a person. Do you know what I mean?"
He tried to stick to the ethos "I wrote it, you direct it." Talbott laughs nervously, then says, "Yeah, that was a hugely conscious decision. I've been so lucky to work with great directors like Kirsten Kelly and Peter Pascal and Tre Coleman, all these really fantastic people. I feel like I've learned so much from them." However, he adds, "I love directing other people's plays." He's the founder and artistic director of another New York company, Rising Phoenix Repertory.
Numrich certainly seems to appreciate that Talbott has taken the helm of his own play. "Daniel's work as a playwright is so personal and so specific. Having his insights from his own personal life, they are a part of the work in the room. For me, as an actor, it has been so beneficial to have a deeper understanding of where it comes from." While the actor allows that was always the case when Talbott collaborated as the playwright, the young actor maintains he's gained a deeper understanding of the text. "Also I just love the way that Daniel works as a director. He facilitates a really wonderful process that feels very safe."
Why was Slipping selected for the company's first Los Angeles production?  Talbott seems puzzled, admitting that Rattlestick artistic director and co-founder David Van Asselt "has never told me why. It was absolutely his choice. I would never have had the balls to produce my own play." He grins. Talbott says he originally hoped his play would be directed by someone who had already worked with the Rattlestick in New York. "But we don't have money to house 10 artists, you know what I mean, and so it has to be a local thing."
The playwright adds, "I've always wanted an opportunity to try to direct my own work in a safe environment." Yet he says he realizes that "everything in the theater is scary. You have to be afraid of the theater or there is no drama. There's no drama with perfection. The theater is a wonderful trickster, and it gives you what you need to make great theater if you listen to it."
Some necessary changes to Slipping.
Now 26, Numrich confesses he had some qualms about re-visiting a role he first played six years previously, when he was much closer in age to the high schooler he is once again portraying.
The action of Talbott's drama now takes place over a period of five years, and is framed as a meeting of the two central characters, reminiscing over their shared past.
Explains Numrich, "In this new version of the play, we have a scene at the beginning and the end that bookend the story. My character and the guy that he meets in Iowa re-connect several years later, after they've both ended up living in New York."
Numrich says this device permits him to draw on his ideas and experiences since his first appearance in the play.
Confirms Talbott, "That was actually Seth's idea. We were having lunch and wondering how the fuck were we going to do this, now that we're all older… I love that it gave us more license for transformation. It's actually deepened the play a lot. I love the joy and the possibility of hope that was at the end of the original play, and I think it's still there in this play." Now, reveals Talbott, there's more emphasis on the struggle of dealing with failure and the enduring nature of hope.
Why make the move to LA?
Talbott maintains that while New York remains Rattlestick's home base, the company is exploring opportunities to stage plays away from the more commercial arena and intense critical scrutiny of New York. Explains Talbott, "The pressure of theater in New York is different [than in LA]. A new play can be made or broken very quickly, and because we're a new playwrights' theater, we wanted to find a place where we can work on a smaller level, yet at the same quality, and the play's success wouldn't hinge on its critical reception. Where it didn't matter if we didn't get a review. Not that we don't love that in New York," he hastens to add, "but it's nice to have just more ways to work, and a little more breathing space."
Talbott considers the Rattlestick gang to be a tight-knit family. "A lot of our writers come out here to work on film and TV because they can't pay their bills, so we wanted to try to create a home base out here within the LA theater community for some of our family who are out here working on shows."
Another objective is presenting opportunities for young playwrights to have their new works seen by TV and film execs. "It really is about wanting to find another community to work with alongside the one we have in New York," Talbott insists.
He's also clearly enamored with the Southern California lifestyle. "It's great to be able to go to an outdoor café, lay your shit out and write all day. You can't do that in New York, really. There are seven million people with their strollers who are like, 'Could you fully pick up your shit? I'm going to sit at this table'." He laughs. "It's just a different space. I love writing and working out here."
Numrich is also happy to be working in LA. "I find spiritual grounding in the outdoors, in nature, being outside. In New York, that can be a little bit hard. I make every effort I can to get out of the city and to be in nature, but being out here is really great. There are these crazy, extreme opposites that exist in Los Angeles." He cites "Hollywood and that whole glitzy world, but then you only have to go a few miles to have an experience of mountains and the ocean. You can go for hikes that are still technically within Los Angeles and yet you feel like you're completely in the middle of nowhere. I love that."
Adds Talbott, "It's so quiet at night. I love all the flowers and the plants and the wisteria growing outside our window — it's so beautiful. I love the sun. I love the air… The light here is so different than it is anywhere else I've ever been. I just love California."
Slipping, Elephant Stages' Lillian Theatre, 1076 Lillian Way, Hollywood 90038. Previews begin tonight. Opens April 14.  Thu-Sat 8 pm, Sun 3 and 7 pm. Through May 5. Tickets: $34.00 Purchase here or call  323-962-0046.