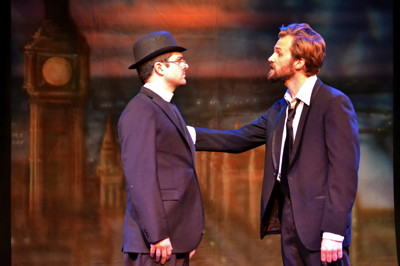 Gentle readers!
This week my theater review for the LA Weekly is of The Innocence of Father Brown, now playing at Fremont Theatre in South Pasadena.
Click here to go to the LA Weekly's theater page and scroll down a little bit to find it.
~ OR ~
You can just read it here!!
Happy reading!
The Innocence of Father Brown
Drawing from G.K. Chesterton's 51 short stories about a Catholic priest who solves murder mysteries in early 20th-century London, Patrick Rieger has created a two-hour evening of theater that feels like two related one-act plays.
Simply staged by co-directors Allison Darby Gorjian and Betsy Roth, the lightly comedic crime drama unfolds at an unhurried pace; this is old-fashioned storytelling from a gentler, more leisurely era. Unfortunately the presentation is frequently staid, with the action drifting to a halt as Father Brown engages in philosophical and theological debates, only occasionally enlivened by his droll wit and high-flown language.
Several characters clearly echo those in Conan-Doyle's tales of Sherlock Holmes, in particular the arch-criminal Flambeau (Brandon Parrish), grumpy, exasperated detective Valentin (Adam Daniel Eliott) and smooth and cryptic sleuth Father Brown (Blake Walker), although unlike the more famous fictional detective, the clergyman's process tends to be introspective and intuitive rather than deductive.
The Innocence of Father Brown
1000 Fremont Ave.,
South Pasadena
Thurs., 7:30 p.m.; Fri.-Sat., 8 p.m.; Sun., 2 p.m.
Runs through April 28. (626) 441-5977