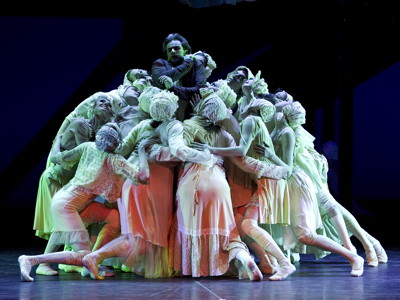 Segerstrom Center for the Arts ends its 2012—13 International Dance season with the return of Eifman Ballet of St. Petersburg performing its powerful production of Rodin May 3 – 5. This seventh visit to the Center by the Eifman is both the exclusive West Coast engagement of the company and the West Coast premiere of this extraordinary new ballet.
As he has so brilliantly done in previous ballets, Boris Eifman draws his inspiration from the complex passions of a great artist. Rodin is an exploration of the inner workings of the life and creative work of the great sculptor Auguste Rodin and his tormented relationship with his apprentice, lover and muse, Camille Claudel. Set to music by Camille Saint-Saëns, Jules Massenet and Maurice Ravel, Rodin is a massive utterance of the tragic nature of the lives of geniuses.
Says Eifman, "With the help of body language, we talk in our performance about passion, internal struggle, despair – about all of those life phenomena of human spirit, which are brilliantly expressed by Rodin and Camille in bronze and marble. To turn a moment frozen in stone into an irrepressible sensuous stream of body movements is what I was striving for when creating this new ballet performance."
The story of Rodin and Claudel's passionate relationship is full of drama. For fifteen years Rodin and Claudel had been one sensual and creative body. But their breakup dealt a deathblow to Claudel's mental health and marked the beginning of her destruction. Almost forgotten, isolated from the outside world, vegetating in misery, Claudel went out of her mind. She was convinced of a deliberate conspiracy against her, with Rodin as the main perpetrator. She spent 30 years in a mental asylum, where she died in 1943, forgotten and left by everyone.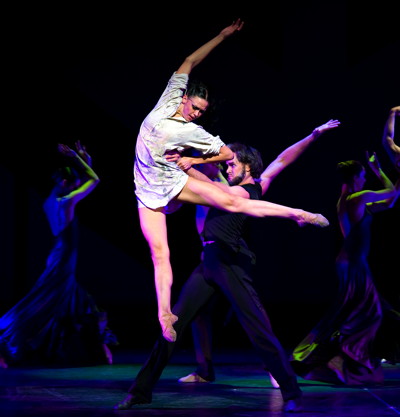 Rodin
Performed by the Eifman Ballet of St. Petersburg
Choreography and staging by Boris Eifman
Music by Camille Saint-Saëns, Jules Massenet and Maurice Ravel
Segerstrom Center for the Arts – Segerstrom Hall
600 Town Center Drive
Costa Mesa, CA 92626
(714) 556-2121
Performances:
May 3 – 5, 2013
Friday at 7:30 p.m.
Saturday at 2 and 7:30 p.m.
Sunday at 2 p.m.
Tickets:
Start at $29.00—???109.00
Box Office:
Purchase tickets at the Box Office, at 600 Town Center Drive in Costa Mesa – Open 10 a.m. – 6 p.m. daily
Or by calling (714) 556-2787.
For inquiries about group ticket savings for 10 or more, call the Group Services office at (714) 755-0236. The TTY number is (714) 556-2746.
Artists and program are subject to change.
Free Preview Talks will be conducted by Elizabeth Kaye one hour prior to each performance. The Friday, May 3 Preview Talk will be sign-language interpreted.
Segerstrom Center for the Arts –
Segerstrom Hall
600 Town Center Drive,
Costa Mesa, CA
About the Artist and his Company:
Boris Eifman is noted in the world of contemporary dance for probing the psychological depths of his subjects and expressing them with riveting choreography and physical expression. Honed in previous works (Onegin, The Seagull, Anna Karenina, Russian Hamlet, and others), Eifman presents a new conception of the world of human passions studied masterfully by Rodin and Claudel in their works, and also creates a masterpiece dedicated to the incomprehensible mystery of the creative process.
Having created more than 40 ballets, Boris Eifman is one of the few Russian choreographers to have sustained such a prolific creative life in recent decades. Eifman has received Russia's prestigious Golden Mask Award for both his works and his lifetime achievement in contemporary choreography. He is also a four-time recipient of the St. Petersburg theater award, The Golden Sofit.
His other awards and distinctions include the Triumph Award, the Russian state award for his contribution to the development of the performing arts, induction into France's Order of Arts and Letter; the distinguished title of The People's Artist of Russia and a professorship at the Vaganova Academy of Russian Ballet.
In 1977, Eifman founded The New Ballet of Leningrad (now known as the St. Petersburg State Academic Ballet Theater, or Eifman Ballet) – Russia's first and only ballet theater dedicated to performing works by a single choreographer. He is noted for creating original choreographic works based on classical ballet infused with the spirit of contemporary choreography.
Eifman's artistic philosophy is rooted in contemporary issues. Immersing himself in the dark and daunting realm of the human psyche (The Idiot, Murderers, Don Quixote, Red Giselle and Russian Hamlet), Eifman creates classic examples of psychoanalysis on stage. He shows extreme states of being, seeing the madness of his characters as mental illness, but as a unique ability to access other worlds and dimensions. He plunges into the depths of today's most relevant philosophical and spiritual questions – which were the basis for Russian Hamlet, Don Juan and Moliere and Who's Who.
In 2002, Eifman created the one-act ballet Musagete for New York City Ballet as part of the George Balanchine Centennial Celebration program. In creating his style, Eifman worked through many paradigms and styles of movement, turning his theater into a creative lab for exploration and discovery. Concerned above all with the theatrical impact of his productions, the choreographer does not restrict himself to the conventions of pure classical ballet. His works are each a complex, all-encompassing spectacle, constantly revealing new forms and principles of dance-making.
Eifman creates his own type of theater – a theater ruled by emotion. On November 22, 2011, the world premiere of Eifman's Rodin took place at the Alexandrinsky Theatre in St. Petersburg.
Sponsors:

The Center's International Dance Series is made possible by: Audrey Steele Burnand Endowed Fund for International Dance and The Segerstrom Foundation Endowment for Great Performances. Special underwriting support for this engagement is provided by Tim and Mary Harward. The Center applauds Acura, the Official Automotive Sponsor of the Center. Classical KUSC is the Media Partner and COAST Magazine is Print Media Sponsor of the International Dance Series.
About the Segerstrom Center for the Arts:
The Segerstrom Center for the Arts is unique as both an acclaimed arts institution and as a multi- disciplinary cultural campus. It is committed to supporting artistic excellence on all of its stages, offering unsurpassed experiences, and engaging the entire community in new and exciting ways through the unique power of live performance and a diverse array of inspiring programs.
Previously called the Orange County Performing Arts Center, Segerstrom Center traces its roots back to the late 1960s when a dedicated group of community leaders decided Orange County should have its own world-class performing arts venue.
As Orange County's largest non-profit arts organization, Segerstrom Center for the Arts owns and operates the 3,000-seat Segerstrom Hall and intimate 250-seat Founders Hall, which opened in 1986, and the 2,000-seat Renée and Henry Segerstrom Concert Hall, which opened in 2006 and also houses the 500-seat Samueli Theater, the Lawrence and Kristina Dodge Education Center's studio performance space and Boeing Education Lab. A spacious arts plaza anchors Segerstrom Center for the Arts and is home to numerous free performances throughout the year as part of Segerstrom Center for the Arts' ongoing Free for All series.
The Center presents a broad range of programming each season for audiences of all ages from throughout Orange County and beyond, including international ballet and dance, national tours of top Broadway shows, intimate performances of jazz and cabaret, contemporary artists, classical music performed by renowned chamber orchestras and ensembles, family-friendly programming, free performances open to the public from outdoor movie screenings to dancing on the plaza and many other special events. It offers many education programs designed to inspire young people through the arts. These programs reach hundreds of thousands of students of all ages with vital arts-in-education programs, enhancing their studies and enriching their lives well into the future.
In addition to the presenting and producing institution Segerstrom Center for the Arts, the 14-acre campus also embraces the facilities of two independent acclaimed organizations: Tony® Award-winning South Coast Repertory and a site designated as the future home of the Orange County Museum of Art.
Segerstrom Center for the Arts is also proud to serve as the artistic home to three of the region's major performing arts organizations: Pacific Symphony, the Philharmonic Society of Orange County and the Pacific Chorale, who contribute greatly to the artistic life of the region with annual seasons at Segerstrom Center for the Arts.