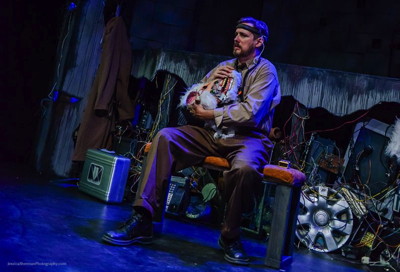 Creating a mysterious, melancholy and futuristic world that immediately ensconces and transports you, Edward Einhorn has brilliantly adapted novelist Philip K. Dick's 1968 existential science-noir tale for the stage. The same source material was famously turned into Ridley Scott's iconic 80s movie Blade Runner. Not having yet read the book, I imagine this stage adaptation is more true to the source material than the movie was, so Philip K. Dick fans will find this show a must-see.
Eric Curtis Johnson plays freelance bounty hunter Rick Deckard who's on the case to track down and eliminate some rogue androids. There's a touch of the world weary, hard-boiled P.I. to him as he not only tries to demarcate between humans and androids, but questions the elusive nature of human existence.
Director Jaime Robledo brings his characteristically multi-layered creative approach to his staging. DeAnne Millais' set is a bleak and dystopian clutter of video screens and detritus. Deckard is first seen cradling the large, electronic head of a sheep, sobbing as he pines for a real live pet. A new assassination contract just may get him what he desires. Michael Roth's original music perfectly sets the mood.
Robledo has fashioned an engrossing theatrical experience where the excellent technical specs are matched by his well-selected and talented cast.
Portraying singer and celebrity Luna Luft, Emily Kosloski sends thrills up the spine with her soaring operatic arias; they are atonal, modern and her phrasing is exquisite. Corey Klemow as the nervy loner Isidore is superb, too. Kimberly Atkinson gives a brilliant performance playing doppelganger androids with the right balance of delineation and ambiguity. Rafael Goldstein as the menacing Roy was fantastic, too. It's a sterling cast.
An excellent show.
Do Androids Dream of Electric Sheep?
660 N. Heliotrope Drive,
Los Angeles
310-281-8337
Runs Thursdays-Saturdays, 8 p.m.
Continues through Oct. 19, 2013