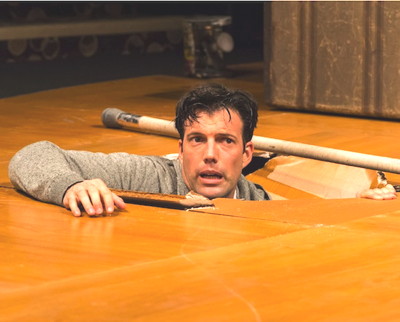 Gentle readers! This week my theater review for the LA Weekly is of Humor Abuse, the solo biographical show about a clown's life now playing at the Mark Taper Forum in Downtown LA.
We gave it a 'GO!'
Humor Abuse
As the title indicates, Humor Abuse is no lighthearted evening of sidesplitting laughs. Demonstrating elaborate pratfalls, juggling and elegant comedy bits, Lorenzo Pisoni's solo clown show charts his upbringing as a fourth-generation vaudevillian and performer, focusing mainly on a relationship with his father that was more work than play. Lorenzo took to the stage in his parents' company, the Pickle Family Circus, when he was only 2 years old, honing his clown skills under the tutelage of his father, Larry Pisoni. In recounting their relationship, Lorenzo projects a tone that is bittersweet and melancholy, with an undercurrent of both resentment and deep respect.
To read the remainder of this review, go here to the LA Weekly's theater page (and scroll down a bit).
Humor Abuse
135 N. Grand Ave., Downtown LA
Tues.-Fri., 8 p.m.; Sat., 2:30 & 8 p.m.; Sun., 2 & 6:30 p.m.
Runs through Nov. 3. (213) 628-2772