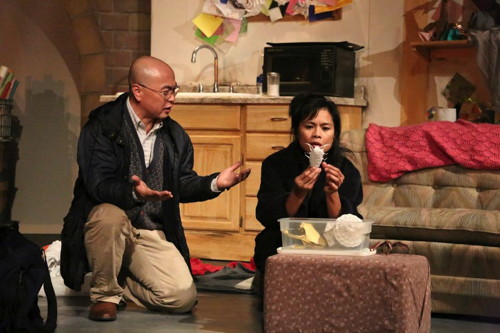 The paths of three loner characters intersect in Rajiv Joseph's Animals Out of Paper, a bittersweet dramedy now being presented by East West Players in their Little Tokyo theater in Downtown LA.
Still recovering from a recent break-up, world-renowned origami artist Ilana Andrews (Tess Lina) is a cranky shut-in, holed up in her studio. She's none too friendly to a surprise visitor Andy (CS Lee), the extra cheerful Treasurer of the Origami Association who's keen on tracking her down. Andy says he just wants to make sure the group has her current contact info but soon reveals he is a major fan. But Andy is no creepy stalker — just a loner with a crush and a request; that Ilana mentor one of his school students Suresh (Kapil Talwalkar) who he can see is a bit of a natural genius when it comes to origami. After Ilana reluctantly agrees, things get complicated…
Joseph's play is frequently raw and touching, but suffers from being too contrived and a little corny. Two of the three characters lack depth and the script's comic flourishes relegate the drama to sit-com land. When the plot takes an unwelcome (and unconvincing) detour during the second act, it scuttles the play, destroying any fondness that was engendered in act one. Joseph does, however, make some pleasing parallels. Rap music fan Suresh likens easy rhymes to the basic folds of origami. The three closed-off characters gradually open up to each other, much like the dismantling of an origami creation. Some themes, however, are stated too obviously, such as when Ilana declares, "It's not your mess to clean up!"
Jennifer Chang directs nicely — the nuances are all there, but the pacing feels a bit sluggish. Tess Lina does a decent job as Ilana but her role is drawn too narrowly and it's too two-dimensional to offer her the opportunity to really stretch as an actor. The same goes for CS Lee, although he does bring a clown-y charm to his character — again, one that is not fully rounded.
Kapil Talwalkar is great as the teenage prodigy Suresh, especially since his is the most compelling character. At first Suresh comes across as a brash and imposing teen, spouting flashy street slang and sporting a hostile attitude. But in a private conversation with his father we see a different side to this young guy, realizing it's all just a macho front. Another scene when he has a panic attack reveals a further layer of vulnerability. He's a complex kid and that makes him interesting. A highlight of the play is a scene where Suresh dances around Ilana's studio to some rap music while cleaning up. Here, Talwalkar's performance is a joy to watch.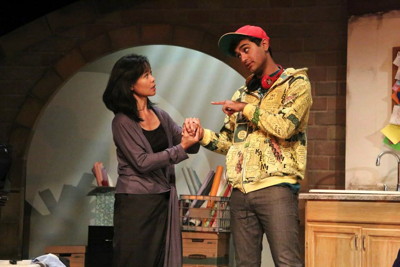 Animals Out of Paper by Rajiv Joseph.
David Henry Hwang Theater at the Union Center of the Arts
120 Judge John Aiso Street,
Los Angeles, CA 90012.
Runs through October 5, 2014.
A special talkback with the cast and creative team is on Sunday, September 21 immediately following the performance.
Performances run Wednesdays through Saturdays at 8pm, and Sundays at 2pm.
Tickets may be purchased online here or by calling 213.625.7000.
Regular tickets range from $28—$38.00.
Student and Senior discounts available.
Dates, prices and details are subject to change.