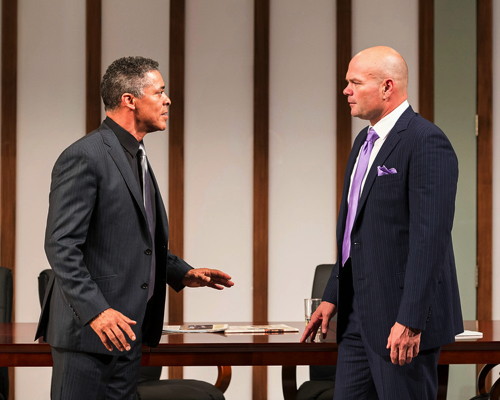 A slight plot is merely a framework for David Mamet's talky and sordid play Race. A partnership comprised of a paralegal assistant and two lawyers — one black, one white — discuss a case they reluctantly agree to defend wherein a wealthy white man has been accused of raping a black woman.
In his signature didactic style, the veteran American playwright has ultra-profane, swaggering and macho posturing lawyers act as his mouthpieces. Devoid of subtlety, for this play Mamet selects the inflammatory subject of 'race.' Despite recent episodes of flagrant racial injustice across the country, disappointingly Race is less of a discussion of the highly topical outrages we are seeing on the streets than an examination of an age-old 'he said-she said' legal and moral dilemma. Also disappointingly, Mamet doesn't really present multifaceted theories, raise arguments, nor let his audience make connections — he basically tells us what to think by having his arrogant characters tell us what they think. Mamet even has one of the lawyers baldly states his play's theme, "Race is the most incendiary topic in our history."
The language is incisive and heatedly dramatic, with a few outrageous zingers thrown in here and there that have you laughing out loud in spite of yourself. The scenes are short and swift and zip along at a cracking pace. The play is lean and nothing feels superfluous, though as Act I is a mere 35 minutes, the intermission feels unnecessary. The whole evening concludes after an hour and 40 minutes, and that includes the 20-minute interval. Why break it into two parts?
Under the direction of Scott Zigler, the performances are all superb except for the lone female of the four-strong cast. DeWanda Wise unfortunately has a tendency to shout rather than project, although her role as a recently hired paralegal allows for some nervousness and guarded behavior in the job. For the most part, her character Susan is merely a sounding board for the pontificating white lawyers. During the last third, she becomes a more active presence. As the (slight) story unfolds, the plot gets murkier and Susan's motives are never made clear.
Playing the accused, we don't see much of Jonno Roberts but his performance as a haughty and uncooperative elitist conveys his character's privilege and inflated sense of entitlement.
Dominic Hoffman and Chris Bauer are great as the two lawyers, Brown and Lawson — a pair who are so well suited they're practically psychic in their inter-office dealings with each other. It's pleasing to watch them work and there's a thrill in gaining insight into how lawyers think. "We need to tell the jury a better story," says Lawson. Mamet's language and scenarios earns our begrudging respect for these men.
One thing that works against DeWanda Wise is Mamet's deficiency at writing well-rounded female parts, though this one is better than some of his other female characters. As one of my colleagues, Terry Morgan, pointed out in his review (linked here), in the program/play all three men in the cast have been given last names; "Susan," strangely, has not, and this seems rather revealing of the playwright's blatant sexism. Why is her surname so unimportant, so non-existent?!
Race may have its flaws, but it nevertheless is an entertaining and riveting play.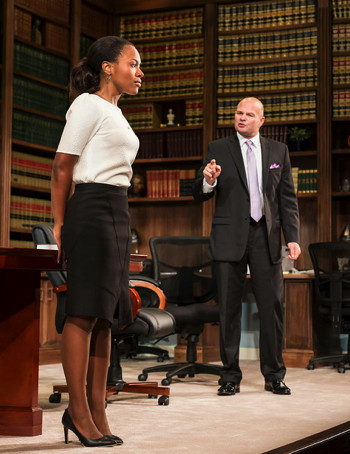 Race
Center Theatre Group/Kirk Douglas Theatre
9820 Washington Blvd.,
Culver City CA
Performances:
Runs until September 28, 2014.
Tuesdays through Fridays, 8 p.m.
Saturdays, 2 and 8 p.m.
Sundays, 1 and 6:30 p.m.
Running time:
Approximately one hour and 40 minutes, with intermission.
Box Office:
Purchase tickets here or call (213) 628-2772