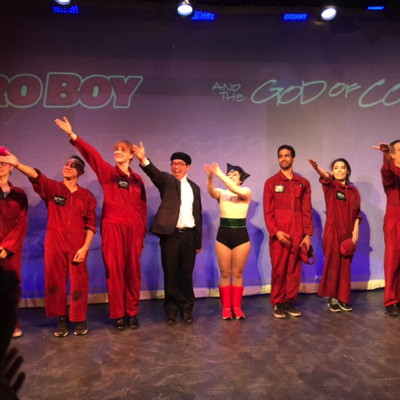 ::STOP PRESS::

Extended through Aug 8th
Dear #LAThtr and manga fans!
Pauline Adamek from ArtsBeatLA.com presents Exit Reviews, a series of 'vlogs' or video reviews.
Here's the newest Exit Review for the play Astro Boy and the God of Comics, which opened June 20, 2015 and runs until Aug 8, 2015 at the Sacred Fools Theatre in Hollywood.
Astro Boy and the God of Comics
by Natsu Onoda Power
directed by Jaime Robledo
Sacred Fools Theatre
660 N Heliotrope Dr,
Los Angeles, CA 90004
Performances:
June 20—Aug 8, 2015
Fridays & Saturdays @ 8pm
Sundays @ 7pm
Tickets:
$25.00
Box Office:
(310) 281-8337
Purchase tickets online here.
Video info:

Video produced, filmed, edited and hosted by Pauline Adamek.

An ArtsBeatLA production.
httpv://youtu.be/2LAbzETw-SY