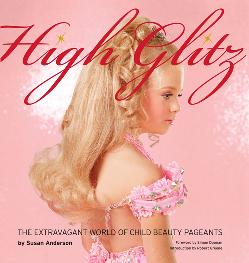 Released this past Fall by powerHouse books is Susan Anderson's glossy coffee table book, entitled High Glitz: The Extravagant World of Child Beauty Pageants. The book's description reads, "The girls are spray-tanned, made-up, and groomed to a glossy perfection. Anderson captures the result of this time-consuming transformation process in exquisite detail."
For her book and photographic exhibition, fashion photographer Susan Anderson has taken an anthropological approach in presenting a disturbing series of images that offer us an insight into this controversial world.
By observing, yet not judging, Anderson has turned her lens to scrutinize the mysterious world of kiddie beauty pageants. By asking her subjects – almost all are little girls, from toddlers to pre-pubescent poppets- to strike their own poses for her camera, Anderson expertly manages to walk a fine line when presenting the awfulness and horror as well as a celebration of this mesmerizing subculture.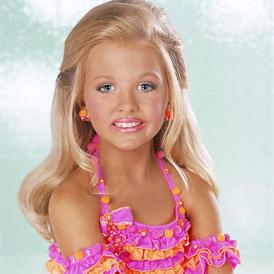 While certain photos celebrate, and others shock, all are linked by a fascination with a world many have only heard of through the unfortunate (and still unsolved) murder in 1996 of little Jon Benet Ramsey. In Anderson's book and exhibition, the toddlers don bikinis and often strike poses that seem informed by an awareness of adult sexuality but that is detached from any understanding of its meaning.
More crucially, these photos of these competing kiddies – many tarted up like a desperate cougar – uncovers what has been described as the "Uncanny Valley" of revulsion.
The "Uncanny Valley" hypothesis holds that when robots and other facsimiles of humans look and act almost like actual humans, it causes a response of revulsion among human observers.
Hence, when viewing these gorgeous photos, you simply can't help feeling uneasy. Something is definitely wrong. Our mind knows we are looking at very young girls, and yet the eerie effect of all the caked-on makeup, fake tans and bouffant hairdos is to create the illusion of child-women far older than their actual years. Many even give the impression of being jaded and middle aged, the only thing missing is a jaunty martini in their tiny hands.
It's creepy stuff.
To watch my short video interview with the artist, go here.
Posited at precisely the right point between respect and revulsion, Susan Anderson's fascinating book, High Glitz: The Extravagant World of Child Beauty Pageants, is available to purchase on amazon.
Susan Anderson's official site.
Kopeikin Gallery
Dir: Paul Kopeikin
8810 Melrose Avenue
Los Angeles, CA. 90069
(310) 385-5894
(310) 385-7964 fax
TORCH Gallery
Dir: Mo Van Der Have
Lauriergracht 94
1016 RN Amsterdam
Netherlands
tel +31-20 626 02 84