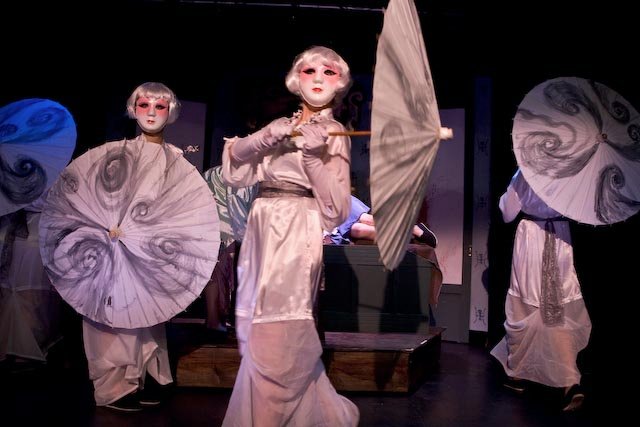 Take a trip back in time, back to a long-forgotten era with the wild and crazy Grand Guignolers Theatre troupe. Devised by and starring Debbie McMahon, along with her talented ensemble of mimes, puppeteers, dancers, singers and actors, Absinthe, Opium and Magic: 1920s Shanghai is a magical night of theater and gore.
From the moment you enter the theater lobby, you are transported onto a 1920s cruise ship – setting sail, with you aboard, for a spectacular destination, 1920s Shanghai. Before departure you'll meet mischievous clowns and perhaps have your photo taken – a souvenir of your voyage. You can sip absinthe or munch on popcorn. Upon arrival, you'll experience the Shanghai of yore, replete with its beautiful "sing song" girls, silly and naughty puppets and, of course, the sinister opium dens and gambling houses."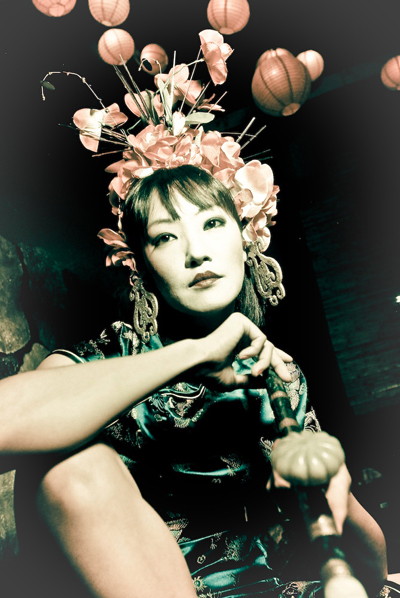 So much more than a night at the theater – Debbie McMahon and her incredibly talented ensemble troupe go all out to create a mystical aura that thoroughly envelops the audience. The evening"™s entertainment unfolds as a series of colorful vignettes, where rival gang leaders engage in slow motion fisticuffs, where puppets analyze their own existence and giant dragons and rabbits are involved in epic battles. Beneath the glittery gowns and dazzling dancers is an underbelly of darkness and gore and evil deeds.
You're in luck!  This marvelous production has been extended yet again, 'till February 7th, 2010.  All aboard for Shanghai!
Be sure to dress up for the occasion – suits, hats, evening gowns and heels – you'll be glad you did.
Absinthe, Opium & Magic: 1920s Shanghai, produced by the Grand Guignolers
Runs until – February 7th, 2010
Performances – Fri.-Sat. with selected Wed., Thurs. & Sun. performances
7:45 boarding
8 pm on-board entertainment
8:30 showtime!
Tickets: $20-$30.
Art/Works Theatre, 6569 Santa Monica Blvd., Hollywood
800.838.3006 or here
For further information, go to their website.
Review by Pauline Adamek