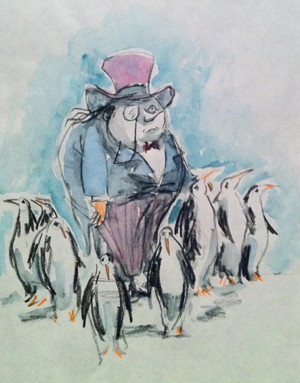 A must-see if you are a Tim Burton fan is this gorgeous, exhaustive and idiosyncratic exhibition. The Los Angeles County Museum of Art (LACMA) presents a major retrospective exploring the full range of artist Tim Burton's astonishingly creative work, both as a film director and as an illustrator, painter, photographer and writer.
This marvelous exhibition runs until midnight on Monday October 31, 2011.
Within its many rooms, we see a lifetime of creation from this highly imaginative artist, from his early attempts at cartooning (where we can clearly see influences from Dr Seuss and MAD Magazine cartoonists) to the quirky Super-8 short films he made as a child to the early storyboards and sketches right through to his conception of the many characters for his successful Hollywood movies. These include Pee Wee Herman's Big Adventure; Beetlejuice; Batman and Batman Returns, Mars Attacks; Edward Scissorhands; Nightmare Before Christmas and so on.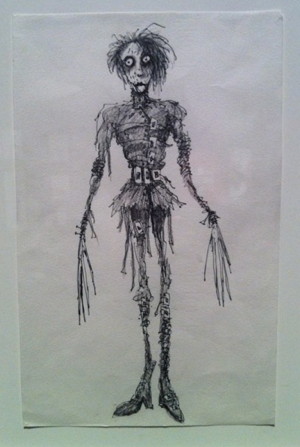 The exhibition brings together over 700 drawings, paintings, photographs, moving-image works, storyboards, puppets, concept artworks, maquettes, costumes, and cinematic ephemera, including art from a number of unrealized and little-known personal projects. Many of these objects come from the artist's own archive, as well as from studio archives and private collections of Burton's collaborators. Hundreds of never-before-exhibited artworks, sketches and short films will be joined by a selection of film posters accompanied by music composed for the exhibition by Burton's longtime collaborator Danny Elfman.
There are a dozens of props, puppets and models from Burton's movies but also fragments of doodles, sketches, handwritten notes and many of his early works.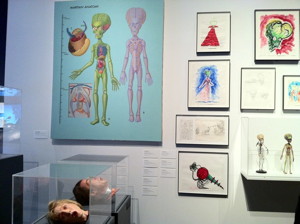 Background:
Tim Burton was born in Burbank in 1958. After studying at the California Institute of the Arts (CalArts), he worked as an animator at the Walt Disney Studios before breaking out on his own. Taking inspiration from popular culture, fairy tales and traditions of the Gothic, Burton has reinvented Hollywood genre filmmaking as an expression of a personal vision.
Two large-scale outdoor artworks are also installed on campus: a topiary inspired by Edward Scissorhands (1990), and Balloon Boy, an enormous figure based on an amalgamation of characters that Burton first introduced in his 1997 book The Melancholy Death of Oyster Boy and Other Stories.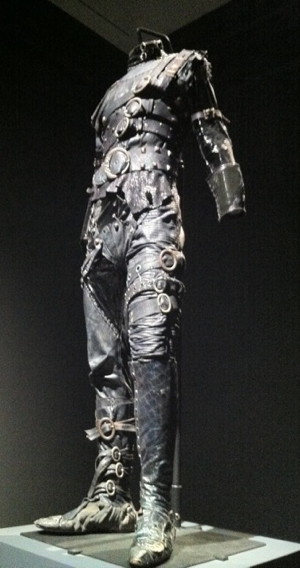 Extended opening hours:
Beginning October 1st, Tim Burton will open at 10 am every Saturday & Sunday until the conclusion of the exhibition, midnight on Monday October 31, 2011.
This exhibition was organized by The Museum of Modern Art, New York.

The Los Angeles presentation was made possible in part by LACMA's Wallis Annenberg Director's Endowment Fund.
To celebrate the final weekend of Tim Burton at LACMA, the museum will be open for extended hours, with parties, performances and things to do on campus all weekend long.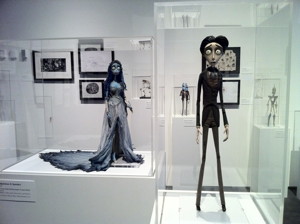 Extended Museum Hours for Hallowe'en:
---
Sunday, October 30 – Open all night
Monday, October 31 – Open until midnight
Reserve tickets in advance here.
Parking will be free after 7pm on Sunday, through 7am on Monday, and again from 7pm Monday through midnight.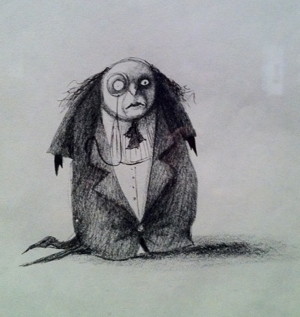 LACMA
5905 Wilshire Blvd
Los Angeles, CA 90036
$20.00
All photos taken by Pauline Adamek. © 2011 Tim Burton.