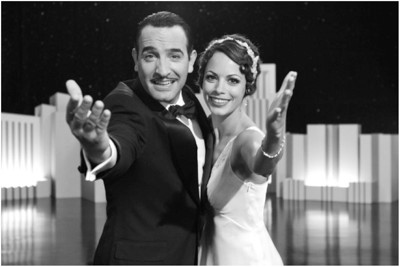 Smarmy, charming Jean Dujardin perfectly embodies the persona of a charismatic silent movie star, playing George Valentin in writer-director Michel Hazanavicius' audacious silent black and white movie The Artist. It's a delightful throwback to the age of silent pictures, set in Hollywood circa 1927. Convinced of his enduring fame and popularity, our cocky hero Valentin scoffs at the arrival of a new-fangled invention that will catapult movies from silent to 'talkies'. Unfortunately for him, his tough, cigar-chewing studio chief Zimmer, played by John Goodman, is well aware of the changing fancies of the fickle public. Zimmer and serves up a whole new smorgasbord of fresh-faced stars to go with his new sound-enhanced movies and that menu does not include Valentin.
Hazanavicius casts his adorable wife Bérénice Bejo as Peppy Miller, a perky young dancer whose star is rapidly on the rise. As her fortunes improve, Valentin's plummet and he swiftly fades into oblivion. But she holds a torch for the dashing fellow – will they ever find true love?
Hazanavicius' sweet movie is slight on storyline, never bothering to explain why Valentin's wife is so bitter, why their marriage sours… It also never bothers to put any real impediments in the way of Valentin and Peppy's longing romance.
Its strengths lie in its faithful replication of the best elements of those funny old silent movies, cramming his tale chock full of melodrama, wistful in-camera trompe l'oeil visual effects, slapstick, blisteringly fast dance and tap routines and a lovable Jack Russell terrier who performs tricks on command.
Best of all, Hazanavicius eschews the use of grating and clanging piano accompaniment, instead scoring his modern silent movie with jazz songs and even some recognizable fragments of scores from famous movies, such as Bernard Hermann's masterful theme from Hitchcock's Vertigo.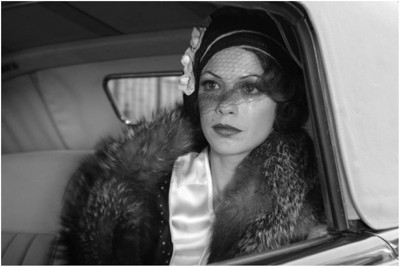 ~
The Artist opens in limited release in L.A. cinemas later this month. Check your local listings.