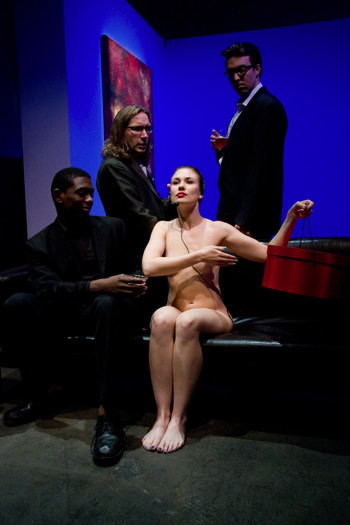 One of Neil LaBute's earliest produced plays, Filthy Talk For Troubled Times, is currently being given a brand new treatment by City Garage over at the Bergamot Station art complex.
In a savvy move, company artistic director (and the play's director) Frédérique Michel has switched the original setting for LaBute's play about angry men and women from a topless bar in New York to restage the piece in a high-end art gallery. The men who were formerly chit-chatting over drinks as they longingly gazed at erotic dancers now find themselves at a pretentious art exhibit installation comprising of naked, fair-skinned women.
Make that three gorgeous, slim, all-natural, lovely naked women with serious expressions on their Caucasian faces, clutching bright red hatboxes strategically placed to afford their nakedness a modicum of cover.
In addition to featuring the paintings of Cameron Jordan on the walls within the space, the primary art objects on display within the play are these nude females. And we all know you're not supposed to touch the art…
Ingeniously, Michel has cracked LaBute's play wide open by giving these perambulating and naked objects d'art speaking roles. The women utter abstract words, (these 'speeches' were newly written by Charles Duncombe), while several drunk male patrons of the play, and a couple of bitter waitresses working at the gallery, remain just as conflicted, angry and baffled as ever by the eternal mystery of the opposite members of their species. It's an intriguing staging concept and wholly appropriate for the Bergamot Station location.
Unfortunately the speeches the haughty objects d'art utter are pure nonsense – "Art. Artifice. Artichoke." etc – and add very little to the play other than give the naked women something to say. Their stylized and synchronized movement, however, does serve well to highlight a monologue from time to time as they shift their attitude (or stance) in pleasing unison.
LaBute's play is so extreme in its language, it's actually quite funny. But it was a chilly crowd who froze the laughter as they breathed the rarified air in the performance space called Track 16. (This is a large and versatile gallery and exhibition space within the sprawling industrial complex that became the Bergamot Station art enclave in Santa Monica, where City Garage now resides.)
First produced in 1989, the themes and vulgar dialogue of Filthy Talk now seem quite dated, even though the corrosive attitudes the men have towards women (and other men) are still relevant today. It's an odd conundrum…
Additionally, as it is all rants and monologues, Filthy Talk doesn't function like a typical play, and to her credit Michel has conceptually staged this old dinosaur fairly well. Alas, at times the blocking seemed forced and artificial (apparently Michel never allows an actor to cross the stage and speak lines at the same time).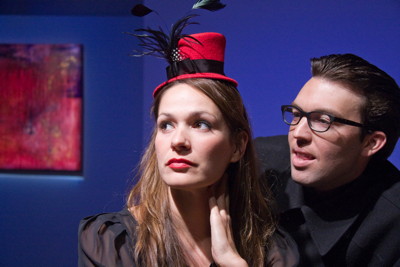 There's plenty of swearing – no surprises there – but even that starts to feel overdone…  The play's opening lines (words) are the same repeated invective. Then you have to wonder if this play was somewhat shocking twenty years ago. Mamet has freely used profanities to good effect, as do filmmakers such as Quentin Tarantino, so I doubt it.
I wanted to love Filthy Talk For Troubled Times but as a whole, it didn't quite gel.
~~~
Photo credit: Paul M. Rubenstein
Art plus Art.
This special art-themed theatre project is being presented in collaboration with an art exhibition at the Robert Berman Gallery, right next door. Filthy Talk for Troubled Times will run in conjunction with an exhibition that features the work of photographer Gerald Slota paired with the prose of Neil LaBute. Entitled Home.Sweet.Home, this creative art project is an evocative series of postcards created when LaBute began emailing a premise or an idea with the hope of sparking a visual response from Slota.

Describing the process, which occurred over the course of a year, LaBute told me, "I began to feed him little, three-line stories. Sometimes not even stories but impulses or lines of dialogue. Then we would see if that would shake anything in him, that would make him create a picture to accompany that."

The result was a series of about two dozen 'greeting cards' or 'postcards.' That exhibit was presented late last year in New York, at the Ricco Maresca Gallery. LaBute says the pair created some new material for this Los Angeles exhibit.

These two 'art themed' shows will both open and run concurrently in January 2012, with the exhibition at Robert Berman Gallery scheduled January 7 through February 4, and the play at City Garage continuing through February 26th.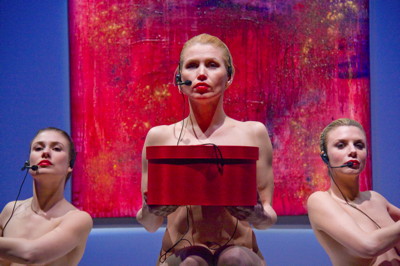 Filthy Talk for Troubled Times: Scenes of Intolerance
Track 16, Building C1
Bergamot Station
2525 Michigan Ave.
Santa Monica, CA, 90404
Runs: 
Until Sunday, February 26, 2012
Performance Schedule: 
Thursdays – Saturdays, 8:00pm;
Sundays at 4:00pm
Admission:
$25.00, Students/Seniors w/ID $15.00
Sundays: "Pay-What-You-Can" at the door
Fourth Weekend Q&A:
Immediately following the performance, there will be an informal discussion with the cast and director on Sunday, January 29th, 2012.
Running time:
Approximately 75 minutes, no intermission
Box Office:
Online purchases are available at Brown Paper Tickets.
To reserve immediately, contact the Box Office at 310-319-9939.
Home.Sweet.Home by Gerald Slota and Neil LaBute
Robert Berman Gallery C2
Bergamot Station
2525 Michigan Ave.
Santa Monica, CA, 90404
Dates:
Exhibition runs from Saturday, January 7, 2012 until Saturday, February 4, 2012
Gallery Hours:
C2 Gallery – Tuesday through Saturday, 11am – 6pm