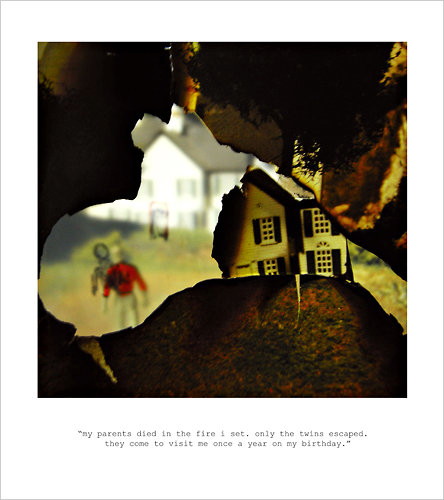 Opening next week is an art exhibition at the Robert Berman Gallery, found within the art enclave Bergamot Station in Santa Monica, that pairs Gerald Slota's collage/photography with short prose by writer/director Neil LaBute, creating an evocative art form of mini-narratives.
Entitled Home.Sweet.Home, this art show is linked with a new production of an early play from 1989 by Neil LaBute. Filthy Talk for Troubled Times: Scenes of Intolerance will run from January 8th, continuing through February 26, 2012 right next door, at Track 16 Gallery, Bergamot Station, where the provocative theater company City Garage is currently residing.
In a recent interview with ArtsBeatLA, LaBute described how the unusual art project came about:
"This exhibit originated in New York [at the Ricco Maresca Gallery]. It came from a series of postcards that we created together and that were printed in Aperture Magazine. Basically, both of our agents knew each other and said, 'I've got a client that likes your client's work' and thought it would be interesting to put us together."
The pair toyed with various projects, such as a children's book or perhaps stage design – things they each were already doing. "And then we came up with this idea or something almost like greeting cards. Something like what Edward Gorey had done, or Mark Reilly – people who had done interesting stuff like that."
Adds LaBute, "Taking that as a launching point, I began to feed him little, three-line stories. Sometimes not even stories but impulses or lines of dialogue. Then we would see if that would shake anything in him, that would make him create a picture to accompany that."
Did he feed you pictures?
"Occasionally it came the other way; that did happen once in a while. It was more often me sending him written ideas, and him responding." LaBute says this was probably because Slota's work took longer to construct. "He often puts layers of photographs together or cuts up pictures – he has a very deconstructive approach."
This creative process occurred over the course of a year. "We came up with fifteen or twenty images that we really liked. There was a series of ten or so postcards at first, and then we widened it to do this gallery show in New York. We did create some new material for this exhibit in Los Angeles."
Surprisingly, the pair of artists collaborated via email throughout the entire process. Reveals LaBute, "We only met after the exhibit opened at the Ricco Maresca Gallery in New York, late last year."
The majority of the photos began with a line or two about families that turn on each other. The image shown above was born from three sentences that LaBute had e-mailed to Slota: "my parents died in the fire I set. only the twins escaped. they come to visit me once a year on my birthday."
Slota was then inspired to create an image that illustrated the text, which, in this case, meant photographing a tiny house, then burning a hole in the photo and inserting a figure that could be an onlooker, or perhaps the arsonist, or even one of the twins fleeing the inferno, and then reshooting the entire composition.
There will be an opening reception for this exhibition on Saturday, January 7, 2012, 5-7 pm.
The performance of Filthy Talk for Troubled Times will follow at City Garage Theater, next door at Track 16 Gallery at 8 pm. Contact the box office to reserve tickets: 310-319-9939, or purchase tickets online here for the play.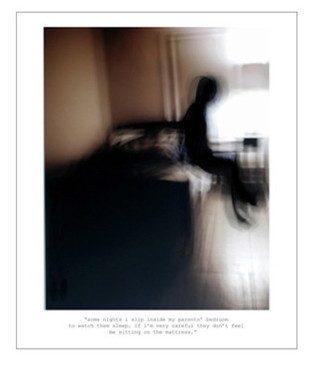 Home.Sweet.Home
by Gerald Slota and Neil LaBute
Bergamot Station
2525 Michigan Ave.
Santa Monica, CA, 90404
Dates:
Exhibition runs from Saturday, January 7, 2012 until Saturday, February 4, 2012
The shows will run concurrently in January 2012, with the exhibition scheduled January 7, through February 4, and the play continuing through February 26, 2012.
Gallery Hours:
C2 Gallery – Tuesday through Saturday, 11am – 6pm